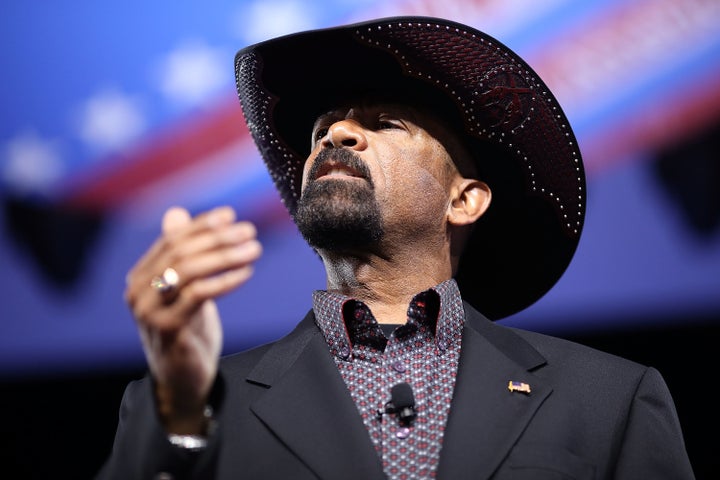 Milwaukee's hard-right sheriff, David Clarke, a campaign surrogate for Donald Trump, has publicly threatened and derided the Democratic mayor for "getting his ass kicked" when the politician rushed to the aid of an older woman under attack.
Mayor Tom Barrett was viciously beaten when he helped protect a grandmother and her year-old grandson in 2009 as they were attacked at a state fair by a disturbed man.
Clarke lashed out at Barrett over the seven-year-old confrontation after the mayor complained that Clarke was often missing from his post because he's too busy boosting his career as a high-profile Trump supporter on conservative talk shows and plugging his new book. 
"The last time Tom Barrett showed up at a crime scene he got his ass kicked by a drunk, tire-iron-wielding man who beat him within inches of his life," Clarke ranted in a post on the official Facebook site for the Milwaukee County Sheriff's Office. "The milquetoast mayor trying to play cop foolishly thought he could simply talk the man who beat him senseless into backing down."
Clarke concluded ominously: "Time to crawl back into your hole, Tom, unless you want some more of this because I have some."
Barrett set Clarke off when he said in a TV interview earlier this week that the sheriff has a "great gig going right now: He's fighting crime one conservative cable TV show at a time." He said everyone knows that Clarke "rode his horse out of town a long time ago."
Barrett's chief of staff told the Milwaukee Journal Sentinel that Clarke "crossed the line" with his Facebook post, calling his derision of the mayor's aid during the state fair violence "unconscionable."
Calling all HuffPost superfans!
Sign up for membership to become a founding member and help shape HuffPost's next chapter
BEFORE YOU GO
PHOTO GALLERY
Awkward Meeting for Merkel and Trump