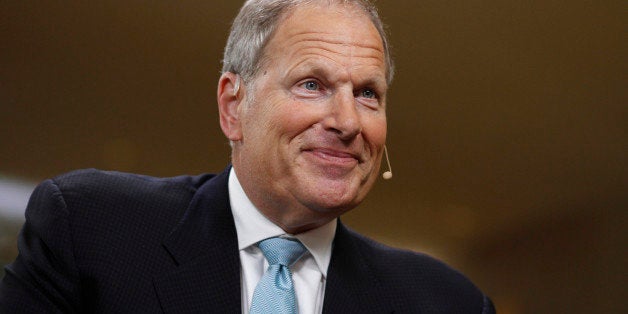 Honeywell International CEO David M. Cote, one of the country's highest-paid executives, was nominated as a director of the Federal Reserve Bank of New York, the bank announced this week. Cote's nomination highlights the unusual structure of the Federal Reserve, which is charged with regulating the banking system but is stocked with top corporate players who do not give up their private sector jobs when taking on a role with the bank.
Cote's term as a Class B director at the bank would end Dec. 31, 2016. According to the bank's guidelines, a Class B director cannot be an officer, director or an employee with any other bank.
Cote spent 25 years with General Electric, primarily as a senior executive, and in 1999 he left the company to become the chairman, president and CEO of TRW Inc., a provider of products and services for the aerospace, information systems and automotive markets.
Cote left TRW in 2002 to join Honeywell, the Morristown, N.J.-based manufacturer of military aerospace products and other technologies.
According to a review of public records, Cote made more than $37 million in salary and bonuses from Honeywell in 2011. That year, JPMorgan Chase also paid him $245,000 for serving as a director on its board. The 61-year-old Cote was a director at JPMorgan Chase from 2007 to 2013.
Cote serves as a member of the steering committee of the Campaign to Fix the Debt, a bipartisan group that advocates for a federal debt-reduction plan. He also is vice chairman of the Business Roundtable, a pro-business advocacy group.
In 2010, President Barack Obama named Cote to the bipartisan National Commission on Fiscal Responsibility and Reform, also known as the Simpson-Bowles commission. Obama later tapped him to serve as co-chairman of the U.S.-India CEO Forum.
Cote has advocated for expanding access to energy supplies in North America through development of the Keystone XL oil pipeline, which, if built, could carry 830,000 barrels of oil daily from Alberta, Canada, to the Gulf Coast. Environmental groups strongly oppose the pipeline.
A graduate of the University of New Hampshire, he received an honorary doctorate from Pepperdine University in 2001, and in 2009 he received an honorary professorship from the Beihang University of Aeronautics and Astronautics in Beijing, China.
Calling all HuffPost superfans!
Sign up for membership to become a founding member and help shape HuffPost's next chapter
BEFORE YOU GO
PHOTO GALLERY
Out-Of-Touch Politicians