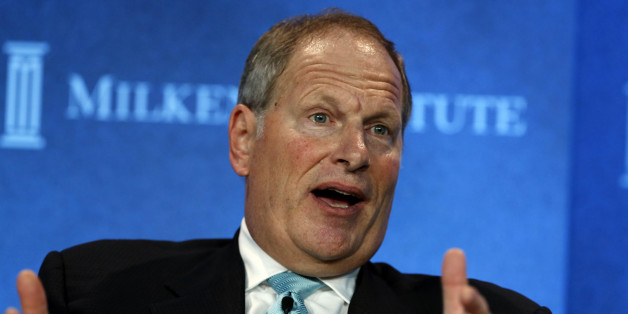 WASHINGTON -- One of the most prominent CEO proponents of a controversial new trade deal acknowledged at a congressional hearing on Thursday that he did not understand how at least one aspect of the deal actually works.
Sen. Sherrod Brown (D-Ohio) asked Honeywell CEO David Cote whether it was a good idea for the United States to sign trade pacts that allow foreign corporations to directly challenge a nation's laws and regulations before an international tribunal. The deal would allow foreign firms to challenge U.S. laws outside the American legal system and allow domestic corporations to challenge foreign laws outside the court systems of those countries.
Since the North American Free Trade Agreement in 1990s, the U.S. has insisted on this so-called investor-state resolution system as the basic enforcement tactic for its trade pacts with other nations. It is currently included in the new Trans-Pacific Partnership that the Obama administration is in the process of negotiating with 11 other nations.
World Trade Organization treaties, by contrast, provide significantly less political power to corporations, and only allow sovereign nations to initiate trade disputes with one another.
Cote, however, despite introducing himself as a staunch advocate for free trade agreements, repeatedly said he was not competent to answer Brown's question.
"Even though I'm not a lawyer, I generally don't mind opining on the law, but this time that's a level of legal complexity that's beyond my capacity," Cote said.
"But it's really simple," Brown responded. "It's not complex. It's -- Should a company like yours have the right to go into Guatemala and do litigation to weaken their public health law when, first of all, Guatemala probably can't -- doesn't have a whole lot of money to defend the kinds of rules -- Should that be part of our international trade regiment regularly?"
"My apologies," Cote responded. "But I just don't have -- I'm not knowledgeable enough."
Cote is one of the best-paid CEOs in America, pulling down more than $55 million in 2012 alone, according to Forbes. He is also one of the most visible CEOs in Washington, D.C., serving as a past adviser to President Barack Obama and a persistent advocate for various legislative causes, including the Fix The Debt campaign.
The Trans-Pacific Partnership is avidly supported by corporate lobbying groups, including the U.S. Chamber of Commerce, but opposed by many labor unions, environmental groups and public health advocates.
Cote was testifying at a hearing on Trade Promotion Authority legislation backed by Sens. Max Baucus (D-Mont.) and Orrin Hatch (R-Utah), which would effectively prevent Congress from offering any amendments to any trade deal reached by the executive branch for seven years. As a result, Congress would be forced to hold an up-or-down vote on whatever deal the Obama administration eventually reaches on the TPP, without the ability to alter the agreement.
House Democrats have refused to cosponsor the Baucus-Hatch bill, and Senate Majority Leader Harry Reid (D-Nev.) said Wednesday that he will not bring the bill up for a vote in the Senate any time soon. Many Democrats are concerned that voting in favor of TPP or voting to fast-track the pact would undercut the party's 2014 campaign message on economic inequality.
When Brown asked another panelist at Thursday's hearing whether trade deals should allow foreign corporations to challenge public safety and environmental regulations in international court, he got a more direct response.
"My gut feeling would be no," said Jim Allen, president of the New York Apple Association, which represents apple growers. "That's only my personal opinion."
REAL LIFE. REAL NEWS. REAL VOICES.
Help us tell more of the stories that matter from voices that too often remain unheard.
BEFORE YOU GO
PHOTO GALLERY
U.S. State Capitol Buildings