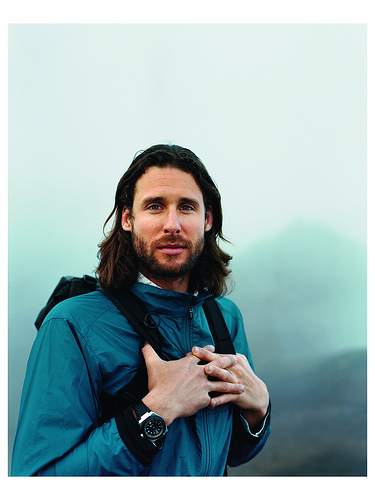 Photo by Adam Broomberg and Oliver Chanarin
As the youngest heir to the well-known British banking empire, David De Rothschild could certainly be sitting pretty as an armchair philanthropist. Instead the 33-year-old storytelling, eco-adventurer named National Geographic Adventurer of The Year in 2010 fully immerses himself in environmental and social endeavors that are both artistic and adrenaline pumping. Founder of Adventure Ecology and the recently launched social media initiative, MYOO, De Rothschild has traversed both geographical poles to raise critical awareness about global warming and sailed across the Pacific in a boat constructed of over 12,5000 recycled plastic bottles to bring attention to the problem of plastic pollution in the world's oceans.
De Rothschild's most recent altruistic endeavor led him and his small team into the heart of the Brazilian Amazon to investigate social and environmental impact of the controversial $19 billion Belo Monte Dam. The trip was part of the "ARTiculate" series on MYOO that attempts to use art and creativity to speak about social and environmental issues. I had the chance to catch up with De Rothschild over the phone just after he returned from his three-week trip to the Amazon basin. An excerpt from our conversation:
What social and environmental threats does the Belo Monte dam pose to the local community?
DDR: Well, first of all, there's really a lack of transparency surrounding hydroelectric energy. It is labeled as "green" or "clean" but it is not as simple as that. It often comes with toxic and destructive side effects. Belo Monte threatens to flood more than 150-square miles of rainforest and displace nearly 20,000 people--many of whom rely on the land for their way of life. Forests flooded by Belo Monte's reservoirs would generate enormous amounts of methane, a greenhouse gas that is 25 times more potent than CO2. Hundreds of species of biodiversity would be lost through massive deforestation, illegal logging, hunting, poaching and flooding. The lack of water and stagnation also threatens to create malaria and other drinking diseases.
There are also a variety of serious social impacts that would be caused by major relocation of local populations and the loss of their main mode of transportation in the area. The huge influx of migrant workers could also potentially create pressure on locals provoking civil unrest, crime and prostitution. In short, it is massively disruptive on several levels.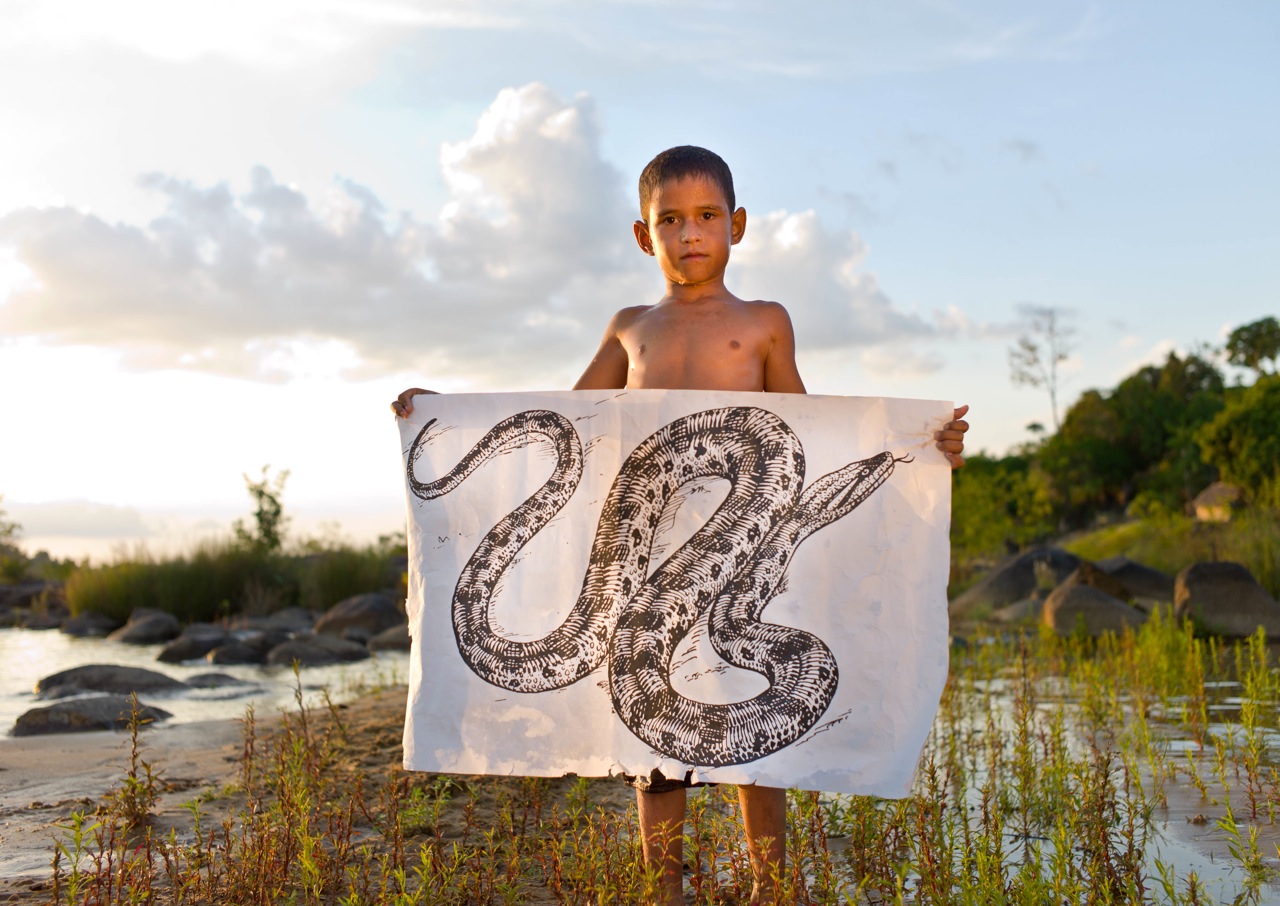 Photo by Matthew Grey
What is the concept of ARTiculate and your inspiration behind this particular trip?
DDR: The concept of ARTiculate is really about using art to communicate social and environmental initiatives in places that need exposure. This particular trip was about using a creative lens to create a community-based event. We wanted to go into the environment and create something tangible that the community could get involved with, basically a celebration of nature. Many people show up in the region and spew scientific analysis about the dam and simply tell people they need to move. We wanted to keep it positive and create something that would resonate with them while also reflecting on what may be lost when the dam is built.
What specific type of art project did you work on and what was the symbolic representation behind it?
DDR: We worked with around 20 local kids to create sculptures to represent what would be lost -- such as toucans and jaguars -- and place it into the river where the dam would be along with wood carvings, paintings and illustrations of the threatened species and habitats. We also made a totem pole out of papier-mâché and erected it at the dam site. On the arms we had a fork that hold up the sky. According to the local legend, when the fork falls the sky will fall symbolizing the end. When construction begins, the totem will be knocked down, symbolizing the end of the [Indigenous] Arana and Juruna's communities.
How did the local community react to the project and your presence?
DDR: It was a very worthwhile and empowering experience, especially for the community. In the beginning many were a bit reluctant to join in but by the end of the expedition the entire community came together to place their handprints on the totem pole. It became evident that many locals do want to fight this development and I think this experience helped them to realize that they do have a voice in this, if not to stop it completely, perhaps at least to slow it down.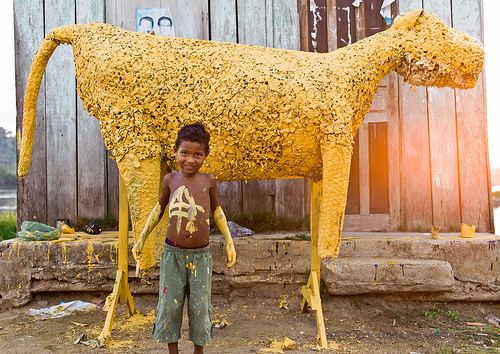 Photo by Matthew Grey
What does The Belo Monte dam represent in the grand scheme of things?
DDR: The situation surrounding Belo Monte is really a microcosm of what is going on in our world today. Belo Monte is becoming a political back and forth and very typical of how we continue today to act in short term economic gain vs. a long-term sustainablilty model. Natural systems are being exploited directly or indirectly. You see it in the oceans, you see it all over. Biodiversity is either being destroyed or is in decline from over-consumption.
What are some of the obstacles facing those opposed to the Belo Monte dam?
DDR: There are very few stories are ever run in Brazil about Belo Monte and there is a lot of misinformation generated around climate change. People generally want to believe it is a big hoax rather than a fact that we are actually destroying the planet. Let's face it, it's a lot easier for people to believe that than in the bad news. The same card is being played in the Amazon. Many locals have been led to believe that: "They don't want us to build the damn because they don't want us to develop energy and want to keep us a developing country." Furthermore, the problem with the Amazon is it's like the "wild west" there, a bit comparable to the gold rush days and local environmentalist have even been killed for raising opposition. Organizations like Amazon Watch are doing great work in bringing attention to the real issues. We ran a piece recently on MYOO that goes further in depth about the intricate background, with particular regard to the native Indian population.
Is there any chance that Belo Monte could be stopped -- was that your intention?

DDR: Well, this is something that has been in the works for over 30 years and we were under no illusion that the mini art-based expedition we were undertaking was going to stop the development. There are 20 other dams planned and it is likely to happen somewhere at some point. Yet a lot of the potential impacts haven't even been studied. Back in October, 2010, Brazil's environmental agency granted Norte Energia, the consortium overseeing the dam project, a construction license even though 23 of 40 social and environmental mitigation conditions hadn't been met. They have already begun clear-cutting near the dam site. If you are a construction company and going to build a dam, then surely we are living in age where it is no longer acceptable in any shape or form to not at least conduct a really succinct environmental impact study -- it's absolutely criminal. Our hope is to at least minimize the impact if that is possible through encouraging environmental guidelines and a process of analysis where a series of specific criteria needs to be met.
Can you tell us a bit more about your new social network, MYOO?
DDR: MYOO was launched to create a community of like-minded individuals who want to tell stories on social and environmental causes. The travel industry isn't slowing down so we wanted to create a forum around these important topics -- we as adventurers have a sense of responsibility to at least do that. It's all about reaching people and talking to people and reporting on these issues in order to create conversations and dialogue.
Any last words of wisdom or inspiration?
DDR: We have to learn at stop lurching at environmental work and start to look at it at a way of life. The "green" movement has done a really bad job at inspiring -- most people think of it as a chore or headache. Furthermore, in today's society, we are often focused on what people can't do rather than harnessing our infinite potential. We are often misled to believe that when we grow up we need to choose one cause and thus we tend to become narrow focused. Yet the issue of environment isn't only in the ocean, it's not only on the Amazon -- it's all interlinked and interrelated. Nature, after all, is about biodiversity and we all have the capability of being environmentalists. Even if you are an accountant or a lawyer, you can be an environmentalist. I'm passionate and curious about the environment and hope to inspire others to keep telling stories, be as curious as possible and don't become paralyzed by your fear.
To follow David de Rothschild and his team, check out Myoo.com.
To learn more about Belo Monte and take action check out Amazon Watch.
REAL LIFE. REAL NEWS. REAL VOICES.
Help us tell more of the stories that matter from voices that too often remain unheard.