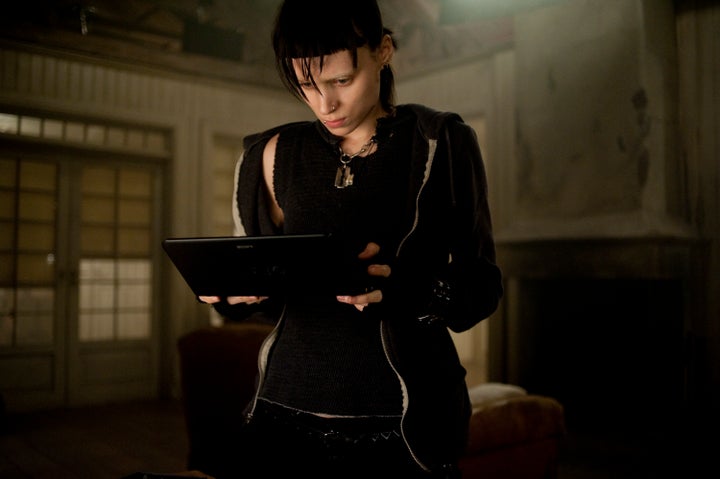 The late fall and winter generally see movie studios doing their best to court influencers and media figures, with swanky parties and For Your Consideration ads. So on Sunday, when a public squabble went down between a powerful producer and a widely-read critic, heads turned and film scribes, so often used to writing about fiction, were especially titillated.
David Denby, the critic from the New Yorker, announced that his review of "The Girl With The Dragon Tattoo" would be published in the coming week's issue, a full eight days before the embargo date to which critics belonging to the New York Film Critics Circle agreed to hold their verdicts.
In a letter to Rudin, Denby largely blamed both the studio's schedule -- "Grown-ups are ignored for much of the year, cast out like downsized workers, and then given eight good movies all at once in the last five weeks of the year," he wrote -- and his magazine's double issue conflict with the NYFCC's moved up awards voting schedule this year, which he called "idiotic" and said he "furiously opposed."
"In any case, the early vote forced the early screening of 'Dragon Tattoo.' So we had a dilemma: What to put in the magazine on December 5? Certainly not We Bought the Zoo,' or whatever it's called," Denby wrote, referring to Cameron Crowe's "We Bought A Zoo, which also screened early for critics. "If we held everything serious, we would be coming out on Christmas-season movies until mid-January. We had to get something serious in the magazine. So reluctantly, we went early with 'Dragon,' which I called 'mesmerizing.' I apologize for the breach of the embargo. It won't happen again. But this was a special case brought on by year-end madness."
Indeed, in a letter published by The Hollywood Reporter, Denby did rail against the early voting, asking his fellow NYFCC members what was so important about being first -- ironic given that he is now the first to publish his review.
"I appreciate all of this, David, but you simply have to be good for your word," he wrote in his email back. "Your seeing the movie was conditional on your honoring the embargo, which you agreed to do. The needs of the magazine cannot trump your word. The fact that the review is good is immaterial, as I suspect you know. You've very badly damaged the movie by doing this, and I could not in good conscience invite you to see another movie of mine again."
So, why does this matter?
There is a symbiotic, mutually-beneficial relationship between journalists and movie studios: the former need movies to write about, the latter need people to write about their movies. And so, as movies make their way from conception to production to release, studio publicists grant journalists opportunities to visit the set, interview stars and see screenings early, with the anticipation that each step in the process will be written about, building buzz for a project along the way.
This all works quite well, especially when the movie is a good one, but there are some rules guiding conduct. Studios cannot dictate what people write, but they can loosely determine when it will be released. That's the embargo date. Their marketing plans depend on it -- they're timed just right to get those quotes from various reviewers up on their posters and in their TV ads.
That speaks to the gentleman's agreement between studios and journalists, which can be a tricky thing to navigate. In this case, Denby did agree to an embargo date, but the larger issue is whether there should be embargo dates in the first place. This raises the question of what will happen in the future: will other journalists follow suit? Will studios stop giving advance access and screenings? For a public hungry for access to stars and news about juicy upcoming films, this could prove crucial.
It could mean nothing, of course, other than a flare of egos. But regardless of who you believe is right in this matter, both in the micro and macro sense, it's always interesting to see the inside game behind all the glitz and glamour become the main attraction.
Calling all HuffPost superfans!
Sign up for membership to become a founding member and help shape HuffPost's next chapter