 CEO pay has skyrocketed over the last few decades, and corporate leaders are usually tight-lipped on the subject.
But we were offered a rare moment of candor last month from David Dillon, chairman and former CEO of the grocery chain Kroger, who called his own eight-figure paycheck "ludicrous" during an Aspen Ideas Festival panel.
"While I don't really defend that amount, it even seems ludicrous to me," said Dillion. "It wasn't that ludicrous at the time they put it together, until the stock price went up."
Dillion went on to say that even though his total compensation was nearly $13 million last year, he was still only in the bottom 25 percent of CEO pay among peer companies.
Compared to what other executives receive, Dillon called his own figure "a little more responsible," but added that "still you'd argue, I think, it was pretty damn high."
The average CEO pay at America's top 350 companies was $15.2 million in 2013, according to the Economic Policy Institute, a left-leaning think tank. Since 1978, inflation-adjusted CEO pay has increased a staggering 937 percent while a typical worker's wages have only increased by about 10 percent, according to the EPI.
CEOs at these top companies now make roughly 293 times the annual wages of their employees. By contrast, in 1978 the typical chief executive made about 20 times what his or her workers earned.
During the panel, Dillon said he'd told the compensation committee at Kroger that "there needs to be some moderation" and that they needed to "put some brakes on" in respect to CEO pay.
Dillon's compensation has been climbing steadily over the past decade, a result of the phenomenal stock growth enjoyed by Kroger during his tenure. Kroger's stock was worth about $22 just five years ago. Today, it's trading at more than $50.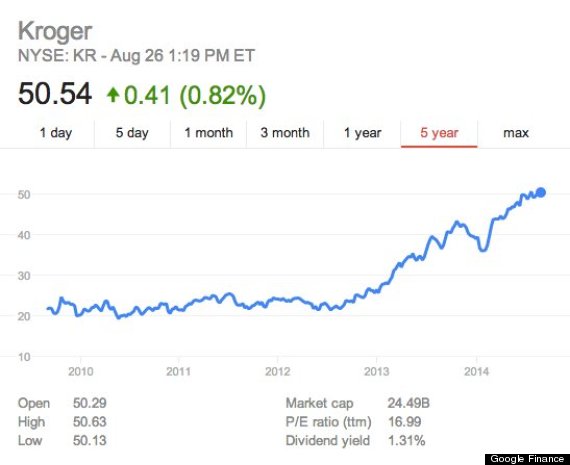 In an interview about the panel with Quartz, Dillon clarified that his comments were "mostly in reference" to how Kroger's stock boom has caused his compensation package to grow so much over the years.
Nevertheless, he said that "generally speaking, executive pay has gotten too high, and it needs to be addressed in appropriate ways."
Dillon ended his tenure as Kroger's CEO on January 1 and currently serves as the company's chairman of the board.
You can watch the whole panel here:
Support HuffPost
The Stakes Have Never Been Higher
Related
Popular in the Community