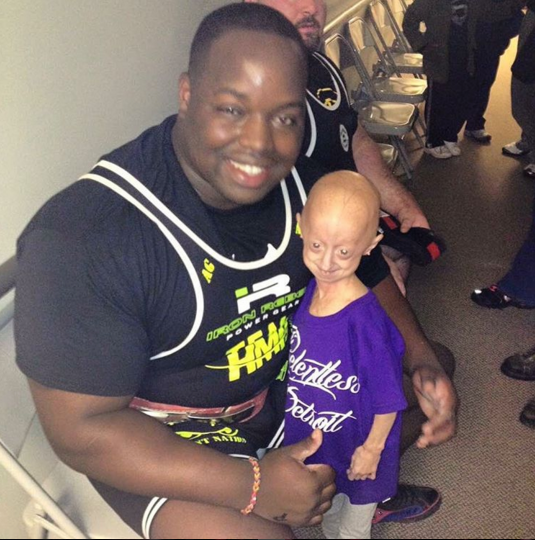 He may be taller than her, but these two buds see eye-to-eye. 
After a photo of professional powerlifter, David "The Beast" Douglas, 29, and 12-year-old Lindsay Ratcliffe, of Detroit, went viral in late March, the world is learning about this dynamic duo's unbreakable friendship.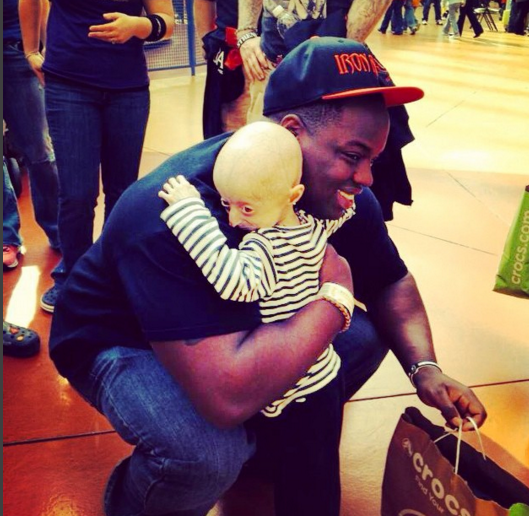 The photo, which has garnered over 100,000 shares, features Douglas, a 6-foot tall, 330-pound Marine vet, holding Lindsay's hand. Lindsay has progeria, a rare, genetic condition that causes rapid, premature aging, stunted growth, hip dislocation, stroke and hair loss. Children who have the condition die on average at the age of 14, due to heart disease.
The reason the photo, which was initially taken in 2014, is currently resonating with so many people, is due to a small but powerful addition Douglas made: the word "strong," is written at the top of his shirt and the word "stronger" is printed lower down on his shirt with an arrow pointing to Lindsay.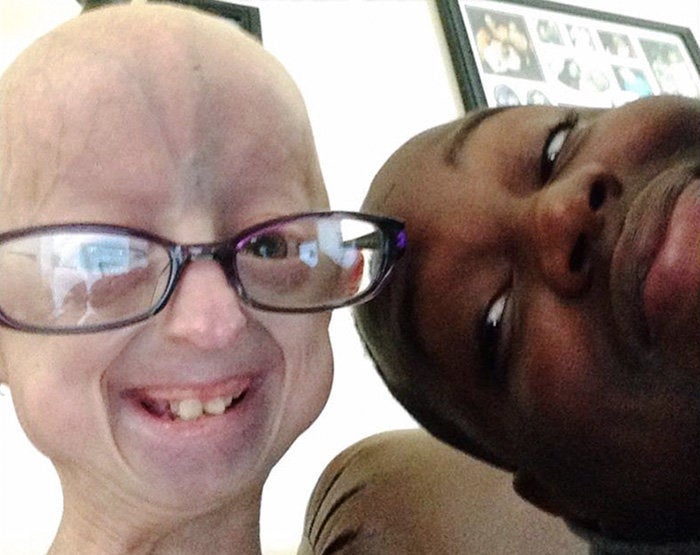 Douglas first met Lindsay, who he calls his "little sis," in 2013 at Relentless, a powerlifting event sponsored by HopeKids to benefit children with rare diseases.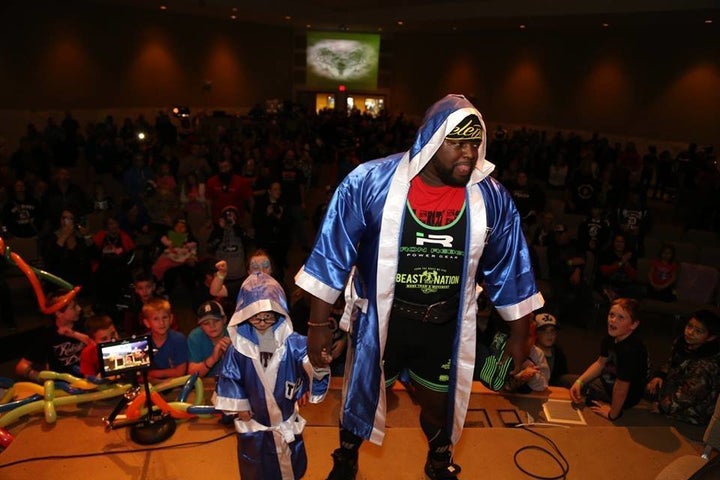 According to Douglas, Lindsay and her parents looked up all the lifters before the event and specifically asked to meet Douglas because he's a Marine vet and Lindsay's father is an Army vet.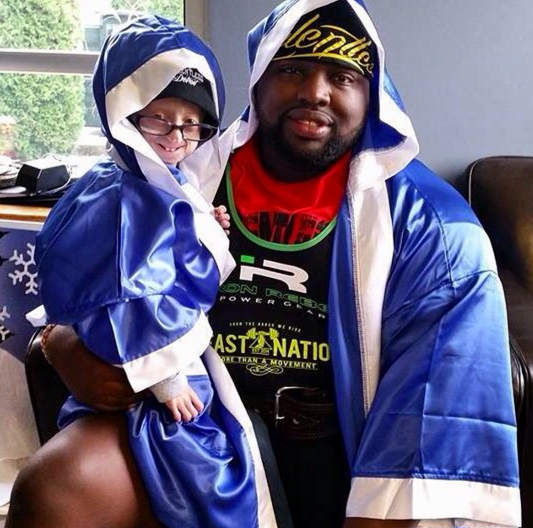 "I had that bond with her and her parents," Douglas told The Huffington Post. "We all just connected."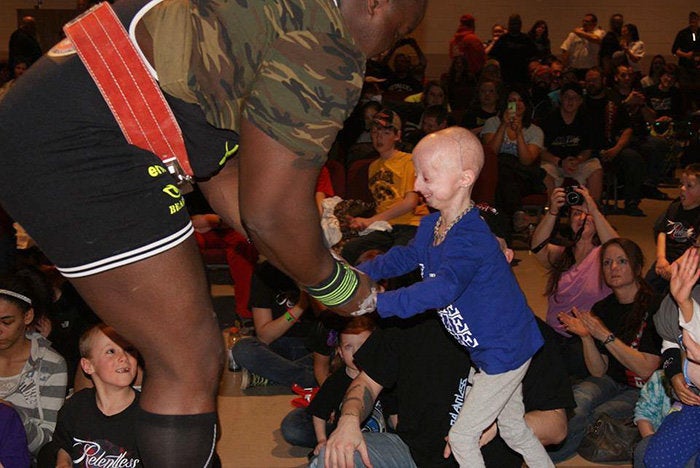 The two have been friends ever since. Douglas even flew to Michigan to surprise Lindsay for a charity walk:
"When she ran into my arms when I surprised her was a very big moment for me," Douglas said.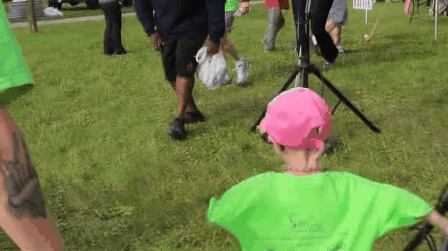 But an even bigger moment for Douglas was when Lindsay returned the favor. Just before he went into surgery for his bicep in 2014, Lindsay showed up to the hospital to surprise him with a shark pillow.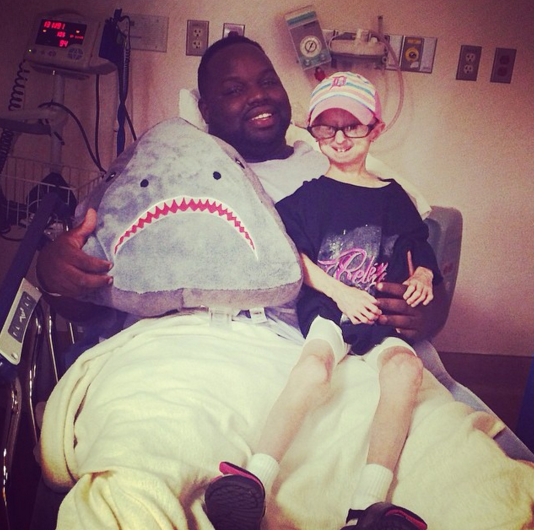 "That had me broken down," Douglas said. "To be going through what she is going through and still make that big of an effort to lift someone else's spirits blew me away. I will never forget that moment."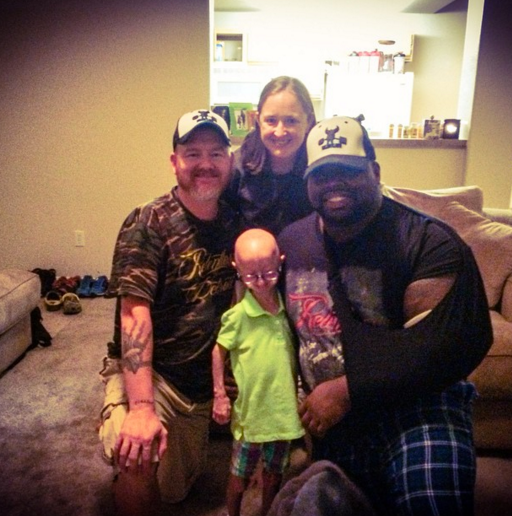 REAL LIFE. REAL NEWS. REAL VOICES.
Help us tell more of the stories that matter from voices that too often remain unheard.
BEFORE YOU GO
PHOTO GALLERY
Portraits In Honor Of Rare Disease Day