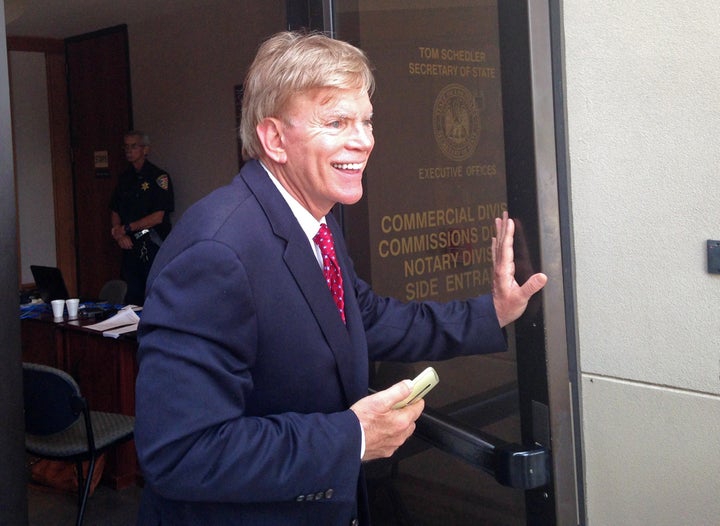 WASHINGTON ― U.S. Senate hopefuls in Louisiana attacked fellow candidate, former KKK Grand Wizard David Duke, in a heated ― and at times, utterly surreal — debate Wednesday at a historically black university in New Orleans.
The debate showed just how far the political climate surrounding Republican presidential contender Donald Trump has shifted to embolden white nationalist rhetoric: It included a moderator question about Duke's references to the "CNN Jews," a Duke rant about Jewish people controlling banking, and a lengthy shouting match.
Democrat Caroline Fayard, one of six leading candidates at the event, kicked it off by pointing to the elephant in the room — that Duke, an anti-Semite who qualified for the debate after receiving 5 percent of the vote in a statewide poll, was there at all.
She said that schoolchildren had asked her if she was running against "a bad guy." She told them, "Yes, there's one, his name is David Duke." At the debate, Fayard called Duke a "snake" that has "slithered out of the swamp," and pleaded for voters to join her and "cut the head off of his hatred."
Public Service Commissioner Foster Campbell, another Democrat, later said, "I have nothing in common with [Duke] other than, we're probably breathing."
The debate took place at Dillard University without an open public audience, because the debate's sponsor, Raycom Media, opted not to have one. That meant the university's mostly black student body was not permitted to attend. Protesters reportedly clashed with police outside of the building.
Duke, who is extremely unlikely to win the race, has a long history of seeking public office in Louisiana. He served as a state representative starting in 1989 and later came surprisingly close to winning the governor's seat. But he and other white nationalists have been emboldened by Trump's rise to more aggressively court disgruntled white voters.
At times, Duke's language — which included attacking the Black Lives Matter movement — seemed to echo Trump's. "I'm the bad guy because I defend the people of this country that made this country great," he said at one point.
This was no ordinary U.S. senate debate. At one point, Republican state Treasurer John Kennedy, who has led polls, referred to Duke's felony conviction and listed what he claimed was Duke's federal prison number.
This led to a shouting match, in which Duke sought to defend himself by claiming he was "targeted by the government." He also went after the media, which he said was biased against him.
In perhaps the most bizarre moment of the debate, the moderator asked Duke why his website made repeated references to "CNN Jews." Duke went on an anti-Semitic rant about how "there is a problem in America with a very strong, powerful tribal group that dominates our media and dominates our international banking." He added, "I'm not opposed to all Jews."
The other Republicans running for the open U.S. Senate seat still saw a clear difference between Duke and Trump ― because they support the latter. 
Kennedy told Duke, "It must be terrible to wake up in the morning with that much hate in your heart."
Calling all HuffPost superfans!
Sign up for membership to become a founding member and help shape HuffPost's next chapter