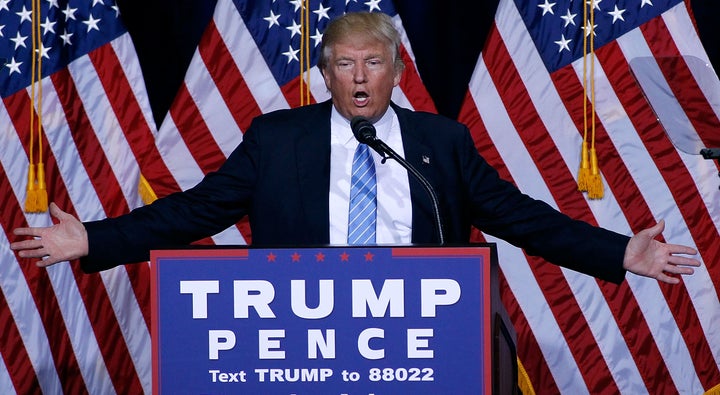 WASHINGTON ― Prominent members of the white supremacist movement applauded Republican presidential nominee Donald Trump's immigration speech Wednesday.
David Duke, a former Ku Klux Klan leader and current Senate candidate in Louisiana, called the speech "excellent." Jared Taylor, editor of the white nationalist publication American Renaissance, said it was a "hell of a speech. Almost perfect."
"Trump is back," wrote Richard Spencer, president of the National Policy Institute, a white nationalist think tank.
All three men also live-tweeted Trump's speech, another sign of how white nationalists are engaging with Trump's campaign in a way that is unprecedented in modern politics.
Trump delivered his fiery, fear-mongering speech in Phoenix just hours after meeting with Mexican President Enrique Peña Nieto in Mexico City for what Trump called a "substantive, direct and constructive exchange of ideas." The optimism Trump projected in Mexico, however, was nowhere to be found in Arizona.
Instead, Trump laid out a grim vision of the U.S., describing it as a country under siege from violent "criminal aliens." Undocumented immigrants, he said, were responsible for the deaths of "countless Americans."
In response to this perceived threat, Trump proposed a 10-point plan that would, among other things, build a wall across the United States' southern border; create a "deportation task force" within the Department of Homeland Security; triple the number of Immigration and Customs Enforcement agents; and immediately begin deporting 2 million "criminal aliens." Trump did not say how he planned to pay for these initiatives.
The hourlong speech was written to appeal directly to white men, according to Trump confidante Corey Lewandowski. "White males have a high propensity of voting [and] this speech is clearly geared at those individuals right now, to make sure [Trump] has locked them in for the election," the former Trump campaign manager said on CNN.
To wit, the speech contained many of the same shades of xenophobia and nativism that characterized Trump's Republican primary campaign, during which many Americans formed the opinion that Trump is racist.
For the fringe world of white nationalism, Trump's primary campaign was a godsend. Thanks to Trump, topics that were previously taboo ― like barring people from certain religious groups or nationalities from entering the U.S. ― were suddenly front and center in national debates.
Equally encouraging for the "pro-white" movement was Trump's reluctance this spring to publicly denounce Duke during a national TV interview ― host Chuck Todd had to ask Trump three times before the candidate said, "I denounce."
A few months later, prominent white nationalist William Johnson was selected to serve as a Trump delegate to the Republican National Convention in Cleveland. When the news made headlines, Johnson withdrew. Trump's campaign blamed a paperwork error.
Duke launched his longshot Senate campaign on July 22, one day after Trump accepted the Republican presidential nomination at the convention. Promising to defend the "rights and heritage of European Americans," Duke cited Trump's success as a factor in his decision to run.
"I am overjoyed to see Donald Trump and most Americans embrace most of the issues I've championed for years," Duke said in a campaign video, below.
Popular in the Community