 NEW YORK -- A man whose name could go down in history books took the stand Monday in first day of the federal trial of New York City's stop and frisk policy, testifying that police humiliated him when they twice stopped him near his Bronx home.
The Center for Constitutional Rights, a non-profit civil rights legal group, is bringing the lawsuit, Floyd v. City of New York, against the city, alleging stop and frisk as it is currently being practiced violates constitutional protections against racial discrimination and unreasonable search. Under the policy, New York Police Department officers may stop, question and frisk New Yorkers -- but they are only supposed to do so if they have reasonable suspicion of criminal activity.
Witnesses in the civil trial will include police officers and people like Jeffrey Fagan, a Columbia University law professor who will testify about alleged racial disparities in police stops. The case is a class action on behalf of the hundreds of thousands of black and Latino New Yorkers who are stopped by cops every year. But it is David Floyd, 33, the lead named plaintiff in the case, who will have his name attached to whatever decision U.S. District Judge Shira Scheindlin comes to.
Floyd, who is black, is currently studying to become a doctor. He testified for more than an hour on Monday, wearing a dress shirt and tie, and recalled in a strong, even voice two police stops near his house.
In April 2007, Floyd said, he was stopped by three police officers who demanded his identification and then proceeded to pat him down from his groin to his ankle on both legs. Despite telling the officers that he did not consent to the search they went ahead, one using a finger to search in Floyd's pants.
The entire stop lasted no more than 10 minutes, but for Floyd it was a jarring experience. He said he felt "frustrated, humiliated -- because it was on my block where I live, and I wasn't doing anything." All he could think, he said, was that he wanted to get back to the safety of his home.
The second time, Floyd said, even his home wasn't safe. In February 2008, he said, he was stopped as he helped a locked-out neighbor use a spare set of keys to enter a ground-floor apartment.
"Before we could go in, we were stopped," Floyd said. The officers started to search him, again patting him down from his groin to his ankles, and again without his permission.
"It was again the humiliation," Floyd said. But this time, he added, "it wasn't down the block, it wasn't in another neighborhood. It was on the property that I lived on."
"I felt that I was being told I shouldn't leave my home," he said.
Floyd's testimony was cut short by the adjournment of court for the day.
City lawyer Morgan Kunz tried to cast doubt on Floyd's statements. That back-and-forth and a similar exchange with the witness who testified before Floyd, Harlem teen Devin Almonor, likely offers a preview of the city's courtroom strategy.
Both witnesses had their reliability questioned. Floyd was grilled about whether one of the stops occurred on a Friday or a Saturday, whether it happened at noon or at 2:45 p.m., and whether he was wearing jeans. Almonor, who was 13 years old when he was stopped, handcuffed and taken to a precinct house for six hours, was pressed on whether or not he was jaywalking before his encounter with police.
In both cases, the city's cross examination suggested, the witnesses' credibility should be placed in the context of their political commitment to changing stop and frisk.
Almonor was asked about a video he made criticizing the policy. Floyd was questioned by Kunz for his "activism around police issues" and his role in organizing a post-Hurricane Katrina "tribunal" on official misconduct in New Orleans.
"The more times you've told this story, the more reinforced it gets in your mind?" Kunz asked Floyd, later following up with, "Your strong feelings on this issue, have they affected the way you testified?"
Floyd denied that they had. The only thing that had affected his testimony, he said, was the way police treated him.
Related
Before You Go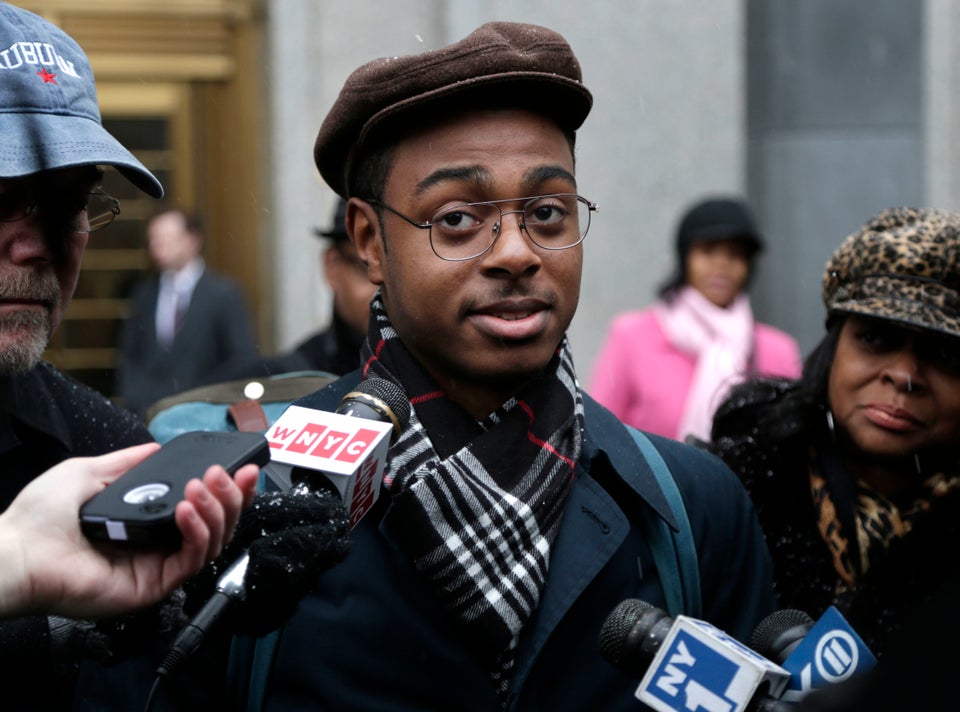 Stop And Frisk Goes On Trial In NYC
Popular in the Community