David Foster Wallace wanted to know who had thought bringing him to Kenyon College to deliver its commencement address was a good idea.
Meredith Farmer, an English and philosophy double major in the class of 2005, nervously claimed responsibility.
"Go fuck yourself," Wallace told her. "Fuck you."
Wallace asked Farmer how old she thought he was. At 43, he felt too young to speak at a graduation. His father would give a better address, he said.
Farmer had only slept a few hours the night before her graduation. It took her a moment to realize the novelist -- whom she had admired since high school -- was kidding.
It was less than two hours before commencement, and Wallace was ensconced in a room in the cottage that housed Kenyon's English department. Pages of his speech were spread across the floor and table, beside cups into which he had spat chewing tobacco. His speech was too long, and he was trying to cut it down quickly.
Despite the time crunch, Wallace entertained the student responsible for bringing him to campus and her friend, Chris Bench. He sang a song about Galveston, Texas, Farmer's hometown. He beatboxed the opening to Billy Joel's "Allentown," which is about the city Bench was from. The students were still a little hungover from the night before, but Wallace was inquisitive -- he wanted to know how they liked Kenyon, and whether they planned to go to graduate school. He signed a copy of his book Everything and More for Farmer, scrawling "Congratulations on the Big BA" on the title page.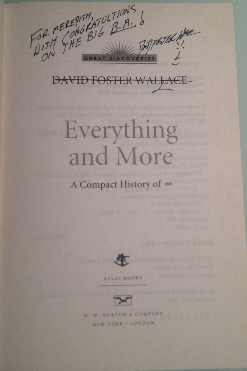 They bantered a while longer before Wallace apologized and said he needed to get back to work -- he still had to trim five minutes from his speech.
Wallace published widely, authoring short stories, reported pieces and novels, including the 1,076-page tome Infinite Jest in 1996. He won multiple literary honors and a MacArthur "genius" grant, making him one of the most acclaimed writers of his generation despite his relatively brief life. And yet this commencement speech is the way many people have discovered his work.
"It's been stunningly powerful," said his biographer, D.T. Max. "His reputation has spread beyond the sort of intense readers who were his public before. Now many, many people know him entirely through this speech."
What most people don't know is that Wallace's Kenyon speech almost didn't happen.
The school's junior class committee, a group of 10 to 12 students, picked the commencement speaker -- a process that started more than a year before graduation. A few years earlier, the committee had established priorities for selecting a good speaker -- someone who would deliver a memorable speech, and one that was particular to Kenyon.
Farmer nominated Wallace, known for his energetic prose, long sentences, penetrating cultural analysis and numerous, detailed footnotes. But the majority of the committee hadn't heard of the writer.
When the committee started to narrow down the list of nominees, though, Wallace's relative obscurity worked in his favor. Farmer remembers she and her friend Jackie Giordano pushed for other candidates as "decoys" in hopes of giving Wallace a better chance. The process was contentious, and the committee divided into factions. Republicans voted off Democrats; Democrats voted off Republicans. Hillary Clinton, then a senator, and former astronaut-turned-senator John Glenn were finalists who didn't make the cut.
The list dwindled. Soon, just a few names -- including Wallace -- remained. A political science major on the committee asked who he was. Farmer and Giordano had prepared handouts in Farmer's dorm room for this occasion, with selections of Wallace's musings on the value of education and the liberal arts. They lobbied committee members outside the formal meetings. Wallace fit Kenyon's literary tradition, they argued, and he'd taught at Pomona -- another small liberal arts school.
The president of the committee called for a vote. And even though most of the committee had never heard of him before, Wallace won a majority, becoming the official nominee to be the college's 2005 commencement speaker.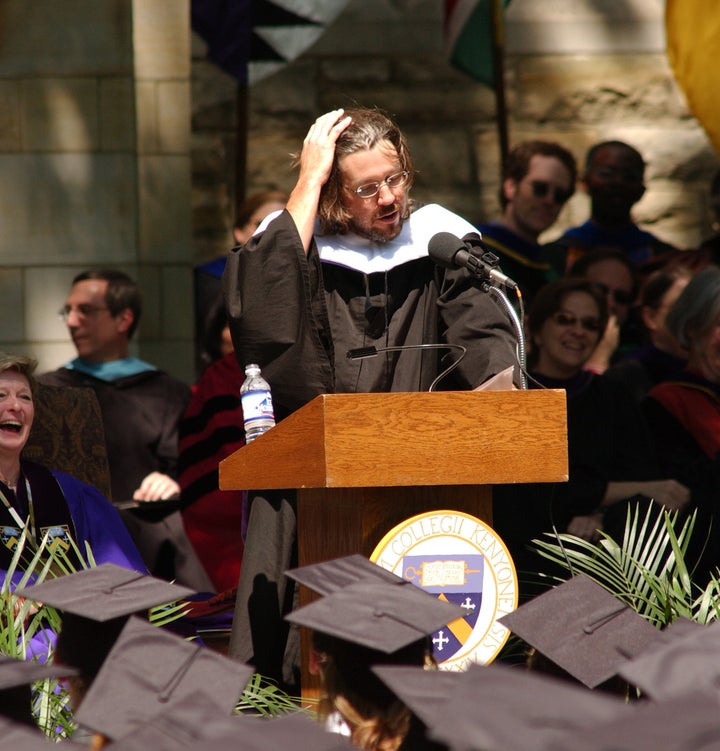 The committee forwarded its recommendation to Georgia Nugent, then the school's president, who was responsible for issuing the formal invitation to Wallace. Nugent was used to rejection when it came to commencement speakers -- often the committee would submit people who weren't likely to accept the invitation, forcing the school to pick a second or third choice, or someone else entirely, at the last minute.
Nugent made a personal appeal in her letter to Wallace, hoping to increase the chances he would accept. She mentioned that her husband had recently seen him speak in New York City and was impressed by the way the novelist engaged young people in the audience.
Nugent sent the formal request, but Susan Manecke, the commencement coordinator in the president's office, was responsible for actually getting Wallace to accept. She sent Nugent's letter. Then, in the fall of 2004, she started calling. Wallace wouldn't commit to speaking, and told Manecke he was anxious about speaking in front of a large crowd.
Manecke worked to persuade Wallace. She told him the graduating class would only be about 400 students. She assured Wallace, who grew up in the Midwest, that he would be comfortable in small-town Ohio.
Wallace wasn't convinced, but he didn't entirely dismiss the idea. He asked Manecke to call him back in a few weeks. She did, but Wallace still waffled. He told her to call back around Christmas.
At that point, Manecke was getting worried Wallace would ultimately decline. She called him a third time, after students had left for winter break. Wallace finally agreed to speak, but made two requests: He wanted to play tennis with a professor he knew at Kenyon, and he wanted to make sure that Manecke would be there when he arrived.
Over the next few months, Manecke and Wallace got to know each other as they coordinated the logistics of commencement. Manecke learned Wallace had gotten married recently and had once lived in Arizona, but was now in California teaching at Pomona. She told him about her children, who were in college at the time. When they finally met at commencement that May, Manecke felt like she was seeing an old friend.
Nugent hadn't met Wallace before either, but was a bit concerned about having him on campus.
"You're familiar with the kind of stock photo of him -- the bandanna, the straggly hair and, of course, his reputation," she recalled. "And I said, 'Oh this guy is going to be a real prima donna.' I expected him to be kind of arrogant."
But that was not the man who arrived on campus.
"He was so gentle and thoughtful and kind to everybody who encountered him," she said.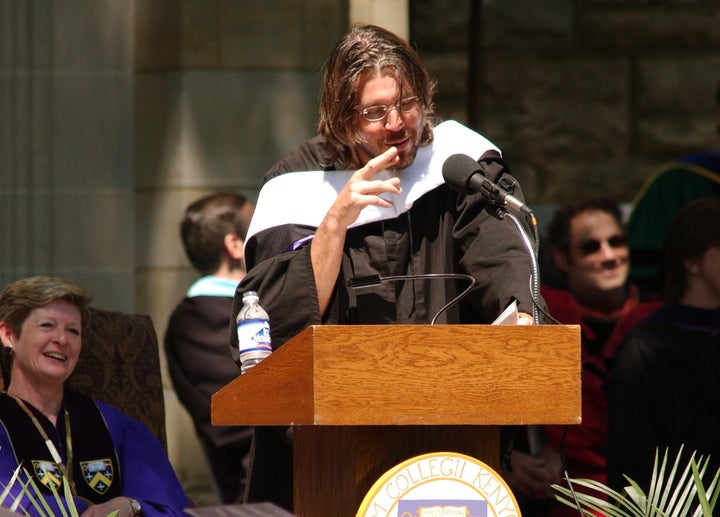 The night before the commencement, Nugent and her husband hosted Wallace for a dinner in a formal room in Kenyon's dining hall. Nugent can't remember what was served — maybe chicken — but it was bad. After the dinner, she and her husband accompanied Wallace to the campus bookstore, which doubled as a convenience store. Nugent noticed how easily and graciously Wallace spoke with each person who approached him. And she and her husband were amused to catch Wallace discreetly "scavenging" the store shelves for food to make up for the terrible dinner.
On the day of commencement, Wallace was still nervous.
Sergei Lobanov-Rostovsky, an English professor, invited Wallace to join him for breakfast at the Kenyon Inn, along with Carol and Ben Schumacher, two other Kenyon professors. The breakfast was meant, in part, to distract Wallace from his anxiety.
As they stood in line for the breakfast buffet, Carol Schumacher, a math professor, mentioned that she had recently finished his book Everything and More: A Compact History of Infinity, which is largely about the 19th-century German mathematician Georg Cantor. Wallace immediately apologized for the book, explaining that mathematicians often pointed out his errors and never seemed to like it very much. Schumacher told him that while there were in fact some errors, it approached the concept of infinity in an interesting and accessible way.
Over breakfast, the four professors discussed infinity and the way it came up in all of their respective fields -- mathematics, English, physics. One thing they didn't talk about was the content of the speech Wallace was going to give in a few hours.
Wallace refused to refer to the event as "commencement," but rather called it "the big scary ceremony." It was meant to be sardonic, but Lobanov-Rostovsky thought it concealed some truth about Wallace's nervousness.
In his biography, Max wrote that Wallace saw the address as "a chance to set out the things he cared about without the frustrating contrivance of the novel."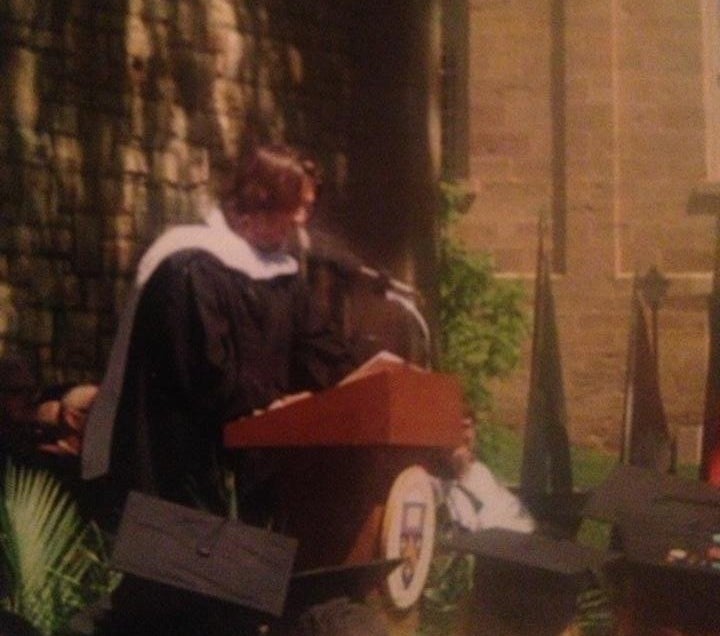 Michael Pietsch, Wallace's longtime editor, said that the theme of the speech — the idea that we can find rich meaning in the ordinary moments of our lives — was one that Wallace was wrote about in his final novel The Pale King, which he was working on at the time. Wallace's Kenyon speech, Pietsch said, is a "novel compressed into a poem."
"He's foregrounding that idea and playing with it, the idea of being aware of what you're doing at the moments where you wouldn't ordinarily be aware is where you're going to find peace and some wisdom," Pietsch said. "That's what he was exploring -- what people think of boring and ordinary is really the stuff of life."
Even back at Pomona, Wallace had been guarded about what he was going to say in the address. Kathleen Fitzpatrick and Rena Fraden, two of Wallace's colleagues, said he was always discreet about what he was writing. They don't remember Wallace mentioning the address at all. Pietsch said he remembers hearing the address was happening, but didn't speak with Wallace about it. Wallace's sister, Amy, said she doesn't remember her brother mentioning he would be giving Kenyon's commencement address until a week before he did it.
It was extremely hot when Wallace stepped up to the lectern to deliver the speech, the late-morning sun hanging high over the quad. He was sweating through his black academic robes. His long hair fell in front of his face and his regalia hung off his shoulder.
"If anybody feels like perspiring, I'd advise you to go ahead, because I'm sure going to," he said, reaching under his gown for a handkerchief to wipe his face.
Then he began his speech:
When he was done, Wallace stood in the heat as Fred Baumann, a political science professor and faculty secretary, called the name of each member of the class of 2005. He clapped as they walked across the stage. He stuck around after the ceremony to talk to graduates and their families.
A student at a nearby college had recorded the address, and sent out a transcript to a list-serv for Wallace fans. By June, a transcript of the speech was circulating in email chain letters and on Facebook. Wallace himself was confused as to how far it had spread, his biographer wrote, because he hadn't even given Kenyon a copy of the speech. Someone had transcribed all 23 minutes of it. It took on a life beyond Kenyon -- a YouTube video of the audio over a photo of Wallace has over 1 million views.
Wallace killed himself in 2008.
Farmer, now 33, will get her Ph.D. in English in August and now teaches at Wake Forest University. But her life has taken a strange turn. "I already had the biggest impact I will ever have on the literary world, and the rest is falling action, and that's weird," she said. "If I was to write an academic book and then another academic book -- that obviously will never have this kind of impact."
Support HuffPost
The Stakes Have Never Been Higher
Related
Before You Go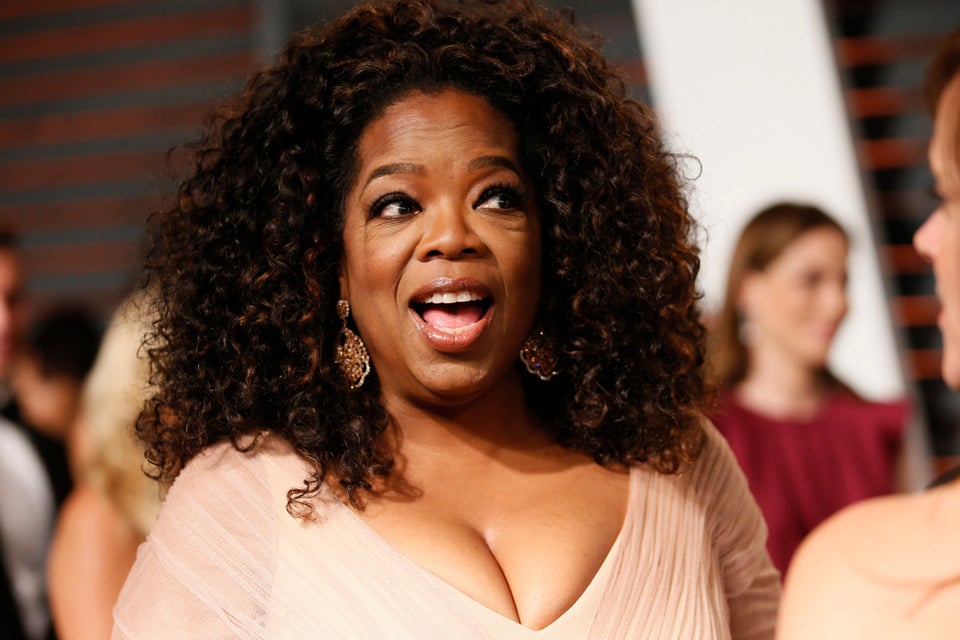 Commencement 2016 Lineup
Popular in the Community