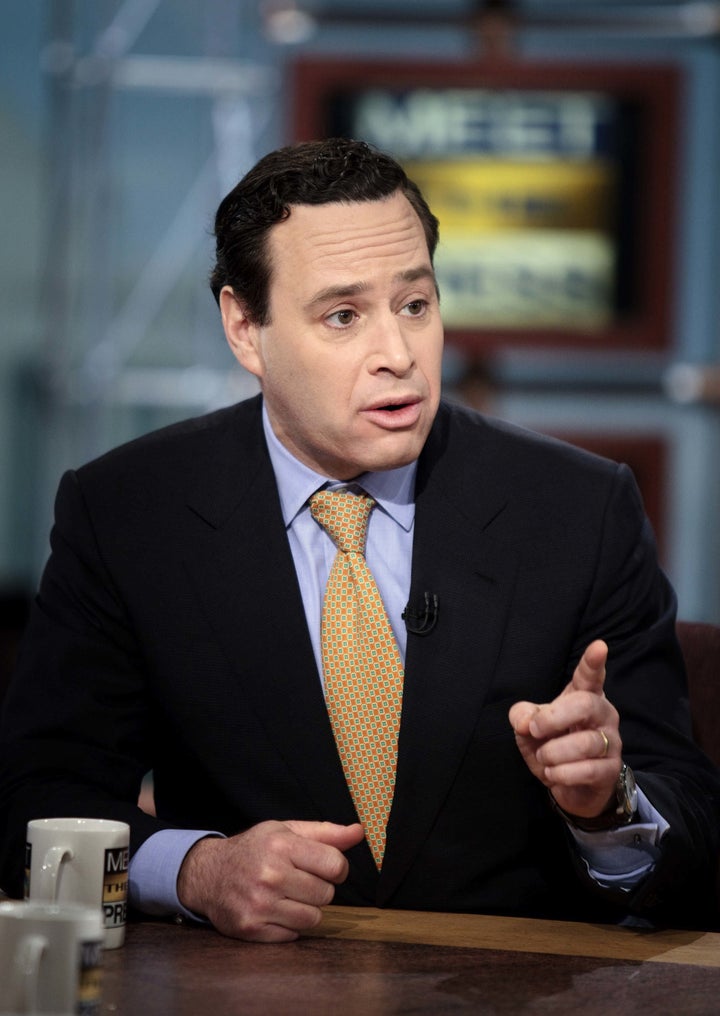 See late updates below...
Former George W. Bush speechwriter David Frum has resigned from the right-wing American Enterprise Institute, Frum announced on his Web site Thursday afternoon -- a move which suggests the conservative movement has cut ties with Frum over the straight talk he has been providing all week.
Following the passage of health care reform in the House, Frum made waves with a column for CNN.com declaring that health care had proven to been "Waterloo" for the GOP, not for Obama as Sen. Jim DeMint (R-S.C.) infamously suggested. Republican lawmakers quickly dismissed Frum, a prominent reformist conservative, as a mere "former staffer."
Then Frum said on "Nightline" that the Republican Party's lockstep with the Fox News attack machine has hurt the party, and that "we're discovering we work for Fox." That may have been the last straw for AEI.
"I have been a resident fellow at the American Enterprise Institute since 2003. At lunch today, AEI President Arthur Brooks and I came to a termination of that relationship," Frum wrote on his Web site. The full text of his "resignation" letter is below:
Dear Arthur,

This will memorialize our conversation at lunch today. Effective immediately, my position as a resident fellow at the American Enterprise Institute is terminated. I appreciate the consideration that delays my emptying of my office until after my return from travel next week. Premises will be vacated no later than April 9.

I have had many fruitful years at the American Enterprise Institute, and I do regret this abrupt and unexpected conclusion of our relationship.

Very truly yours,
David Frum
While Frum has been willing to speak out on Republican failings, he's hardly become a liberal since leaving the Bush White House. In a column published Wednesday night, he recommended that Obama either ignore the issue of immigration reform or encourage "self-deportation."
But the conservative movement has a tendency to excommunicate anyone who breaks ranks, says Bruce Bartlett, who was fired by the National Center for Policy Analysis, another right-wing think tank, for writing a book critical of Bush policies. "In the years since, I have lost a great many friends and been shunned by conservative society in Washington, D.C," Bartlett wrote in the wake of Frum's resignation.
Bartlett, who served as a domestic policy aide for Ronald Reagan and a deputy assistant Treasury secretary under the first President Bush, claimed Frum told him privately a few months ago that conservatives on AEI's payroll had been "ordered" not to speak to the media about health care reform "because they agreed with too much of what Obama was trying to do." Frum himself certainly violated that order.
[UPDATE: Supporting Bartlett's claim, Paul Krugman points out that a 2003 health reform proposal from the Heritage Foundation, a think tank considered more right-wing than AEI, looks a lot like the bill Obama just signed.]
[UPDATE 2: Frum tells Mike Allen that "donor pressure" related to his "Waterloo" post was indeed responsible for his termination. Frum claims "the core of the story is the kind of economic pressure that intellectual conservatives are under" -- meaning AEI couldn't risk displeasing its base by keeping Frum on after he criticized the Republican Party. "[T]he elite isn't leading anymore," said Frum. "It's trapped."
Earlier, Frum told Greg Sargent he and AEI parted ways over money, not ideology -- they offered him the chance to continue on at a salary of zero -- and that his criticisms of the Republican Party were "welcomed and celebrated" at the conservative think tank.
Allen reports that AEI is standing by their earlier story that it was Frum's decision to leave.]
[UPDATE 3: Frum's excommunication continues. At The Corner, Charles Murray calls Frum's statement to Mike Allen "despicable" and announces that their friendship of "many years" is over. "I have known and liked David and Danielle Frum for many years, and what I am about to write will end that friendship. I regret that. But his statement goes beyond self-serving. It is a calumny against an organization that has treated him not just fairly but generously," Murray wrote.
Murray dismisses Frum's charges of donor pressure as "fantasy" and says those claims are "without a shred of evidence." Murray's explanation -- which he refers to as "guessing" -- is that Frum wasn't involved enough in day-to-day operations at AEI. But Murray acknowledges that he himself shows up so rarely he doesn't even have an office at AEI, and he has not faced dismissal.]

Popular in the Community