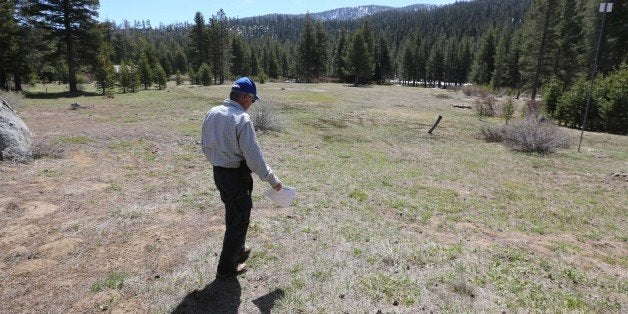 David Frum, a conservative pundit and senior editor at The Atlantic, wants to know why The New York Times isn't putting more emphasis on immigration in its coverage of the California water crisis.
In a pair of tweets Friday, Frum criticized the Times for not including more references to the state's "immigration-driven population surge" in its reporting on the crisis.
The Times has also called attention to the role of California's agricultural industry, which accounts for a huge amount of the state's water use.
Peter Gleick, a climate scientist and the president of the Pacific Institute, an organization dedicated to environmental protection, dismissed Frum's argument that immigration is a significant factor in California's water crisis.
"To claim California's water crisis is due to immigration and the use of water by immigrants is to grossly misunderstand California's true water challenges," Gleick told The Huffington Post in an email. "Population growth of course affects the use of all resources (land, energy, food, water), but the water crisis was here 30 years ago, urban demand is only 20 percent of total water demand, urban water use has been level for 30 years and per-capita water use is going down, not up."
Responding to Gleick's criticism, Frum told HuffPost that population growth is still important to consider.
"If per capita water use is going down and you add 10 million people, then the decline in per capita use would be overmatched by the increase in total population," Frum said. "The question is not 'is immigration the cause of the crisis.' My tweet noted that some people want to omit any mention of it at all. And it seems to me that certainly the growth in California's population is relevant. In California, water is a finite resource."
Yet it still seems doubtful that population growth is playing more of a role in California's water crisis than agribusiness. Nearly 95 percent of California residents live in urban areas, and the state's total urban water use has remained roughly constant for the last two decades, according to the Public Policy Institute of California.
In addition, the "immigrant-driven population surge" Frum refers to is somewhat exaggerated, and the figures he cites are overstated. California's population in 1990 stood at 29.8 million, according to the U.S. Census. By 2014, the state's population had risen to 38.8 million -- an increase of just over 9 million, not 10 million, and of about 30.4 percent, not 33 percent.
Even if one accepts Frum's 33 percent figure, though, it still doesn't mean the state's recent immigrant-driven population growth can really be called a "surge."
Historically, immigration has indeed fueled a steady growth in California's population, ever since European-Americans began a massive influx toward the area the mid-19th century.
But according to census data, that steady migration began to taper off during the 1990s -- precisely the time that Frum views as decisive.
Since 2000, California's population growth has slowed to a rate that's "barely keeping pace with the nation as a whole," according to The Sacramento Bee.
Native births and migration from other parts of the U.S. have accounted for the majority of California's population growth in recent years. California's foreign-born population grew from 6.5 million in 1990 to 10.2 million in 2013, according to census estimates -- meaning that although the state added 9 million new residents during that time, only 3.7 million of them were immigrants. Foreign-born residents of California accounted for 27 percent of the population in 2013, up from 21.7 percent in 1990.
Popular in the Community