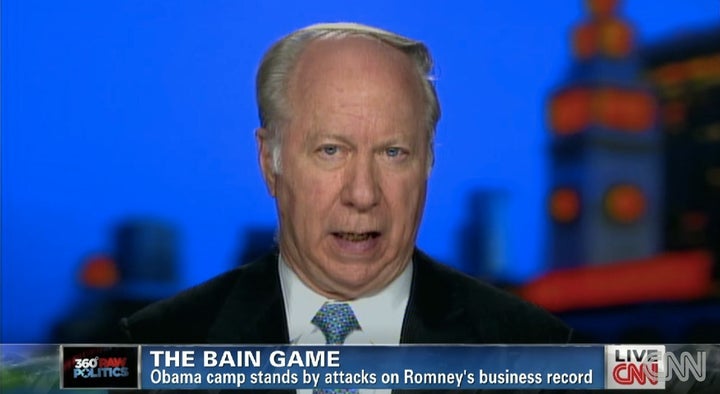 NEW YORK -- CNN senior political analyst David Gergen defended Mitt Romney this week against the Obama campaign's charges that the presumptive Republican nominee hasn't been honest about his tenure at Bain Capital -- a private-equity firm the former presidential adviser-turned-TV pundit knows something about.
On Monday, Gergen acknowledged having a "past relationship with the top partners at Bain that is both personal and financial" -- a disclosure that the Daily Beast's Andrew Sullivan suggested is "what's wrong with the press corps" and raised questions about Gergen's role in analyzing Romney's experience at the firm.
"I have worked with them in support of nonprofit organizations such as City Year," Gergen wrote. "I have given a couple of paid speeches for Bain dinners, as I have for many other groups. I was on the board of a for-profit childcare company, Bright Horizons, that was purchased by Bain Capital. It was a transaction with financial benefits for all board members and shareholders, including me."
Gergen, while acknowledging his "bias" on Monday, wrote how he's "come to admire and like the leaders of Bain Capital" because the firm "stands out for the respect in which it is generally held and for the generous philanthropy of some of its partners."
The Romney campaign is facing a media firestorm over the candidate's ties to Bain after February 1999, when the campaign maintains he gave up involvement in management and investment decisions to run the Olympics. Reporters at The Huffington Post, among other outlets, have challenged the campaign's claims, while revealing Romney's continued ties to Bain through 2002, including signed SEC documents confirming his position as Bain's sole owner and chief executive and sworn testimony that he continued sitting on Bain-affiliated boards of companies for years after the Olympics.
But Gergen said he also looked into the matter, noting that "when the story first broke Thursday in the Boston Globe suggesting that Romney and Bain had fudged, CNN asked if I would do some reporting." And Gergen's Bain sources, speaking anonymously, backed up the campaign's claims, thus leading the CNN analyst to argue the Obama team's charges aren't supported by facts.
It seems unusual for CNN to ask a political analyst like Gergen -- especially one with ties to Bain -- to do independent reporting for the network.
A CNN spokeswoman explained in a statement to The Huffington Post why Gergen was asked to do reporting and said the producer making the request was unaware of Gergen's relationship to Bain at the time.
"Last week a CNN producer asked several reporters and analysts, including David Gergen, to follow up on questions about Gov. Romney's exit from Bain. At the time, the CNN producer was unaware that David had past financial ties with Bain years ago. In a later conversation, when David disclosed this past relationship, all agreed that he would be transparent with a full disclosure when he appeared on CNN later that night. The disclosure was also included in David's weekend op-ed."
The spokeswoman added that Gergen has no current relationship with Bain and hasn't had one for years. And if Gergen again discusses Bain on air, his past relationship will be disclosed.
Gergen made disclosures during recent appearances on "Anderson Cooper 360," where he described the Obama campaign's attacks on Bain as "way off-base" and "ill-founded." Bain, he told Cooper, is "very well regarded in Boston."
That's a position Gergen's taken before, with or without being clear about the extent of his past financial relationships with Bain. In looking at Gergen's previous, largely praise-worthy analysis of Bain during the 2012 election cycle, the CNN analyst has, at times, noted some relationship to Bain while also neglecting to do so on air when lauding the company.
On Jan. 9, host Anderson Cooper asked Gergen about Republicans striking a more populist tone in attacking Romney just before the New Hampshire primary. Gergen suggested "desperation" on the part of Romney's rivals and noted that "Bain Capital is a success within the free market system."
"Within Boston where I live now and Bain Capital is located, Bain has a very good reputation," Gergen said. "They are not seen as corporate raiders. They're seen as responsible in the way they buy out things."
Gergen acknowledged having "one personal experience in a corporate setting where they came in and bought the company," without naming the company.
"We were very, very proud, in terms of the company and having Bain as partner," he continued. "And Domino's Pizza, I can tell you from another conversation today with someone who was very involved in that, Bain came in, they did it -- very responsible. Domino's had that niche in the market of delivering pizzas, they almost went down, and Bain came in, turned it around and they have done well."
Overall, Gergen said on air, "within the business community, Bain has a general reputation in Boston as very positive."
Two days later, Gergen similarly wrote in an online column of Bain Capital's "positive reputation in Boston and beyond."
"I have worked with today's Bain partners on several projects, mostly revolving around nonprofits, and I have found them to be highly professional, socially committed individuals," Gergen wrote. "Some are seen as among the leading philanthropists in New England. It is worth remembering, too, that the Olympics hired Romney to head the Games while he was at Bain Capital. Is it logical to think the Olympic committee had any sense that Romney was a predatory capitalist? The question answers itself."
But the Bain issue came up again after the Republican primary, with the Obama campaign zeroing in on what was perceived as Romney's greatest asset in the general election: his business experience. In May, Gergen told Cooper that the Obama campaign's strategy wouldn't work "because the president enters this fray with a lot of evidence that shows that Bain is a respected company."
While Gergen didn't mention his own relationship to Bain during that May appearance, he suggested that investors in private-equity firms like Bain aren't all Gordon Gekko-types.
"Many of them are foundations," he said. "They're pension funds. They're university endowments. Those are not just a lot of fat cats."
And some of them may even be TV pundits.
On Monday, Sullivan described Gergen's recent disclosure as part of a larger problem involving the entangling worlds of elite media and finance.
"Just as so many of Washington's media elites could not bring themselves to indict their friends and business partners for war crimes -- even though the evidence was overwhelming -- so now buck-rakers like Gergen, knee deep in corporate cash, defend the men who helped them get rich," Sullivan wrote. "Gergen is part of the problem, not the solution."
While Gergen had specific ties to Bain, there are numerous pundits currently sizing up the presidential campaign and disputes over Romney's business record who also have ties to the financial services industry.
Dan Senor, a former Bush administration official and current Romney advisor, has been fiercely defending Romney's record in recent weeks on "Morning Joe," notably sparring with top Obama adviser Robert Gibbs. Senor, typically identified as a Romney adviser on the show, is also managing director of Rosemont Solebury Capital Management, a financial role not mentioned on MSNBC.
Democrats like former Pennsylvania Gov. Ed Rendell and ex-Congressman Harold Ford Jr., each with ties in the financial services world, are also regulars on "Morning Joe." Since leaving office, Rendell joined investment bank Greenhill & Co. as a senior advisor and later Element Partners. Ford headed to Merrill Lynch as a vice chairman and senior policy adviser after losing his 2006 Senate race in Tennessee, later moving to Morgan Stanley. (In May, the Romney campaign even used a "Morning Joe" clip of Ford in an ad where he's talking about how "private equity is a good thing in many, many instances.")
Eddie Vale, a spokesman for Workers' Voice, a super PAC affiliated with the AFL-CIO, told The Huffington Post that the recent cable news debate over Romney's Bain record hasn't included enough voices from labor, relying often on pundits with financial services ties. Vale said that while print journalists have reached out to Workers' Voice for the labor perspective regarding Romney's tenure at Bain, the group has only gotten one television request -- and that appearance was cancelled.
"If the networks are only having one side of the story, they're doing a big disservice to their viewers," Vale said.
HuffPost's Rebecca Ballhaus contributed research assistance.

REAL LIFE. REAL NEWS. REAL VOICES.
Help us tell more of the stories that matter from voices that too often remain unheard.
BEFORE YOU GO
PHOTO GALLERY
Faces Of CNN