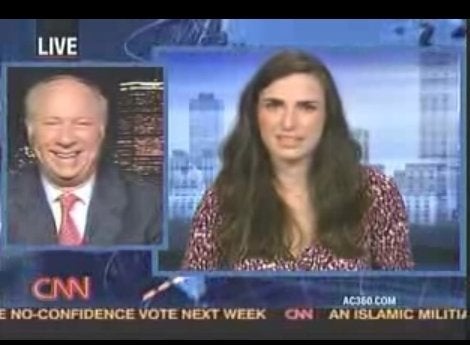 "I'm In Love With David Gergen" professed a headline on yesterday's Daily Beast. The fetching, demure young woman in the photo beside the headline: comedian Jessi Klein, she of Comedy Central, VH1, CNN and umpteen comedy showcases on both coasts. Quoth Klein:
How do I love David Gergen? Let me count the ways.

I love his low, quiet voice. That unmodulated buttery whisper that sounds like it's elbowing its way past a cough drop that's permanently lodged at the back of his throat. You know how Bed Bath & Beyond sells those white noise machines that help you sleep? And they usually make ocean noises? I want one that's just David Gergen gently muttering about the economy.

I love the way Gergen makes me feel calm, even when he's making dire predictions about the future of our country. I love the way he knows everything and then formulates an opinion about everything that's always right. I love that his eyebrows only move when he gets mad, and I love that he almost never gets mad. I love that he looks like a handsome baked potato.
Klein tapped into a Zeitgeist — there are 9 pages of comments on her post, all agreeing and professing their secret Gergen-love. The buzz traveled straight to Anderson Cooper, who surprised Gergen with a special message from a sepcial friend. Watch below to see the handsome baked potato blush like crazy:
I think someone should stitch this on a pillow: "Thank you for being the most objective, intelligent truthful analyst on television...and for always being super hot and dreamy while you're doing it. Keep on being all adorable and Gergen-y, and we'll keep on loving you." Aw, poor Ed Rollins must've been jealous. But "Rollins-y" doesn't quite have the same ring.
Incidentally, I swear to God that I had not seen the Daily Beast post nor anything else when I Twittered thusly last night: "David Gergen is on CNN right now. Can someone remind me that I want to do a post on 'heartthrobs of the election?'" I, too, think Gergen is awesome. He's been a standout this election season, the measured voice of wisdom and authority, and Klein is right — he seldom gets mad but when he does it's worth noting.
Popular in the Community