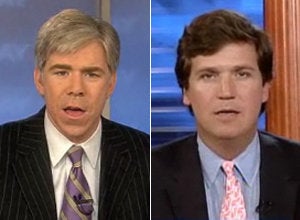 MSNBC announced a slate of changes this afternoon, leading with their new election-themed show: "Race For The White House" with David Gregory. The NBC White House correspondent has been a utility player at NBC/MSNBC for some time, regularly stepping in as a guest host — and demonstrating his range — on the "Today Show" and "Meet The Press." Gregory also took over the timeslot left vacant by Don Imus last April, temporarily stepping in to the breach before the network began trying out different hosts in that timeslot. The show will premiere on March 17th.
Also, "Live with Dan Abrams" is officially undergoing a name change to "Verdict with Dan Abrams," which will also launch on March 17th. The name change has been in the works for some time but had been on hold during the heated political primary run.
As well, NBC NewsChief Foreign Affairs Correspondent Andrea Mitchell will be anchoring MSNBC each weekday afternoon from 1-2 p.m. ET. Mitchell has regularly been seen anchoring politics-heavy MSNBC dayside coverage (often in the 12pm block); in taking over the 1-2 p.m. block she'll be permanently occupying the slot that NBC anchor Brian Williams typically takes. (Update: An MSNBC rep confirmed that Williams will still be anchoring MSNBC dayside "as his schedule permits," with no set timeslot.)
Finally, fear not for the fate of poor usurped Tucker Carlson— he remains with the network as Senior Campaign Correspondent and will continue to be sprinkled throughout the schedule as a panelist and contributor.
Other program notes from MSNBC includes trying out something new with programming in the later evening hours, reshuffling its "Doc Block" programming which has been running from 10-12 before rerunning "Countdown with Keith Olbermann." Now, Olbermann, which airs live at 8 pm, will re-run at 10 pm and the "Doc Block" will run from 11pm - 2 am. "Hardball" typically re-runs at 3a.m. and Dan Abrams' show at 4 a.m. before kicking off live programming with MSNBC First Look at 5 a.m.; details on what will occupy the now-freed-up 2.am. hour to follow. Update: And the winner is..."Countdown," with yet another re-airing. So that's three "Countdowns" per day on MSNBC.
The full press release is below.
- THE PLACE FOR POLITICS - EXPANDS POLITICAL PROGRAMMING WITH "RACE FOR THE WHITE HOUSE WITH DAVID GREGORY" PREMIERING MARCH 17
"Countdown with Keith Olbermann" to Re-Air at 10pm and 2am ET
"Verdict with Dan Abrams" Launches March 17
Andrea Mitchell to Anchor Weekdays 1-2 pm; "Doc Block" Expands to 11pm-2am
NEW YORK - March 10, 2008 - MSNBC, the Place for Politics, is expanding its already substantial political programming lineup next week as the 2008 presidential race continues to heat up. NBC News Chief White House Correspondent David Gregory will anchor "Race for the White House," a fast-paced daily look at the latest election news, weekdays, 6-7 p.m. ET on MSNBC. "Race for the White House" premieres Monday, March 17, and will continue through the election and beyond as the nation's focus continues on the historic Presidential campaign. Also bolstering MSNBC's political coverage, NBC News' Andrea Mitchell will anchor MSNBC each weekday afternoon, 1-2 p.m. ET
MSNBC's top-rated "Countdown with Keith Olbermann" will now telecast twice in primetime, with a re-air weeknights at 10 p.m. ET/7 p.m. PT. "Countdown" will also air weeknights at 11 p.m. PT/2 a.m. ET; the original telecast remains at 8 p.m. ET. MSNBC is also expanding the "doc block," which will now telecast weeknights, 11 p.m.-2 a.m. ET/8 p.m.-11 p.m. PT.
Also March 17, "Live with Dan Abrams" re-launches as "Verdict with Dan Abrams," an hour-long look at the day's news from a legal perspective, and expands to five nights a week. Each day "Verdict" will assess right from wrong and determine the winners and losers in politics, law and pop culture. In this political season, Abrams will continue to use his legal eye to stay "On Their Trail" separating fact from fiction, identifying and exposing the candidate's biggest misstatements, cheap shots and blunders, while continuing viewer-favorite segments "Beat the Press" and "Winners and Losers." "Verdict" will telecast weekdays, 9-10 p.m. ET.
"Race for the White House with David Gregory" will feature reports from MSNBC and NBC News correspondents around the country with the latest breaking political news and in-depth analysis of the campaigns. Tucker Carlson will remain with the network as MSNBC Senior Campaign Correspondent and will appear regularly throughout MSNBC's program lineup.
"Viewers are incredibly engaged this election season, with a real appetite for political news," said Phil Griffin, Senior Vice President, NBC News and Executive in Charge of MSNBC. "As NBC News' Chief White House Correspondent, David is the perfect person to lead this key hour of our election coverage. Tucker is one of the top political minds inside the Beltway, and we look forward to continuing to feature his insightful analysis."
Gregory has led the network's coverage of the Bush presidency since 2000, reporting regularly on "NBC Nightly News with Brian Williams," "Today," MSNBC and on MSNBC.com. He has circled the globe, traveling with President Bush on every major foreign trip and to nearly every state in the nation during the presidential campaigns of 2000 and 2004.
In the fall of 2005, Gregory began substituting regularly for Matt Lauer on "Today." He has served as substitute moderator on "Meet the Press," and has been a substitute anchor for the weekend editions of "Nightly News" and "Today." As a political commentator, Gregory is a frequent contributor on "Meet the Press" and the syndicated "Chris Matthews" show.
Andrea Mitchell is the Chief Foreign Affairs Correspondent for NBC News, a position she has held since November 1994. Mitchell has also covered Sen. Clinton's presidential campaign, the 2004 presidential campaign for NBC News and is a regular panelist on MSNBC's "Hardball."
Built on the worldwide resources of NBC News, MSNBC defines news for the next generation with world-class reporting and a full schedule of live news coverage, political analysis and award-winning documentary programming -- 24 hours a day, seven days a week. MSNBC's home on the Internet is msnbc.com. Msnbc.com delivers a fuller spectrum of news. Drawing on its award-winning original journalism, NBC News heritage, trusted sources and Microsoft's advanced technologies, the site presents compelling, diverse and visually-engaging stories on the consumer's platform of choice. Nielsen Online reports more than 35 million unique visitors for January 2008, making msnbc.com the number one TV news site, ahead of ABC, CBS, and Fox News combined.
Members of the media can get more information about MSNBC and its programming on msnbc.com or the NBC Universal Media Village Web site at www.nbcumv.com.
Related
Popular in the Community