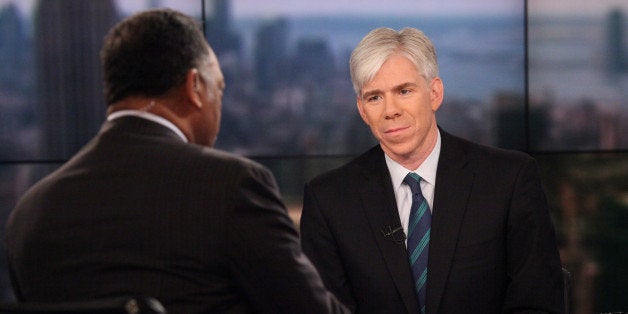 NEW YORK -- David Gregory has heard the rumors, too.
"This comes with the territory. I understand it," Gregory told The Huffington Post on Wednesday night. "I see speculation out there. I just try to pay attention to the stuff I know is real."
Gregory assumed the "Meet the Press" throne in 2008 following the death of Tim Russert, and has long been dogged by comparisons to his predecessor -- a figure who still casts a shadow over Washington media. But grumblings about Gregory's continued stewardship turned into audible criticisms this past year, as the once indomitable Sunday morning show plummeted in late 2013 to its lowest ratings in decades.
In the TV business, bad ratings inevitably lead to rumors, whether fueled by rival stars, agents or media journalists, who'd like to see "Meet the Press" in a position of strength so it's better able to hold the powerful accountable. There's been chatter about whether NBC News' Chuck Todd, a political junkie whom many wanted to replace Russert, deserves a shot. Speculation has also emerged that "Morning Joe" co-hosts Joe Scarborough and Mika Brzezinski are angling for a Sunday program such as "Meet the Press."
Just last week, NBC News president Deborah Turness visited Washington, D.C., to attend a March 12 awards dinner. She met the following day with Gregory and his executive producer. Politico reported a meeting was taking place, which led to more buzz about Gregory's future.
But if the chatter is mounting, it doesn't appear to have persuaded management. NBC News senior vice president Alex Wallace, who was also in that March 13 meeting -- and many others since being tasked with overseeing "Meet the Press" in January -- dismissed the speculation in an interview with The Huffington Post.
"I cannot be more declarative about David -- is our guy, is going to be our guy, and we are really happy with him," said Wallace in her first interview since adding the Sunday show to her portfolio. "I know there continues to be lots of hubbub, but I'm in every single meeting: There is no internal hubbub."
"Meet the Press" had a good February, topping both ABC News' "This Week" and CBS News' "Face the Nation." But "Meet the Press fell to a distant third this past week in total viewers (2.65 million) and among the age 25-54 demographic (784,000).
Wallace's mandate isn't just to improve ratings, but in the words of NBC News president Deborah Turness, to help transition the Sunday show into a "7 days-a-week source for politics and beltway buzz." And Gregory, Wallace insisted, is key to beefing up the show's digital presence.
"We're doubling down on David Gregory right now," Wallace said. "This whole digital brand is being built around his strengths."
Gregory has long done web-only interviews ("Press Pass") for the "Meet the Press 24/7" page, and has been conducting interviews over Twitter ("Tweet the Press") in the past few months. On Thursday, NBC News launched "Meet the Press Express," a mid-week digital video series, hosted by Gregory, which features a rotating group of journalists from the network's Washington bureau.
In a play on the NCAA tournament, Gregory, sans tie, spoke with Roll Call's Christina Bellantoni, The Atlantic's Molly Ball, and the Washington Post's Wesley Lowery about their political brackets, and the group sized up the futures of key political players. The "Meet the Press Express" discussions are expected to be more casual than the Sunday roundtable and to feature a younger generation of political journalists who may someday appear on the television show alongside, say, New York Times columnist Tom Friedman or historian Doris Kearns Goodwin.
It is an acknowledgement of how the media environment has changed and that "Meet the Press" must change with it. The show, Gregory knows, has to adapt to a digital landscape where potential viewers aren't tuning in only on Sunday morning.
"We want to be able to reach the audience in different ways," Gregory told HuffPost. "I know there's a lot of younger people watching the program or watching clips of the program. I want to reach them in different ways."
MEETING THE PRESS (AND PUBLIC)
The strengths that Gregory brings to "Meet The Press" -- Wallace describes him as "an incredible interviewer" -- continue to make the show a must-watch for politics obsessives. What's unclear is whether those strengths will be useful in shepherding the program into a digital age with a wider audience -- to "expand the conversation beyond Sunday," as Wallace puts it.
For political junkies, the conversation already runs seven days a week on Twitter, a platform with which Gregory, 43, has been reluctant to engage, as compared with several other TV hosts of roughly his age and stature.
Jake Tapper, 45, dives into the Twitter fray daily to break news, discuss pop culture and even respond to critics. He also seems comfortable on the receiving end of interviews, as evidenced in appearances on Hugh Hewitt's radio show. And while "Meet the Press" is trying out some new voices in its recently launched web series, Tapper routinely books next-generation political and national security journalists in their 20's and 30's on CNN's "The Lead."
Chuck Todd, the NBC News political director and MSNBC "Daily Rundown" host, participates frequently in Twitter conversation, too. Todd, 41, is also the network's chief White House correspondent and is clearly plugged into the political world. He routinely breaks news and provides original analysis on both NBC and MSNBC, as well as online.
Gregory, by comparison, seems reticent and more removed from the daily churn, even though he's held one of Washington's highest perches for more than five years. Reaching Gregory can be a struggle, in an age when television journalists increasingly make themselves accessible via social media.
The Huffington Post first approached NBC News in January with requests to interview Gregory about the future of "Meet the Press," and again discussed interest in February about having a conversation with the host. An off-the-record meeting with Gregory was scheduled for last week and then postponed. Wallace on Tuesday made herself available to discuss the direction of the show. It was only after mutual contacts relayed this reporter's frustration in trying to arrange an interview that Gregory called Wednesday night.
The ease with which he answered questions, and the comfort he showed in discussing the show and even the rumors that have surrounded it, made the months-long effort to set up a conversation all the more puzzling.
During the interview, Gregory took issue with the characterization that he doesn't participate in the running political conversation online and in social media. "I have engaged, from time to time, with people who want to have a dialogue," he said.
"I just made a decision," Gregory added. "There are haters out there. I'm not going to engage those people, because they're not looking to have a dialogue with me over Twitter."
It's one thing to ignore Twitter trolls, whose obvious motivation is to annoy or antagonize. But by ignoring all criticism, including legitimate questions about what's discussed on air, Gregory essentially cuts himself out of the ongoing conversation about the show that continues after he leaves the set.
For instance, Gregory sparked controversy in June when he asked journalist Glenn Greenwald about having "aided and abetted" former NSA contractor Edward Snowden, language that suggested journalism may be a criminal act. Greenwald called out Gregory on Twitter: "Who needs the government to try to criminalize journalism when you have David Gregory to do it."
Gregory, to his credit, addressed the criticism on-air soon after, but he declined interview requests after the broadcast and stayed out of the Twitter discussion.
More recently, HuffPost media editor Jack Mirkinson wrote that a February "Meet the Press" segment featuring a climate change skeptic was "exactly how not to cover" the issue. Both CNN's "Reliable Sources" host Brian Stelter and NYU professor and media critic Jay Rosen also criticized the show for giving a platform to a congresswoman who sought to debate whether there was evidence supporting man-made climate change, despite overwhelming consensus in the scientific community that there is.
Such criticism wasn't coming simply from "haters" on the Internet fringe, but from people who cover the media for a living. And professional critics aside, others had posed questions or expressed concerns to Gregory on Twitter before the climate change "debate" was to take place. Gregory didn't take part in that conversation, either.
Wallace, who also oversees the "NBC Nightly News," pointed out how anchor Brian Williams has never tweeted, and said that "not every person is going to feel in 140 characters that they can make a point that they want to make."
It's a question of temperament, she suggested, and Gregory is more inclined to listen to a discussion than to feel compelled to chime in.
"I think it's about knowing the value of Twitter, knowing the value of a conversation on there," Wallace said. "But you also need to be who you are. If I said to David, 'And you've got to be in political conversations all day on Twitter.' Okay, he could, but that's not how he chooses to engage in the conversation."
"You've got to be who you are," Wallace said. "We're trying to look at who David is."
'EVOLUTION NOT REVOLUTION'
While Gregory weathered the ratings plunge of 2013, and has management's backing into the future, there's been fluctuation behind-the-scenes.
Betsy Fischer-Martin, who had been at "Meet the Press" for 22 years and was an executive producer for 11, moved upstairs at NBC News in June. She was replaced by Rob Yarin, who was most recently a media consultant. Senior producer Adam Verdugo left for CBS News in December; and Chris Donovan, a producer who has been at the show for 12 years, indicated that he intends to explore other opportunities. Al Jazeera English's Tom Lumley joined last month as senior producer.
Over the past couple months, Wallace has approached the show with the mantra of "evolution not revolution."
Given that "Meet the Press" is a television institution -- and reminds viewers at the start of each show that it's the "world's longest-running television program"-- management isn't seeking to make wholesale changes to the brand.
But there's a growing openness to try out new ideas. Recently, chatter inside NBC has floated the idea of doing some shows with a live audience. For instance, Wallace told HuffPost that they've discussed bringing "Meet the Press" to a college campus.
"It's something that we have talked about, but not something that we have committed to," Wallace said. "It's in the realm of, 'there's no reason we couldn't do it.'"
Wallace has told staffers not to be constrained by thinking in terms of what "Meet the Press" needs to look like each week or which lawmaker needs to be booked.
Wallace pointed to a recent segment in which correspondent Harry Smith interviewed screenwriter John Ridley about the Oscar-winning film "12 Years a Slave" as a departure from the typical line-up of newsmaker interviews and journalist roundtables.
"Within reason, I think we should stretch what you can see on a Sunday morning in a thoughtful, smart hour-long program," Wallace said, adding that "it's important that we're not completely predictable."
Gregory said that "Meet the Press" can't be a "week-in-review program" that simply summarizes the previous seven days, but has to go more deeply into those issues, adding context and looking forward.
"People have seen a lot, they've heard a lot," Gregory said, "but the program is still a place where they want to sit back and hear, 'What does it mean? And where is it going? And how does it work?'"
Gregory also emphasized that "Meet the Press" will maintain what it considers its core responsibilities, like holding political leaders accountable and questioning newsmakers.
"More than anything, this is a place where people come to make news," Gregory said. "That's the richest part of the tradition we want to keep alive."
By expanding online and using Twitter in ways that capitalize on what executives view as Gregory's strengths as an interviewer, the longest-running television program hopes to keep an oar in the fast-moving news stream. The question it faces now is whether it can paddle fast enough.
"It's not like our guests are waiting until Sunday to talk to people," said Gregory.
Related
Popular in the Community