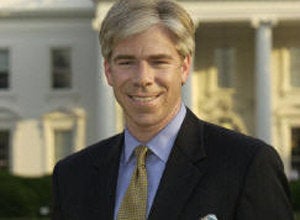 "It's not the best time in the world to be a White House correspondent," said Bill Plante on the sultry afternoon of Saturday, April 26. This was at Tammy Haddad's annual pre-White House Correspondents' Association Dinner lawn party. The blooming wisteria was strangling the woods that surround her house.
These nearly-over final four years of George W. Bush are Mr. Plante's third second-term presidency in his years as CBS White House correspondent. "I guess he could still drop a bomb somewhere--there are people who think he means to do it," Mr. Plante said. "He's still important, but he ceases to be the center of attention."
Mr. Bush gets that. His performance at the dinner that night, which is a worrisome gathering of journalists and sources, would be largely a retrospective clip show of his star turns at dinners past. Not included: his infamous and ill-considered "looking for weapons of mass destruction" skit from 2004.
(He never found them, for one obvious reason, and yet we are still at war over it.)
"As you get into the final year, the wheels start to come off," Mr. Plante said. "The root of it is always the same. The president loses his mojo."
"The story of the Bush administration has really taken a dip," said David Gregory, host of MSNBC's Race for the White House, and formerly a White House correspondent himself. "Everyone is looking forward to a new administration because it will be a great story again."
Calling all HuffPost superfans!
Sign up for membership to become a founding member and help shape HuffPost's next chapter
Read more on New York Observer