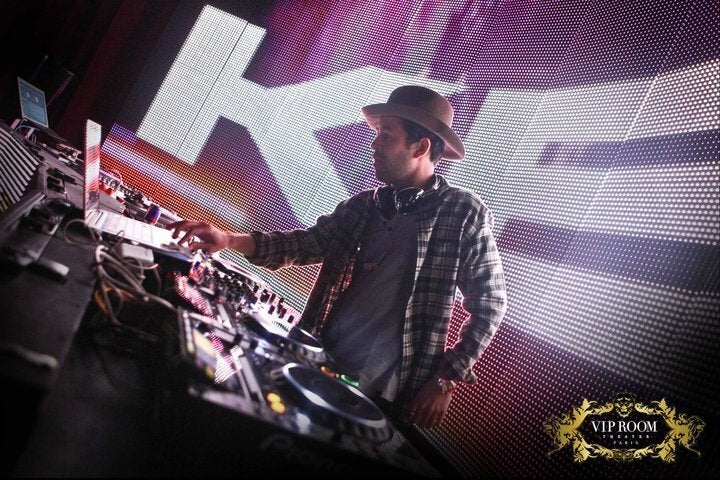 It may be a bold statement, but I doubt there has ever been a producer to cross over from the electronic realm to the world of pop as smoothly and as successfully as David Guetta. The name, which has long been synonymous with French house music, has transitioned to mainstream pop culture seamlessly over the last five years, blurring the lines between dance music as solely the soundtrack to raves or club nights, and dance music as a full-out radio takeover.
Collaborations with monster pop stars like Kelly Rowland and Akon on his 2009 album, One Love, reeled Guetta into mainstream America right around the time dance music began to surface on a massive scale. With a face recognized by fans in the same way our parents recognized rock icons in the 60s, David Guetta was no longer just a producer: he was a total pop superstar.
However, while the famed DJ/producer could have easily succumbed to solely backing hip-hop artists and pop stars (becoming a "celebrity producer," if you will) the talent has made a smart move on his newest endeavor, Nothing But The Beat. While side one of the album solidifies his name in the eyes of mainstream America, with appearances from chart-toppers Nicki Minaj, Will.I.Am, Chris Brown and even Sia, side two seems to be Guetta's way of keeping one foot grounded in the land of pure electronic music.
The electro tracklisting is where Guetta shines as a producer, gripping his roots in electronic music with six tracks that can be found solely on Beatport. Calling upon Afrojack and Avicii for cameos on three of the tracks, while keeping the other three exclusively Guetta, is something we EDM fans weren't expecting, but something we can appreciate. If dance music is going to continue to infiltrate pop music, it's good to know that the biggest crossover DJ can help keep pop music from fully infiltrating dance.
Without further ado, here are a few words from the notorious David Guetta, just before his performance at this year's Electric Zoo festival in New York City.
TH: The first thing I noticed when you stepped out of your trailer were your awesome sneakers. How do you get dressed for a show?
DG: I don't really have a recipe. My girl is good. She knows how to do it.
TH: So she does it for you?
DG: A lot, yeah. Most of the time.
TH: I have to ask, with all of the stages collapsing this year -- Pukkelpop and the Indiana State Fair, included -- does that make you nervous to play a festival stage?
DG: No. I don't think about it. If it happens, it happens. I'm not the type of person to live in fear. I think positively. I know it's not going to happen.
TH: You've played in New York tons of times before, but how do you switch up your set to play a New York festival as opposed to a New York nightclub?
DG: A festival, or a David Guetta show, is more like a concert, whereas when I play in a club it's a really longer set. It's really like back to my roots when I was a resident DJ. When I do this kind of show it's a lot of my own music and if I play in a club I might try some stuff that is a little more experimental.
TH: And here you keep it more safe?
DG: Well, you know, when you play to 20,000 people or 50,000 people, obviously they want to hear your records. It's more like a show, like a concert. That's the idea. You know, kids come to see me in the same way that their parents would go to see a rock concert. Of course I'm going to play my big hits, but I'm also going to play some new beats that are more crazy.
I'm actually a bit excited. You know, I just released my new album. It's one big vocal album with all the big stars like Usher, Chris Brown, Akon, Will.I.Am -- all of my friends. And also I have another album at the same time that comes with it and it's all electronic beats, more underground. I love that balance and that's what I'm trying to do when I play.
TH: I saw a tweet from you the other day where you said that you were getting these really surprising reactions from people about the electronic album. Is that what you were going for with the electronic side?
DG: Well, my challenge with this album was really to surprise people. It was not to come back with one more hit record because I know I can do this. I also really wanted to surprise people. I think the vocal album is really huge and as for the electronic album, it's really new and creative. I think people are going to be shocked because people don't know me on that side.
TH: Do you have a favorite song on either side of the album?
DG: I would say the song with Usher "Without You" on the vocal album and the song with Afrojack, "Lunar," on the electronic album. It's totally different from his usual sound and it's totally different from my usual sound. It's something totally new.
TH: As someone who has been a DJ and producer during different phases of dance music, is there anything from dance music in the past that you are nostalgic for now?
DG: I'm totally not a nostalgic person. I always look to the future and as much as I've enjoyed the ride until now and the different phases, I'm more excited about the next music. That's why making this electronic album was so much fun because making music for kids and our future and I want to make music for those people.
TH: Is there anything you are hoping to see or hoping to bring to the new wave of electronic music?
DG: I want to party in space because I make alien music.
TH: So a music festival on the moon?
TH: Those would be expensive tickets.
DG: Actually, the other day I was playing somewhere and someone came with a magazine and they were trying to sell me a ticket to space. She gave me her card, she was like an official representative from this company and I thought, how amazing is this? Crazy, right? It's real! They're like trying to promote it and trying to sell tickets. I thought that was absolutely amazing.
TH: How much were the tickets?
DG: I didn't get to that point. Of course they don't write it on the flyer. It's not like 'oh okay, I'll go to that rave, it's $20.' Seriously, though, I would love to do this.
TH: I heard you got trapped in an elevator on America's Got Talent? What happened there?
DG: It was funny. I was already a little nervous to perform on American TV and then we got stuck in the elevator. It was so funny because it was like six of us in the elevator and everybody was acting really cool. And then the door opened and everybody was like "Ahhh!" I really thought I was going to miss the show.
TH: Well you made it and got to perform so that was a relief. But you said to play on American TV made you nervous. Are you always nervous before you perform? More nervous for TV than you are to play in front of a festival crowd?
DG: Yeah, well this is my normal life. Playing for festivals and electronic events, you know, that's what I do every day. But to the pop world I get more nervous because it's not where I'm coming from. I'm so happy that my music is crossing over and that I can witness a revolution that my music is becoming the new standard. It's really amazing. But at the same time, I still feel a little bit like an idiot in that world.
TH: Do you think there's any difference between pop music and dance music anymore?
DG: It depends. What I do is I use elements of my DJ culture and I make it more melodic. I try to come up with a song that can touch people even if they're outside of my community. I think we have witnessed this with hip-hop in the past. Sometimes a song is so powerful that it can touch you even if you are not from the community. Crazy gangster rap records have been extremely successful and not everyone buying them was from the ghetto. In the same way I think that if I manage to make music that is good enough on every level and that the cool DJs are playing it but also the radio, well, that's amazing.
Popular in the Community