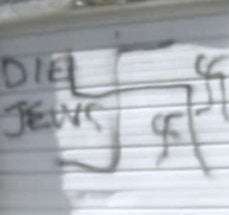 Police arrested a Manhattan man Monday in connection with a series of anti-Semitic hate crimes. 56-year-old David Haddad of Chelsea, who was raised Jewish but is non-practicing according to The New York Post, is suspected of making hateful phone calls to three elderly Jewish women, and may be responsible for anti-Semitic graffiti and vandalism in Chelsea and an Orthodox Brooklyn neighborhood.
"All Jews should die and go to hell," Haddad allegedly said on December 11th to his own 80-year-old mother, who lives in Sheepshead Bay. She says she received numerous such calls and messages.
On Jan. 10, anti-Semitic symbols and messages were found on five apartment doors inside a Chelsea building. A female victim in the building said she also received a threatening anti-Semitic call, police said.

The next day, an 87-year-old Chelsea woman reported receiving a threatening phone message, also containing anti-Semitic statements.

Then on Jan. 12, a 78-year-old woman who lives in the 61st precinct claimed she received a threatening call as well.

Haddad lives on the floor of the Chelsea building where doors were painted with swastikas and other anti-Semitic messages.
"Knowing someone put swastikas and derogatory messages on my door makes me sick," Susan Levin, who lives down the hall from Haddad, who allegedly wrote "All Jews Should Die" on her front door, told The Daily News.
Haddad, who is a building manager, is being charged with aggravated harassment as a hate crime.
Police also suspect Haddad may be involved in a series of more spray-painted swastikas and "Die Jews" graffiti found this weekend in Midwood, Brooklyn, just 100 feet away from the residence of Assemblyman Dov Hikind's home.
Midwood has one of the highest population of holocaust survivors in the country and after the incident, Hikind said, "You wouldn't believe the comments that I hear. 'Does this mean something? Is this the beginning of something?' I tell them no because this is America."
REAL LIFE. REAL NEWS. REAL VOICES.
Help us tell more of the stories that matter from voices that too often remain unheard.