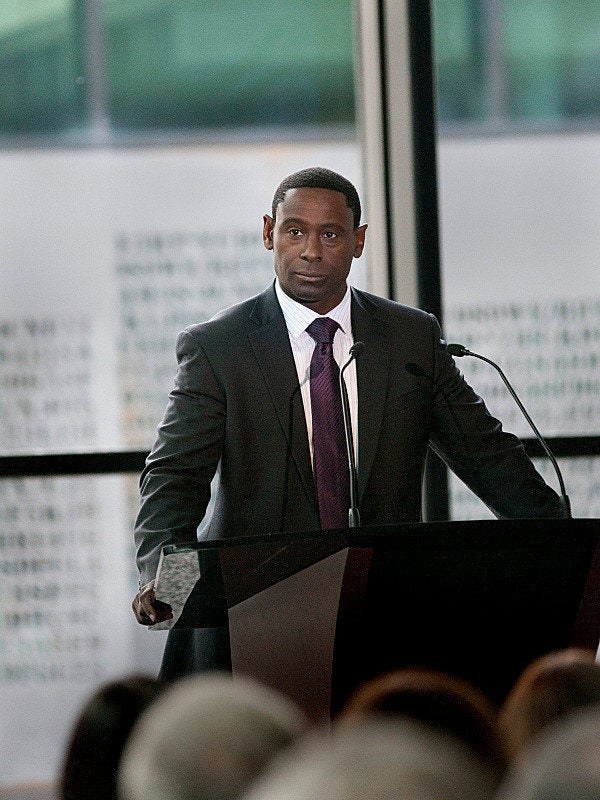 David Harewood has one thing in common with David Estes, the scheming CIA counterterrorism director he played on Showtime's "Homeland": he thinks Nicholas Brody, the U.S. Marine turned would-be terrorist at the heart of the show's first two seasons, deserved to die.
"I think [Estes] was fully justified in trying to get rid of Brody, even though all the ladies don't think that's the case," Harewood told The Huffington Post in a phone interview from London late last week. "I think he had to go. I mean, this was a guy who put on a suicide vest. This was a guy who was prepared to blow up half the American administration -- including me!"
Instead -- spoiler alert! -- it was Harewood's character who died in the show's season 2 finale, which aired on Dec. 16. As the season ended, Brody was running for his life, but still very much alive.
Harewood, a veteran of English theater and television, knows that fans of the series loved to hate Estes. But, perhaps inevitably, he wound up liking the guy. "I could really see things from his point of view. He was obviously a patriot, and, although he was self-serving, I think his heart was in the right place."
Nevertheless, Harewood remained clear-eyed about Estes' faults. "This is a guy who's a political animal. He wants to climb the greased pole. He's almost sold his soul, in a sense, to get what he wants," he said.
Harewood said it took awhile for him to fully grasp his character's true nature. "I struggled in the first season to figure out who he was," he admitted. Like all the actors on "Homeland," Harewood received his scripts one episode at a time, often just a few days before filming began, so there were times when Estes' behavior surprised even him. "I would write myself a backstory, and then you'd get a script that would completely contradict that backstory," Harewood said. "Just as I'd begin to like him, he'd do something which was a real pain and I'd have to go, 'Fuck, OK.'"
The most dramatic example came when Harewood and Claire Danes, who plays the unstable CIA officer Carrie Mathison, were handed a scene referencing a past affair between their characters -- one that had the effect of wrecking Estes' marriage. "I didn't even know what my wife's name was, and all of a sudden you're playing the scene with these names and all this stuff that's supposed to have happened between Claire's and my characters," Harewood recalled. "We hadn't really had any time to digest it and think about it. So it was a bit awkward. And I remember being in a bit of a funk afterward, just thinking, 'I don't know where I am with this guy.'"
Still, the affair became central to Harewood's portrayal of Estes. "Even though it wasn't written or wasn't explored, I just played that he still had this thing for [Carrie]," he said. "I always had this thing that she was the one who broke up my marriage. She's the one that allowed emotion to get in the way of sense -- probably the only time Estes would have done that."
The better Harewood understood his character, the more he wished viewers could see things from Estes' point of view. "It was always, obviously, from Carrie and Saul's perspective," Harewood said, referring to Saul Berenson, the lovable CIA division chief played by Mandy Patinkin. "But I could always fully justify why [Estes] was always somewhat grumpy and always somewhat mistrustful of Saul. I think what Dar Adal [the off-the-books spymaster played by F. Murray Abraham] says to Saul is perfectly correct, which is sometimes he's afraid to get his hands dirty. And I suppose I did think that that was going to be more of what Estes represented -- the darker side of the CIA."
As for Carrie, who repeatedly defied direct orders only to be proven right time and time again, Harewood thinks Estes was right to be wary of her. "There was always this idea that she's a brilliant maverick, but somebody that needs to be controlled and watched and carefully managed," Harewood said. "I perhaps would have liked more scenes where I got to state that."
The "Homeland" writers' room is famously stacked with talent. Co-executive producers Alex Gansa and Howard Gordon are decorated veterans who've worked together on "The X-Files" and "24," among other shows, and their fellow writers -- Chip Johannessen, Alex Cary, Henry Bromell and Meredith Stiehm -- all have experience running their own shows. "Obviously they were great," Harewood said, but he also acknowledged that he and the other actors on the show were as puzzled as some fans by the controversial developments of Season 2.
"After episode 5, I think all of us realized we didn't know where it was quite going," Harewood said. "And there was just a slight slacking off of the intensity that there was in [episodes] 1 to 5. I think we all kind of thought, Where are we heading with this?"
The turning point for Harewood came when Carrie interrogated Brody and got him to admit that he had come this close to suicide-bombing the vice-president and a room full of senior officials. "Once the Q&A [between Carrie and Brody] happened and everything was on the table, then it was like, OK, we've got seven episodes left and what are we going to do? He'd admitted everything," Harewood said. "And I think that's perhaps when it became more about a personal thing between Carrie and Brody."
One development Harewood didn't learn about from the script: his own character's death. "Alex [Ganza] rang me up a couple of days after the Emmys and told me I wasn't going to make it," Harewood said. "And I'll be honest -- it gutted me. I was really disappointed. But I think about 20 minutes after I spoke to him, I sat down and wrote him an email just saying how grateful I was, because really these have been two of the best years of my life."
Harewood, who lives in London with his wife and two daughters, has been eyeing the American market for years, and now that he has a foothold he's determined to make the most of it. "I don't expect all my work to be as spectacularly successful as 'Homeland,' but what a fantastic place to start," he said. "It's been like a two-year screen test. I mean, everybody in the business has been watching it. So it's at least put me in the shop window, you know?"
Harewood will be in Los Angeles this month for pilot season, hoping to land a role in another American series. "You know, I was very, very lucky to get 'Homeland,' but I would like to hopefully get a part next time that allows me to be a little bit more lively," he said. "I had to shut everything off with Estes. He wasn't charming. He wasn't funny. There was no twinkle."
Meanwhile, "Homeland" will continue without Estes -- or Harewood. Asked to speculate on the identity of the infamous "mole" that may or may not exist inside the show's version of the CIA, Harewood said it could be anybody. "I know that in the first season, we didn't even think about it. And it's become a bit of an obsession with the audience: Who is the mole? And I think the writers are now going, 'Well, that's something we have in our back pocket.' They weren't even thinking of it, but it has become something that's very convenient for them."
He added: "Everyone I know thinks Mandy's the mole. Which is interesting. Interesting."
Calling all HuffPost superfans!
Sign up for membership to become a founding member and help shape HuffPost's next chapter
BEFORE YOU GO