From Frenchie Davis to Adam Lambert, the machine that is "American Idol" has brought us some amazing voices that are part of the LGBT community. After a public coming out & a fantastic new single "Beautiful", Season Seven contestant David Hernandez is now able to join that illustrious group. Hernandez sat down with us for a deeply personal chat, where we spoke about what brought him to publicly come out, what his journey on "Idol" was like, and why "Beautiful" and his new music is so extremely personal.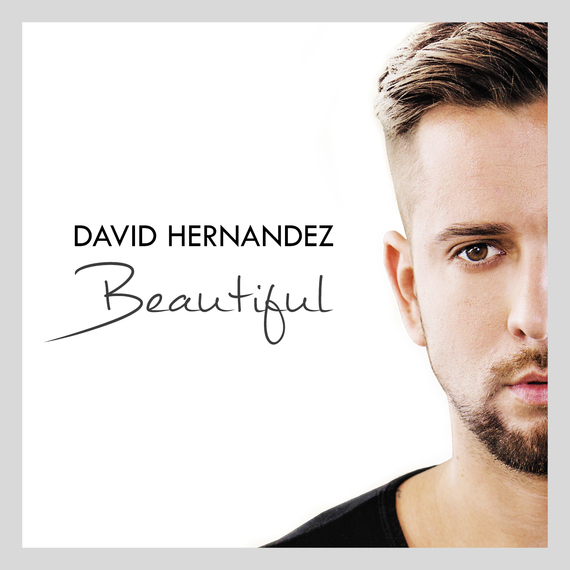 It's so great to see you back with your new single "Beautiful"!
I appreciate that. You know, it's really taken a long time to come back with something that is authentic and true. I feel like the last nine years I was making music that I was told to make. I think a lot of that is due to the fact that I was still coming to terms with my sexuality and I would let people come in and tell me that they were going to sign me, but I would be singing it to girls, and things like that. That's probably why none of it ever really took off; I was never 100% behind it and the universe really wasn't trying to help me at that time, you know what I mean?
What do you think the tipping point was to actually make you publicly say that you are an "out artist"?
Honestly, I get a lot of messages from younger messages around the globe. I don't know what snapped in me, but I went through a really bad break-up and I couldn't really share that with the entire world. It was kind of eating at me and as an artist, I wanted to express myself through my art, and I had to keep that hidden. I was getting messages from younger fans, gay younger fans, or people struggling with their sexuality. I felt it was a responsibility to share my story in a positive way. Just because you are gay doesn't mean you cant be a pop star or you can't be who you are.
What was the coming out process like for you on such a public forum?
You know, it was actually an accident. When I was talking to the San Diego Gay & Lesbian Paper, I was having a very casual conversation and was asked about the gay and lesbian community. I automatically affiliated myself with that community because I am part of that community. It literally slipped out so easily and by the end of the interview I said to myself "Oh shit I think I just came out". We did the exclusive with Out Magazine, but my whole reasoning for making such a public statement was just to impact younger people's lives who may be struggling, be it in the Midwest of in a small town somewhere. Just to let them know that they don't have to hurt themselves or hurt other people, and that there is a light at the end of the tunnel. That's really why I did it.
So many people knew what your past was on "American Idol" and while many people found being a go-go dancer to be so shocking, many in the community found it to be hardly as controversial. Was it hard for you to move forward all these years later?
You know, it wasn't. At twenty-four years old, that was pretty rattling to me. I don't have any regrets, stripping, we all do crazy things when we are young. The only difference is that mine was under a microscope. It was pretty hard to wake up to a bunch of missed phone calls and texts. Also, I feel that ten years ago, it was a very different world that it is now. Not only was I a stripper, but I was gay, and in terms of the press, it was like I had all these strikes against me. It was very difficult at twenty-four years old, for the first time in front of thirty-five million people, to be the top story on CNN. To have my father call and ask me what was going on, it was a moment where I said to myself "what do I do"?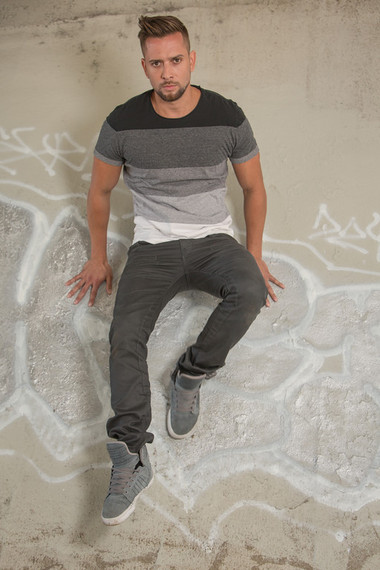 "American Idol" was so cool though. They assigned Jill Hudson to me who was the head of PR. She would follow me all the way down the red carpet and be sure that I was protected. They always knew about my past and anticipated that if it did come out, how we were going to handle it. They were super cool about it. The interesting thing about dancing was that I had just gotten done working on a cruise ship, and I was twenty-one years old. My best friend and I didn't know what we were going to do about money at Dick's Cabaret. I ended up winning the amateur night and started working there the next day. I only worked there a little over a year and I was just making so much money to pay off my student loan and to pay off the dream I was pursuing. After I quit, I got signed to a label, then dropped by a label, and my manager at the time said "let's try out for Idol". I was so depressed by being dropped that i didn't know what to do, but I ended up listening to him and auditioning for the show I made it as far as I did and it was such a blessing. When that story broke, I was like "really guys; this was years ago"! They tried to sensationalize it and make it into a negative; I was so over it by the time the story got dredged across social media platforms, I wanted people to just focus on the vocals. We know though, that's not what sells stories.
People like Frenchie Davis have been removed from the "Idol" stage for similarly "risqué" things, which in hindsight, does seem like it happened in a very different age. Luckily many of these things happened for the two of you before social media was the juggernaut that it is now.
Agreed. They also made us shut off our Facebook at that time. It kind of sucked because nowadays, the kids that have just been thrown off are able to use that media to help them and get hundred of thousands of followers. I was actually just talking to Frenchie and she is such a good friend of mine, we get to do shows together. I leaned from her experience because with me, it was definitely full disclosure. In the room, they instilled the fear of God in us and told us that "if you have anything, assault charges, erotic dancer it's going to come out" I was like "ding"! LOL. During the background check they sat down with us, in a room, one on one and asked my sexuality. I told them I thought I was bisexual, maybe? They were digging deep into our personal lives and nothing was left out. How many sexual partners I had, all kinds of personal questions and complete full disclosure. I don't think in hindsight, "Idol" sent me home, I think it was the voting process and ten years ago, times were different.
From the "American Idol" experience, what are some of your favorite memories? I would think it would be akin to college and looking back on your graduating class.
Yeah it's a little bit like that. You know, I wish I was a cooler person during it. I was so stressed out and didn't know what to do a lot of the time. I probably gave the wrong impression sometimes and came off as super arrogant, but I really did care. The thing I remember the most about "Idol" is Michael Orland and the vocal coaches. How they revolutionized my whole frame of thinking as an artist. I didn't realize how much work went into it and I also didn't realize that you could change keys of songs to fit your vocals, I had no idea. You could take a seven minute song like "Papa Was A Rollin' Stone" and chop it down to a minute and fifty-seconds. I was just mind blown. Michael Orland was like a brother to me through the whole process, always asking me if I was doing ok, if I was all right and telling me to "open my mouth and stretch my vocals"!
You have to remember, as that little gay boy inside, I was always second guessing myself, telling myself that I couldn't do this, they're gonna find out about you, the stripper thing was still there, all that stuff. That little gay boy, fearing for his life, just wanting the world to accept him. That's been the theme of my entire life. I'm finally at the point though, where I am like, not everyone is going to accept me, but it's like, take it or leave it. That's how I feel at this point in my life, and it's a very freeing and liberating feeling to have. Through the whole course of "American Idol" though, Michael Orland and Debra Byrd and Dorian Holley; they were that little power team that did nothing but motivate and positively push me.
I think every gay boy out there, somewhere deep inside, is that little gay boy who was picked last or who is always worried that people are going to "find out".
No doubt. People will call you a sissy, what is you were in performing arts, all that stuff. You know it's funny, I go into these bars in Los Angeles and New York City and I see some of the most beautiful & stunning gay men and women. Inside, there is just all this turmoil and doubt, because society has taught us that who we are and what we are doing is wrong. It's incredible to me, I have so many talented LGBT friends that are filled with so many insecurities; releasing "Beautiful" is a way to free all of them. We are so beautiful in our own right with all of our differences and flaws; race, religion, sexual orientation; I think that movement is starting. I don't necessarily want to "be" the movement, but I want to try to be a role model. I really want to add to the positivity that we need. The world is filled with so much negativity, from the Pulse nightclub tragedy, to Paris, to the murder of Christina Grimmie in Orlando as well. You know, right after Christina was murdered, I contacted my booking agent and asked if they could possibly get more security for Pride. They are all volunteers at Pride events and I was nervous, since I do meet and greets and I hug every person that comes to the table.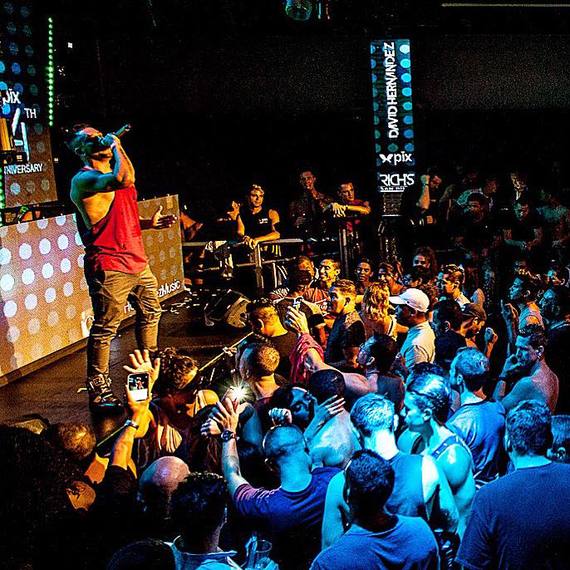 Do you think you have a responsibility, with all of the ugliness in our community this summer, that you have a responsibility towards the community?
I do now. I don't know if you would call it "fame", what I have achieved, but given the platform that I have, I think it is my responsibility to inspire and put out positive message. I may not be perfect al the time, but think it is so important to let kids know that you can be a member of the LGBTQ community, you can be al these things and still be successful and have a career in whatever field you choose.
I never used to think I had a responsibility. Now at thirty-three years old and as long as I have been in the industry, I do. I wish I had someone holding my hand telling me it was ok, I had already won and "you are incredible".
Is that the message of the video for "Beautiful"?
You know, its' crazy, we shot this video in late January and everyone that showed up, friends, family, all showed up on time for free. When we got to the interracial gay couple, everyone just lost it and started sobbing. It was a moment where you were experiencing the power of love at it's finest. If the world could have experienced even an ounce of what we were feeling in that studio, this will definitely go viral. Who doesn't respond to something like that thinking "aww I want that"?
The concept was inspired initially by my friend Scott Rocket who is a television producer, and I just ran with it. I wanted every type of person, every ethnicity, every shape and size, sexual orientation, all that. My friend A.J. Montgomery is the amputee in the video, and he had just lost his leg a year prior. It was his first time as a dancer, doing any type of stunt publicly since he lost his leg. It was very reaffirming to him and he was just cast in "La Reve" in Las Vegas, so that's totally affirming to him. There were just so many "a-ha" moments during that shoot. If that video is not important to anyone else, it will always hold a special place to me.
You're doing more music correct?
Absolutely, I am working on a full length album now. I am working on it with Printz Board of the Black Eyed Peas and Mark Grilliot who produced and co-wrote "Beautiful". The album has been a culmination of the last three and a half years of my life, but I don't want to rush it. I am going to let "Beautiful" marinate and do it's thing and then the album. Some of the content has changed, some more songs have to be written. I am just so excited, being an out artist gives me such a freedom.

What does pride mean to you?
Being happy with who you are ; being authentic with you are, standing in your truth in a positive light. The essence of who you are in it's entirety. I am keeping it 100 at all times now.
Beautiful (Video)-https://www.youtube.com/watch?v=3Sua37Nux0I
Download "Beautiful" on iTunes:https://itunes.apple.com/album/id1139089970?ls=1&app=itunes
www.davidhernandezofficial.com
REAL LIFE. REAL NEWS. REAL VOICES.
Help us tell more of the stories that matter from voices that too often remain unheard.