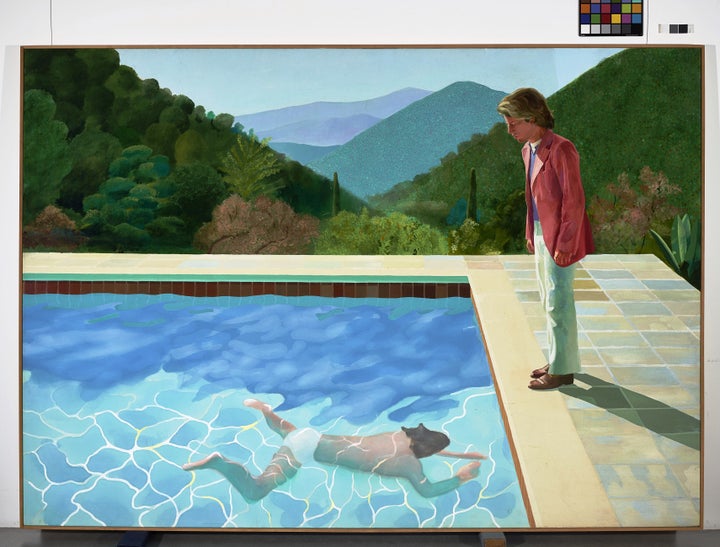 Pools and all, a collaboration.
The Tate Britain in London, the Metropolitan Museum in New York City, and the Pompidou Center in Paris have collaborated on the most complete exhibition to date on the career of famed artist David Hockney.
The global show is a celebration of Hockney's 80-year's birthday (born July 9, 1937). Over 160 works of art are represented with paintings, photographs, engravings, drawings, and video installations.
The important retrospective of his original work comes nearly 20 years after his first Paris debut at the same Pompidou Center.
The most iconic paintings of the artist are shown here, such as various California swimming pools views, double portraits or monumental landscapes, showing the entire artistic career of the painter, up to today.
His representation of typical split-level homes and suburban Californian landscapes have a calming appearance perhaps created by the absence of shadows. Slick as magazine prints, his images incorporates linear perspective and bright colors
Hockney lived in California for over 30 years and is one of the founders of the Museum of Contemporary Art in Los Angeles in 1979.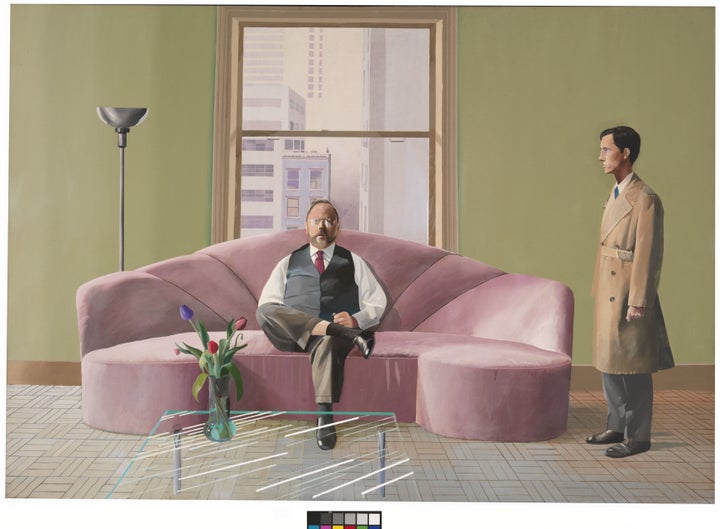 A pop artist.
David Hockney was born in England in 1937. He started his career at the Bradford School of Art, where his teachers belonged to the Kitchen sink creative movement - a group of British artists who painted ordinary people in simple scenes of everyday life in the 1950s.
He is considered as one of the priests of Pop Art and lived many years in Los Angeles. In 1967, his Bigger Splash painting, as well as other pools and Californian scenery introduced him to the public – not only the art collectors but also the popular crowds reveling in his simple and dream-like works.
He also created several sets and costumes for theater plays. A big fan of the Polaroïd cameras and system, he kept the original and basic format of the pictures, using it to create portraits, just as a painting them could have rendered.
He returned to Yorkshire in Great Britain, creating more art forms with his unique use of the fax machine, computers, printers, and more recently innovating with smartphones.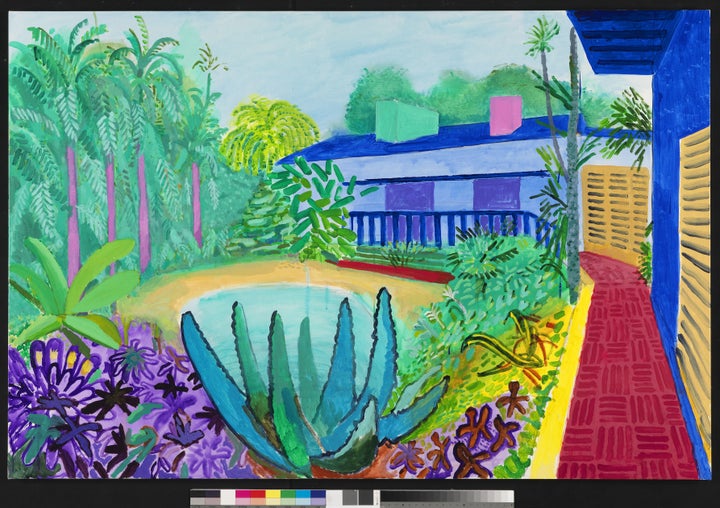 A master of colors.
Hockney is transparent about his homosexuality and he frequently and openly explored the nature of gay love in his portraits. Many of his beautiful naked bodies represent his friends and relationships, as in We Two Boys Together Clinging (1961), named after a poem by Walt Whitman.
In 1966, while teaching at UCLA, he met Peter Schlesinger, an art student who posed for several paintings and drawings, and with whom he eventually became romantically involved.
In each of his pieces, dare and energy fill the paintings with modern and luminous shapes and feel. Often regarded as a master of the California moods, the artist knows how to perfectly reflect the vibrant colors of California, even for those who have never visited the state - they feel it's just what California must look like.
Considered one of the most influential British artists of the 20th century, Hockney once famously declared: "The moment you cheat for the sake of beauty, you know you're an artist".
Neither British nor American head of state made it to the opening of the same show in their respective country, but when the special exhibition opened in Paris, French president Macron and his wife came to visit.
"At the start of their visit, I was a little nervous, as I am not used to meeting heads of state. I was quickly reassured as Mr. Macron speaks very good English – which suits me just fine - and he was very interested and curious. He asked me a lot of questions about my work and my techniques."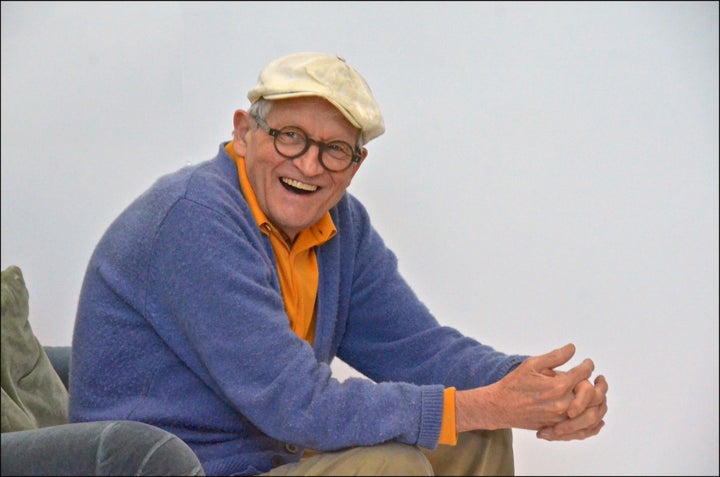 More info: David Hockney, on view through Oct. 23, 2017.
Open from 11 a.m. to 10 p.m. (exhibition areas close at 9 p.m.)
Open Thursdays until 11 p.m. (only for the exhibitions on level 6)
Ticket offices shut one hour before closing time
Métro stops: Rambuteau, or Hôtel de Ville, and Châtelet.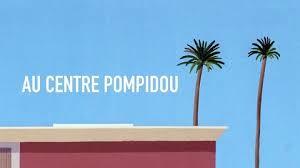 Related
Popular in the Community