The idea is to pay for a mobile billboard of one or two tweets and move it to several locations in Texas to "maximize visibility and impact," said the GoFundMe post about the project.
Cruz is in a tight race for the Senate against challenger Democratic Congressman Beto O'Rourke.
Trump repeatedly mocked Cruz as "Lyin' Ted" during the Republican presidential primary. Now Trump is campaigning for Cruz as the president battles to keep the majority of the Senate Republican after November's midterm elections.
"We are planning to display the president's own words about Cruz from 2016 on a mobile billboard, to remind Texans of the truth," noted the GoFundMe post for the planned billboard. "Texans deserve better."
The GoFundMe campaign was also promoted by Houston organizer Antonio Arellano and political activist Claude Taylor. It was organized with the help of advocacy group USA Latinx.
Fundraising was launched and ended Saturday because the campaign quickly overshot its goal of $6,000. Nearly 500 people contributed money.
Arellano told The Washington Post that supporters hope to have the truck-mounted mobile billboard operating in two weeks. It could carry two Trump tweets at the same time, with one on each side. The route hasn't been chosen yet, he said.
Organizers have chosen one Trump tweet from 2016 asking why Texans would support Cruz when he has "accomplished absolutely nothing for them."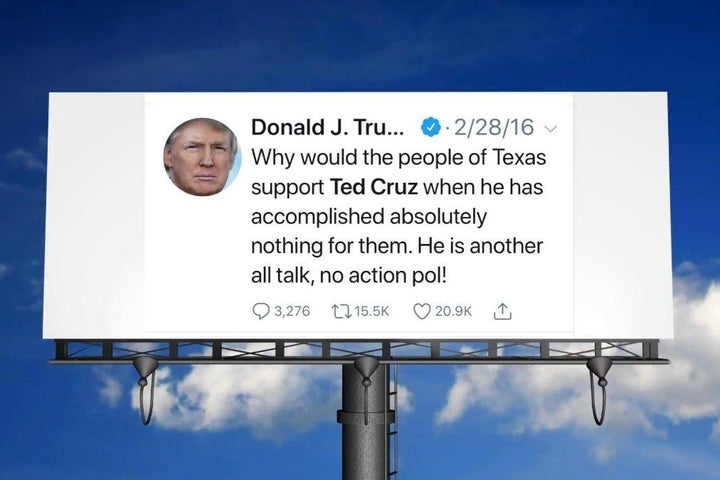 Hogg joked on Twitter that there was such a feast of insulting tweets about Cruz by Trump that it was difficult to make a selection. "Thank you POTUS," Hogg quipped.
Trump is speaking at a rally for Cruz in October in the "biggest stadium in Texas we can find," the president tweeted Friday, noting the senator now has his "complete and total endorsement." The message — and Trump's stunning volte-face on "Lyin' Ted" was mercilessly mocked by Twitter followers.
Popular in the Community