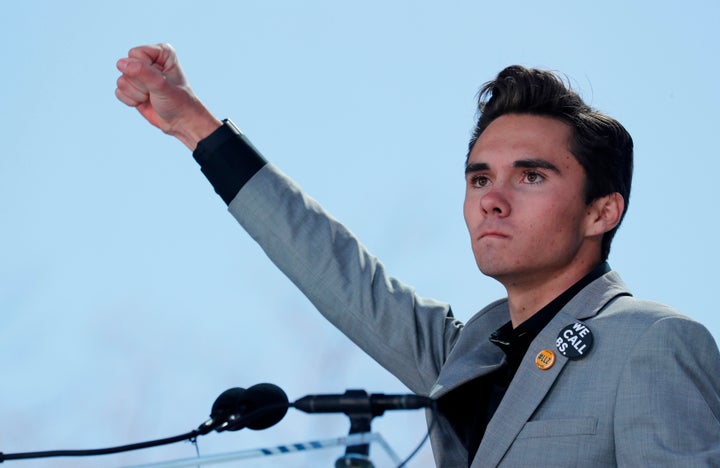 Gun control advocate David Hogg called on the press to stop using the name and image of the 17-year-old student who police say carried out the mass shooting at a Texas high school on Friday.
"We make these sick people known worldwide for their horrifying acts, let's stop that," Hogg tweeted Sunday. The teen survived February's school shooting at Marjory Stoneman Douglas High School in Parkland, Florida.
A gunman killed 10 people and injured at least 13 in Friday's shooting at Santa Fe High School in Santa Fe, Texas. Local law enforcement said the shooter used two weapons during the attack: a shotgun and a .38 revolver, both of which police believe he obtained from his father. The suspect was arrested on charges of capital murder and aggravated assault on a public servant. 
Hogg's call echoes that of Anderson Cooper, who said on his CNN show Friday night that he would not be naming the shooter during the program.
"The name of the alleged killer will not be said nor will his face be shown. The only thing he deserves is justice. His victims deserve far better," Cooper said.
The call is consistent with warnings from advocates and mental health experts who caution that excessive media coverage of a shooter can motivate copycats who seek fame or notoriety. School shooting survivors and gun control advocates have launched campaigns such as "No Notoriety" and "Don't Name Them" that have gotten support from law enforcement, including the FBI.  
Student survivors of the Parkland shooting have shared their support for the Santa Fe High School community. In an op-ed published in USA Today, Stoneman Douglas student Eden Hebron shared advice with the survivors of Sante Fe.
"The Stoneman Douglas community will be here for you, whenever you need someone to talk to. Or someone who will listen to you," Hebron wrote. "Know that the entire country is here for you. The news may slow down, but you'd be surprised by the support you have from all of us."
Calling all HuffPost superfans!
Sign up for membership to become a founding member and help shape HuffPost's next chapter