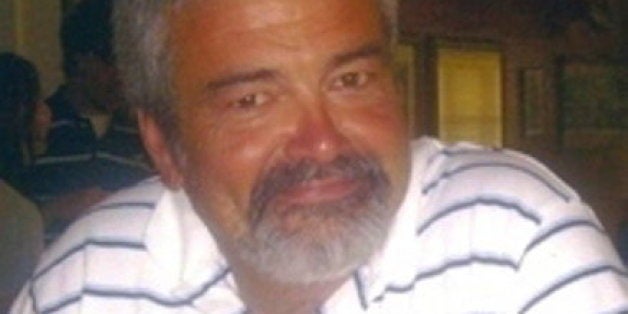 The night before David Hooks was gunned down by police, his SUV and several hunting guns were stolen from his home on a 200-acre plot in East Dublin, Georgia.
The following night, around 11 o'clock, David's wife Teresa saw people in dark clothes approaching their home. Hooks, a 59-year-old grandfather, reached for a shotgun -- a weapon that turned out to be unloaded -- and prepared for a confrontation.
The intruders on Hooks' property on Sept. 24, however, were not criminals. They were part of a SWAT team from the Laurens County sheriff's office, and they were looking for drugs -- largely on the word of a tipster named Rodney Garrett, an avowed meth addict and car thief.
What exactly happened next in the standoff is unclear, but two things are for sure: Deputies fatally shot Hooks, and not a single drug was found in the house, despite a 44-hour search.
Hooks was the 24th person in the U.S. to be killed by police during a drug raid this year, according to figures from the advocacy group StopTheDrugWar.org. Police tactics across the country have come under intense scrutiny following a number of deaths in recent months, from 18-year-old Michael Brown in Ferguson, Missouri to Staten Island man Eric Garner, who was put in a prohibited chokehold by an NYPD officer.
The Laurens County sheriff's office has more or less gone silent since announcing that Hooks was killed for threatening the SWAT team with a shotgun. They claim that uniformed deputies identified themselves at Hooks' back door and announced that they had a search warrant. The deputies opened fire, police say, because Hooks, owner of a successful construction company, allegedly refused to drop his weapon.
But Mitchell Shook, a lawyer for Hooks' widow, says the SWAT team burst in without identifying themselves. Moreover, Shook contends there wasn't enough evidence to conduct a raid in the first place.
Now, The Huffington Post has learned that Sheriff's Department officials stymied Shook's investigation by cutting off a jailhouse interview between Garrett and a private investigator working for Shook.
On Oct. 1, in a room at the Laurens County jail in Dublin, Georgia, P.I. Christopher Frost had only been talking to Garrett for six minutes when a deputy removed Garrett from the room, cutting the conversation short.
"They rolled out the red carpet for me and then they yanked it away," Frost said. "It was weird. When they pulled him away, I assumed they just did not want him talking to me."
On a recording made by Frost and heard by HuffPost, a man's voice can be heard saying that an official at the jail needs to speak to Garrett immediately.
Frost, a former federal agent who says he got a private investigator's license about 13 years ago, said he's "never" had a jailhouse interview cut short by officials before.
Officials are evasive about what happened during Frost's visit.
"The sheriff was unaware that a private investigator had come to the jail," Chief Deputy Keith Golden told HuffPost, but he refused to elaborate.
The lack of information distresses Hooks' family. Through Shook, they say police killed a family man who made an honest living and built homes for his adult son and daughter on his property.
"They're still having a hard time with his death," Shook told HuffPost Monday, hours after dozens attended a rally for Hooks at the Laurens County Courthouse.
Arrest records are not publicly available in Georgia, so it's unclear if Hooks had had previous brushes with the law. In 2009, another tipster told police about supplying meth to Hooks for resale, but the allegation doesn't appear to have led to anything.
The aborted jailhouse interview gives Shook another reason to criticize the Laurens County Sheriff's Department and its handling of the case.
"That bothered us," said Shook. "They didn't tell [Frost] that he had to leave, but they did take out the guy we wanted to interview."
The SWAT team's warrant was largely based on statements from Garrett, who stole Hooks' SUV and claims he took a bag full of methamphetamine from a different vehicle parked at Hooks' house the night before the shooting. Garrett allegedly told Frost that he was high on crystal meth and marijuana during the theft, and that he turned himself in to police out of concern for his own safety.
Hooks, a hunter, kept as many as 10 guns at home, though most were stored in a locker, Shook said. Police found only two during the raid -- the unloaded shotgun that Hooks allegedly pointed at deputies, and a loaded handgun for his wife. Garrett stole the other weapons the same night he stole Hooks' car, according to Shook.
The day after Garrett briefly spoke to Frost, he was quietly transferred to the Emanuel County jail, about 50 miles away. Garrett's public defender only found out that he'd been moved when it was announced in a Laurens County court on Oct. 8 that Garrett wouldn't make a scheduled appearance that day for an alleged hunting violation.
"I thought it was weird," Abigail Safford, a lawyer with the Dublin Judicial Circuit Public Defender's office, told HuffPost. "I expected him to be there for an arraignment."
The Georgia Bureau of Investigations has taken over the inquiry into Hooks' death, but has declined to release autopsy results or other preliminary findings.
"The GBI will conduct a thorough investigation into the incident to determine the facts of what occurred," a statement from the bureau reads. "When the investigation is completed it will be turned over to the district attorney."
Shook has appealed to the FBI to open a probe.
Like Us On Facebook |

Follow Us On Twitter |

Contact The Author
Related
Popular in the Community