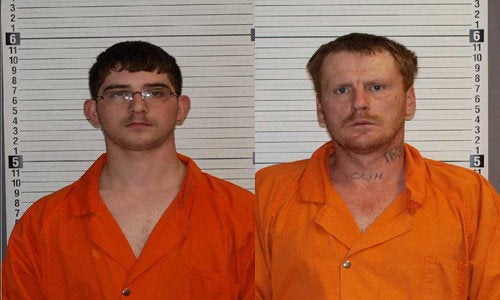 Two Kentucky cousins face possible life sentences if convicted of assaulting a gay man in an Appalachian park last year, a case which marks the first test for a federal hate-crimes statute expanded in 2009 to include crimes motivated by anti-gay bias.
Kevin Pennington, 28, was kidnapped and severely beaten in a remote park in southeast Kentucky in April 2010 by two men shouting anti-gay epithets, while two women egged them on, prosecutors said in an indictment filed in U.S. District Court in London, Ky., on Friday. In a jailhouse recording, one of the attackers told his ex-wife that Pennington was targeted because he was gay, according to a federal affidavit. Pennington suffered extensive bruises, a torn and bloody ear and had boot prints on his face. He remains in counseling for psychological trauma.
The charges should send a message that violence motivated by anti-gay bias will not be tolerated, the federal prosecutor leading the case said Tuesday.
"I certainly hope for our district it makes the very strong statement that we intend to pursue all credible allegations of bias-motivated crime," said Kerry Harvey, U.S. Attorney for Kentucky's Eastern District. "Congress expanded these protections for very good reasons."
The defendants, David Jason Jenkins, 37, of Cumberland, and Anthony Ray Jenkins, 20, of Partridge, pleaded not guilty on Friday.
Andrew Stephens, a Lexington attorney representing David Jenkins, said his client denies targeting Pennington because he was gay. The alleged assault may have instead been the result of a drug deal gone wrong, Stephens said, adding that he did not yet know all the facts.
"Is the motivation for the alleged beating strictly because of sexuality, or is it a possibility that it was because of a drug deal gone wrong?" Stephens said. "My job is to illuminate the other possibilities."
Two women also charged in the case, Alexis Jenkins and Ashley Jenkins, both 19, pleaded guilty on Friday to targeting Pennington because he was gay. The women also face life sentences, but their guilty pleas indicate that they intend to cooperate with prosecutors in exchange for lighter sentences. Alexis Jenkins is married to Anthony Jenkins, prosecutors said. Mable Jenkins is Anthony Jenkins' sister and a cousin of David Jenkins.
According to the federal indictment, on the night of April 4, 2011, the two women lured Pennington into a car, offering to drive him to a house where he could buy suboxone, a commonly-abused prescription narcotic. Pennington told authorities that once he realized that David and Anthony Jenkins were in the back seat, he asked to be let out, but they refused to stop.
In the car, David Jason Jenkins said he was going to rape Pennington and repeatedly demanded Pennington "suck his d*ck." According to the Lexington Herald-Leader, Pennington has said he previously turned away advances from Jenkins.
The group drove to Kingdom Come State Park, pulled over and dragged Pennington from the car. He was kicked and punched while the group taunted him with anti-gay slurs, the indictment says.
During a lull in the beating, Pennington escaped into the woods by leaping off an embankment, he told investigators. He eventually found a ranger station and was taken to a hospital.
State prosecutors in Harlan County filed assault charges against the four in May 2011, and later upgraded those charges to attempted murder. The state charges were dropped after federal prosecutors decided to intervene, unopposed by local prosecutors.
Jason Jackson, the assistant state's attorney for Harlan County, said he thought the federal government's involvement will bring stronger sentences. Under Kentucky state law, if a crime is proven to be motivated by bias, a judge can eliminate the possibility of parole, but cannot increase the length of the sentence, Jackson said.
"This office was handling this case in the best way that we knew how," Jackson said. "For the U.S. attorney's office to step in and go after this case shows that the Department of Justice is not going to ignore anything that happens in southeastern Kentucky."
According to The Kentucky Equality Federation, a gay rights advocacy group, Pennington and his family asked for the organization's help when they were worried that the state case was not moving forward. The group publicized the case and petitioned the Justice Department to intervene.
"I think the case's notoriety may have derived in large part from the Kentucky Equality Federation efforts," said Harvey, the U.S. attorney.
Jordan Palmer, the Kentucky Equality Federation president, praised the federal intervention and said prosecutors in southeastern Kentucky have failed to act aggressively in previous hate crimes against gays.
"The commonwealth attorney and the judge are elected by popular vote and being gay is not popular in southeastern Kentucky," Palmer said.
Last July 4, a lesbian couple in Harlan County was allegedly attacked at a fireworks show by a group shouting anti-gay slurs. One of the victims identified two of the assailants to the police, but no charges have yet been brought.
Some observers of southeastern Kentucky courts said the federal government is far likelier to press anti-gay hate crimes charges than local prosecutors.
"It's just not going to happen on a local level," said David Smith, a lawyer who has practiced law in a nearby county for 35 years. "You're dealing with local communities, elected officials and the normal prejudice and bias," Smith added. "The only way these cases are going to be prosecuted under a hate crime statute is with the federal government."
U.S. authorities' choice to bring the first federal hate crime indictment based on anti-gay bias in an area known for its social conservatism will not go unnoticed by prosecutors and police elsewhere, said Marc Poirier, a law professor at Seton Hall University in New Jersey.
"I think it's a bold move, given both the geographic and the political context," Poirier said.
Popular in the Community