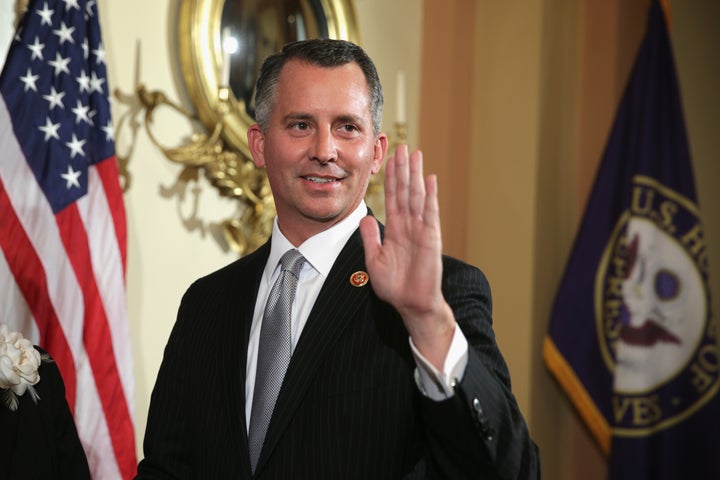 Rep. David Jolly (R-Fla.) has stopped personally asking donors to contribute to his 2016 Senate campaign. He wants to focus his time on more important tasks (although his campaign team will still be hitting people up).
The congressman, currently serving his first full term, is also preparing legislation to give his fellow lawmakers a similar break. He plans to introduce the bill next week. 
Members of Congress have long bemoaned how much time they spend raising money for election campaigns. The parties have urged their congressional members to dedicate about half their working hours to fundraising activities. Rep. Steve Israel (D-N.Y.), who is not running for re-election this year, confessed in a recent New York Times op-ed that he'd spent 4,200 hours making fundraising calls since the Supreme Court's 2010 Citizens United decision opened the floodgates for corporate campaign cash. Like Israel, many other retiring lawmakers have declared themselves sick and tired of the nonstop money race.
His proposed STOP Act would bar elected federal officials from directly soliciting campaign contributions. "Penalties range from paying fines for civil offenses to up to 5 years in prison for more serious criminal offenses," reads a summary of the bill provided by Jolly's office. 
Public Citizen, a group that has long argued for campaign finance reform, welcomed Jolly's legislation and expressed hope that lawmakers would eventually tackle more sweeping changes.
"Jolly's STOP Act could come at no better time," said Craig Holman, Public Citizen's government affairs lobbyist. "With the rapidly escalating costs of campaigns in the wake of Citizens United, candidates are spending huge swaths of their time fundraising. This is an untenable distraction away from lawmaking and it must be reined in."
But, he added, lawmakers should also "work to get reasonable limits restored on outside groups that operate in concert with those candidates and lawmakers."
The reach of Jolly's legislation would be relatively limited. Lawmakers could no longer personally ask potential donors for money; that job would fall to campaign aides or fundraising consultants. But they would still be allowed to attend fundraisers for their own campaigns or for outside groups, such as PACs. 
Lauren Passalacqua, press secretary for the Democratic Senatorial Campaign Committee, said Jolly's bill shows that "Republican candidates are more than happy to sit back and let super PACs do their bidding."
Jolly is seeking the GOP nomination to run for the Senate seat now held by Republican presidential candidate Marco Rubio.
PHOTO GALLERY
Most Awkward Moments On The 2016 Campaign Trail
REAL LIFE. REAL NEWS. REAL VOICES.
Help us tell more of the stories that matter from voices that too often remain unheard.