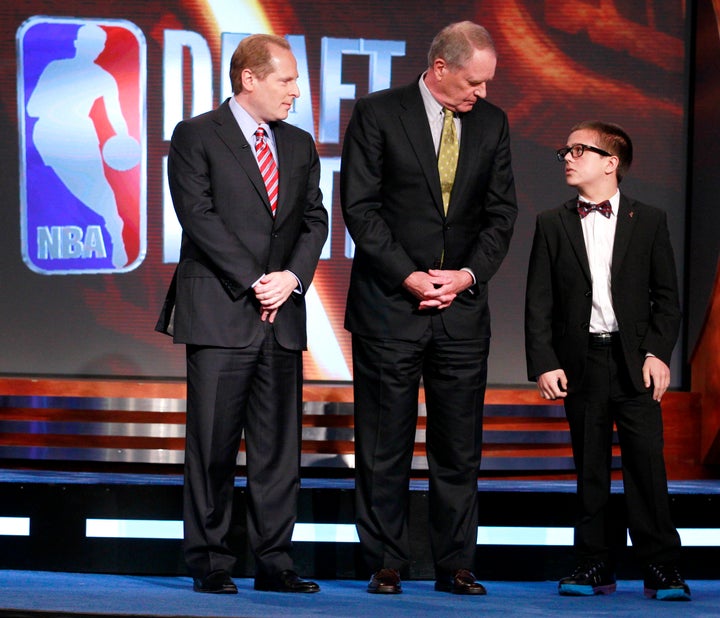 UPDATE: David Kahn said on Wednesday that his remarks about the NBA draft lottery being fixed were intended as a joke.
Kahn spoke after the Cleveland Cavaliers, represented at the lottery by Dan Gilbert's 14-year-old son who suffers from neurofibrosis (a nerve disorder), were awarded the top pick in the 2011 draft. Brian Mahoney of the Associated Press reports:
"This league has a habit, and I am just going to say habit, of producing some pretty incredible story lines," Kahn said, while smiling, on Tuesday. "Last year it was Abe Pollin's widow and this year it was a 14-year-old boy and the only thing we have in common is we have both been bar mitzvahed. We were done. I told (Utah executive) Kevin (O'Connor): 'We're toast.' This is not happening for us, and I was right."
Even if some of what Kahn said was in jest, or at least not with the utmost of seriousness, it would be surprising if he didn't find himself on the receiving end of some sort of punishment from the league. Allegations of fixing draft results are sure to be taken very seriously by NBA commissioner David Stern and company.
Kahn has been GM of the Timberwolves since 2009. Before working in sports business, he was a sportswriter for the Oregonian and the Los Angeles Times.
Scroll down to watch the video.