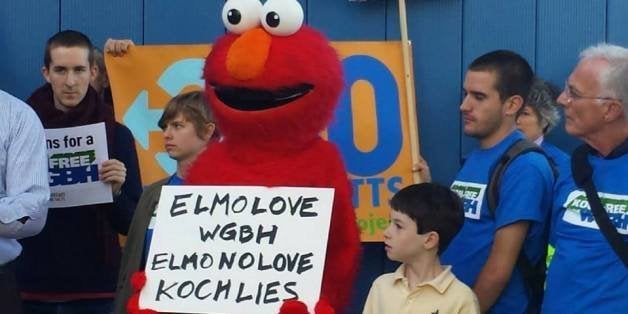 An environmental activist group wants Boston's public television and radio affiliate to bump billionaire conservative donor David Koch from its board of trustees over his position on climate change.
Forecast the Facts argues that Koch's "anti-science track record" should disqualify him from any role at the company that produces the award-winning science series "Nova" and other notable public affairs programming.
It points to the millions of dollars that David Koch and his brother Charles have spent -- from their considerable fortune made in the oil and gas industry -- to support groups that question the validity of the science showing that greenhouse gases produced by burning fossil fuels are driving climate change. In the words of Forecast the Facts, the brothers have been "proactively seeking to misinform Americans and undermine accurate scientific reporting."
David Koch joined the board of WGBH, which provides public radio and television for Boston and the rest of southern New England, in 1997. (He has also served on the board of WNET, New York's public television station, and his role there was covered in a New Yorker piece last May.)
When asked in 2011 if he personally believes that climate change is happening, David Koch replied dismissively, "Climate does fluctuate. It goes from hot to cold. We have ice age."
Forecast the Facts argues that such efforts should disqualify Koch from the WGBH board. On Wednesday, the group delivered a petition with 119,000 signatures to a WGBH board meeting. About 40 people also showed up outside the station's studios to protest Koch's involvement, according to an organizer's estimate. (Koch himself was not present for the meeting.)
One protester was the Rev. Fred Small, senior minister at the Unitarian Universalist church First Parish in Cambridge, Mass., who said he'd been a WGBH member since 1985. "I cannot in good conscience continue my support so long as David Koch remains a member of this board," he said during the public portion of the board meeting. "David Koch may not have broken a single law, but he is a criminal. He is a criminal because climate change is a crime against humanity and the earth."
In a statement to The Huffington Post following the meeting, WGBH's director of media relations and marketing, Michael Raia, said that trustees "do not have a role overseeing any WGBH programming, and funders have no involvement with the editorial content of programs."
"Over more than a decade, in a dozen documentaries and investigative reports, WGBH has presented the science and facts about climate change in our award-winning documentary series NOVA and FRONTLINE, and we will continue to cover the full dimensions of this topic," said Raia. "Just as our viewers and listeners reflect a full spectrum of political and cultural views, so do our board members."
But Koch's critics are not persuaded by the distinctions PBS has made. "David Koch has dedicated his life and tens of millions of dollars to deliberately misleading the public on climate change, something completely incompatible with WGBH's mission of education," said Emily Southard, campaign manager at Forecast the Facts. "A summer of record wildfires, floods, and storms means it is more important than ever for educational organizations like WGBH to draw the line on climate denial."
Calling all HuffPost superfans!
Sign up for membership to become a founding member and help shape HuffPost's next chapter
BEFORE YOU GO
PHOTO GALLERY
Politicians Mess Up Science