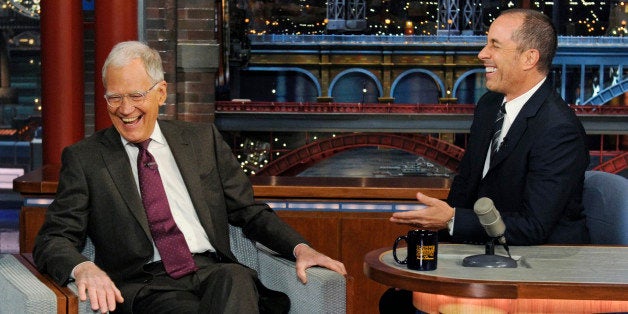 "Embrace change." People always say that. I do not embrace change. In fact, I freaking hate change. Case in point, David Letterman is retiring from television on May, 20th. Simply stated, this SUCKS!
There is no replacing David Letterman, just as there was no replacing Johnny Carson, or replacing your Grandmother, for that matter.
When David Letterman, Paul Shaffer and the band and the writers and the crew pack it in, they will be leaving a yawning void that will never be filled.
There is something very intimate about bringing someone into your home, late at night for an hour. After more than 30 years, when that person announces they will no longer be coming into your home any more, it is a shock to the subtle eco-system of our lives.
I first saw David Letterman on his Tonight Show debut in 1977. He did well, very well. Johnny liked him. Just a couple of years after moving to LA, after being a wacky weatherman in Indianapolis, Letterman had reached the mountain top as a standup comedian. Johnny Carson was the king maker, as no one has been, before or since.
On his first Tonight Show appearance Letterman showed a glimpse of what made him special; there was a certain irreverence, a deep cynicism and sense of the absurd.
In 1980 NBC gave David Letterman a short lived morning talk show, The David Letterman Show. While the show only lasted a few months, it was the exact template for his 1982 NBC show, Late Night With David Letterman.
Since 1982, Letterman has been a fixture on late night. And, from the beginning, Letterman was fundamentally different than any other talk show host. Until Letterman came along, talk shows, whether hosted by Johnny Carson or Mike Douglas or Merv Griffin or Dinah Shore, all had an old school, vaudevillian reverence for the entire proceeding; a glossy, forced cheeriness, a core belief that the host must remain positive at all times. Letterman ignored this belief completely. In short, David Letterman had a bad attitude. And he made no bones about it.
In many ways, Letterman was a sort of TV shock jock. In fact, a lot about his show felt more like morning radio than TV. Prank calls, dropping things off of the roof and watching them explode, Stupid Pet Tricks, Stupid Human Tricks.
Letterman was not afraid to get weird. And he was able to pull off his bad attitude with sheer talent and ratings.
This irreverence caught on in a big way. For decades, Letterman was known for being popular among college kids and terminal smart asses. And as Letterman's cynicism caught on, other shows exhibited similar points of view. Shows like Married With Children, The Simpsons and Family Guy. Subtly, over time, David Letterman changed the entire tone of American television. And today that tone is more honest and authentic than ever before.
Meanwhile, the on air relationship between Letterman and band leader Paul Shaffer has been a huge component of the show's success. In truth, Johnny Carson and Ed McMahon were never as comfortable and fun together as Letterman and Shaffer. And, Shaffer brought the most eclectic group of musical artists to Letterman's show that could be seen on TV. Much as Shaffer had done as the band leader on the early years of Saturday Night Live.
Letterman created this whole weird world on his show; from the Top Ten List to Larry "Bud" Melman to Rupert Jee, and his Hello Deli. It will be hard to let go of that world.
I feel like one of those people who says they don't want to get another dog, because they don't want to fall in love with the dog and then have to bury him. I don't know if I can invite another talk show host into my home for 30 years, just to say goodbye again.
David Letterman has been bitchy, grouchy and has not played well with others. And I've enjoyed every minute of it.
Calling all HuffPost superfans!
Sign up for membership to become a founding member and help shape HuffPost's next chapter