WASHINGTON -- In the weeks leading up to Wednesday's final show, David Letterman has been hailed as a comic genius, a revolutionary who stormed the networks in a Velcro suit. It's hard to overstate his influence on comedy in general, and on every talk show host that has followed since. He may be leaving the airwaves, but the late night landscape is full of people who have been influenced by Letterman.
When he's gone, one thing that we may not actually see again on mainstream television is Letterman's unique, prickly interview style. The comedian could provoke intense, passionate, and even -- dare we say it -- real exchanges with his guests.
"Once he retires, there's nobody left to be scared of," Tina Fey recently told Rolling Stone. "It's all friendliness now."
Sure, there was the celebrated awkward moment with Cher, a recent gruesome exchange with a clueless Dan Patrick and a teary moment with Lindsay Lohan. But Letterman was toughest on those who deserved it -- the politicians, pundits and presidential candidates who stopped by to plug themselves.
After Sen. John McCain (R-Ariz.) stood him up (and lied about the reason) during his 2008 presidential campaign, Letterman turned the incident into a running gag. It's hard to imagine Jimmy Fallon inserting himself into a presidential race.
Watching these interviews now, you get the sense that so many politicians underestimated Letterman. They showed up expecting a bunch of softball questions, a chance to tell a few jokes and spin a few humanizing tales. Instead: Hillary Clinton is asked about her husband's infidelity, Sen. Rand Paul (R-Ky.) gets schooled on school funding and Bill O'Reilly is grilled on the Iraq War.
By the end of a Letterman comeback quip or rebuke, you can see the look of defeat (or mild nausea?) on their faces. And you can see the comedian cared about a lot more than top 10 lists.
Watch the video above for a small fraction of Letterman's riveting exchanges with politicians and pundits.

Before You Go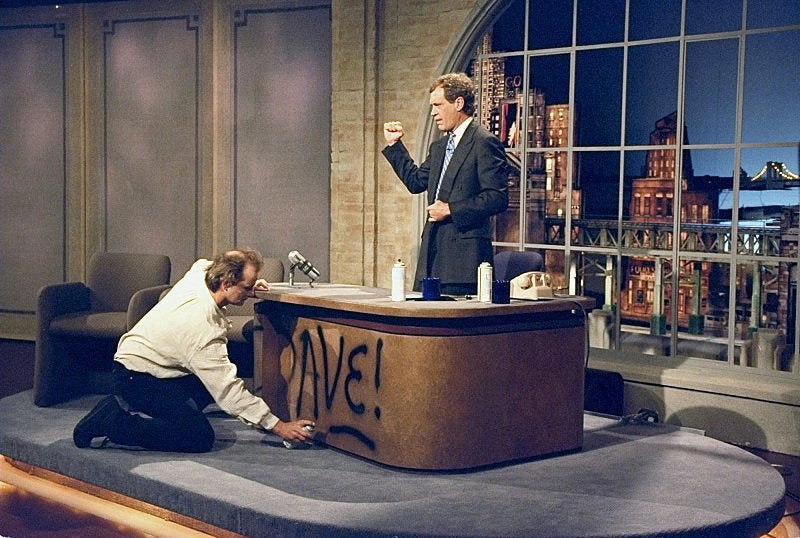 David Letterman's 'Late Show'
Popular in the Community