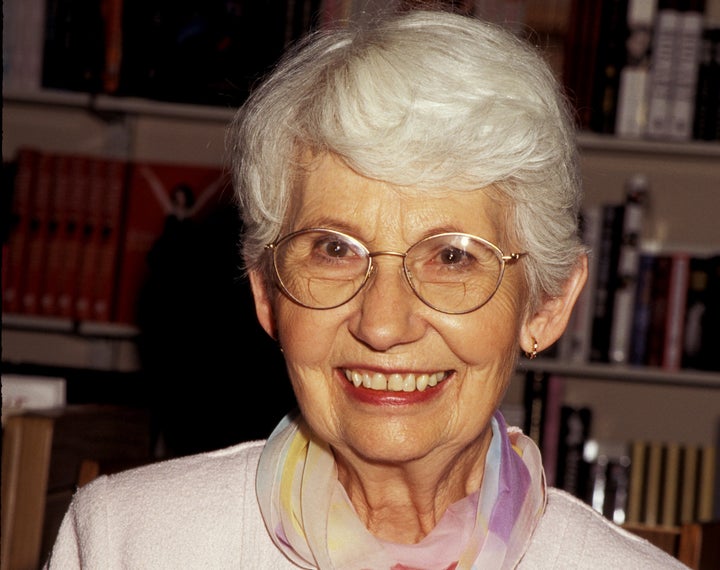 Dorothy Mengering, the mother of David Letterman who made occasional appearances during his time hosting "Late Night," died Tuesday. She was 95.
From her kitchen in Carmel, Indiana, Mengering ― known simply as "Dave's Mom" ― showed up often via satellite to play a heartwarming pie guessing game, in which her son guessed which types of pie she'd baked. With her sweet temper and charming sincerity, she became an audience favorite.
Letterman also put his mother to work as a foreign correspondent of sorts for the show during the Winter Olympics in 1994, 1998 and 2002. In the first, held in Lillehammer, Norway, she interviewed then–first lady Hillary Clinton, asking a hard-hitting question about the Connecticut speed limit, which nabbed her an invite to the White House. 
"After Lillehammer, I couldn't believe how it all took off," Mengering told The New York Times about her role on "Late Night" and taste of fame after releasing her cookbook, Home Cookin' with Dave's Mom, in 1996. (You can find it on Amazon.)
She went on: "I think it's about the idea of mom and of a family. People are eager for families to be like they used to be. Even though there are lots of working moms and single-parent families now, you can still be a family in spite of the size and form it takes." 
As Letterman, who turned 70 on Wednesday, prepared to retire from his longtime role as host in 2015, he aired a special Mother's Day montage honoring Mengering. (Catch the clip, which includes a peek at Dave's Mom's beer-stocked fridge, below.)
Late Tuesday, Letterman's successor, Stephen Colbert, shared a heartfelt note of condolence over Twitter about Mengering, saying he feels "so grateful that Dave shared her with us."
Calling all HuffPost superfans!
Sign up for membership to become a founding member and help shape HuffPost's next chapter
BEFORE YOU GO