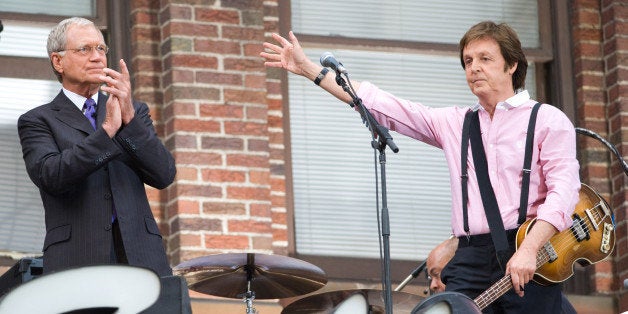 After 33 years in late-night television, 22 of them spent on CBS' "Late Show," David Letterman bids farewell to his midnight throne on Wednesday. He remains the preeminent survivor of the genre's old guard, bequeathing his perch to Stephen Colbert, who will take over in September, and the Jimmys (Kimmel and Fallon, the viral-video wizards who represent late night's new frontier).
The Huffington Post called upon Jerry Foley, who became a technical director on NBC's "Late Night with David Letterman" in 1990 and was promoted to head director of "The Late Show" in 1995, to recount some of the series' signature memories. His recollections of Letterman, like our own, draw from the many emotions the host, now 68, probably unknowingly ignited across America's living rooms.
Madonna drops 14 F-bombs (1994)
On March 31, 1994, Madonna gave us the most-censored episode in late-night TV up to that point, dropping more than a dozen F-bombs, smoking a cigar, urging Letterman to smell her panties and pulling in the highest "Late Show" ratings since its premiere. Foley was a technical director at the time, stationed in the control room with a crew that knew to expect something off-script from the then 36-year-old singer. (Producer Daniel Kellison wrote in a recent Grantland piece that Madonna agreed to riff on Letterman's incessant jabs at her personal life, but when he tried to premeditate the conversation backstage, she said she'd smoked too much "endo" to remember what he wanted her to do.)
"It was like putting together two heads of state," Foley said of the interview. "In the end, Madonna was going to do what she was going to do and Dave was going to do what he was going to do. So as much as everyone prepared for that moment, all we knew is that she was going to come out there as a little bit of a wild card. It played so beautifully into Dave's strengths because that's all he needs. When she went for the cigar and when she decided to drop the F-bombs, you couldn't have scripted it. Madonna is still, to this day, somebody you're going to pay extra attention to when she appears on the show."
Drew Barrymore flashes Letterman (1995)
Appearing on Letterman's 48th birthday, Barrymore planned to do a little dance for the host without telling him ahead of time. The crew knew instantly how to respond to the semi-spontaneous moment: "When Drew Barrymore gets up on a desk, it's a ballet," Foley said of the crew's -- particularly the camera operators' -- response. "People know exactly where to go and they know what to do. They don't know that she's going to pop up her shirt, but we are painfully aware that something unique is transpiring and you better go for it, and not sit back and let it pass you by."
Letterman returns after heart surgery (2000)
Letterman's quintuple bypass led to a monthlong hiatus in early 2000, and not even the cantankerous host could avoid returning with a sentimentalized lease on life. (Foley did note that Letterman stopped attending daily rehearsals after his surgery, having "achieved a level of confidence as a performer.") His inaugural episode back invited the hospital staff to join him onstage, but it was the Foo Fighters who made it a "huge" chapter in "Late Show" history. Letterman's favorite group, the Dave Grohl-fronted quartet canceled a tour stop in South America to perform "Everlong," his favorite song, on the show.
"Outside of Paul Shaffer and his orchestra, the Foo Fighters are kind of a de facto house band," Foley said. "It was a big moment when Dave realized they were going to put themselves out to do that, and a love affair was created right then."
First episode after 9/11 (2001)
Known for biting, no-holds-barred humor, Letterman played on the country's -- and, specifically, New York City's -- fragility with a thoughtful monologue about the need for stability amid the aftermath of the Sept. 11, 2001, terrorist attacks. Foley noted that all of late-night television, with Jay Leno's "The Tonight Show" and Craig Kilborn's "The Late Late Show" housed in Los Angeles, was waiting for Letterman to set the stage after 9/11. He did so one week after the tragedy, crafting his celebrated reflection on the events almost single-handedly.
"That's another example of Dave kind of taking his own counsel in not being overly prepared," Foley said. "He had an idea of what he wanted to say, but it was certainly not run by any of us. It was not rehearsed; it was very private. Now you have the entire world looking at New York, and here's one of New York's preeminent citizens. He sits down and you turn on the camera, and he says, 'Let's see what we can accomplish here in terms of trying to inch back to something normal.' We just instinctively as a group knew that this wasn't going to be a typical opening of a show with some kind of snarky comments. I think that was an enormous amount of pressure on Dave, but he rose to the occasion."
Letterman forces Paris Hilton to discuss prison (2007)
The show's producers conduct pre-interviews with guests to determine topics of conversation, and then certain celebrities' handlers attempt to dictate the appearance's terms -- as was the case with Paris Hilton, whose publicists insisted she not be asked about her short stint in county jail. But Letterman wouldn't settle for a softball interview, bringing up Hilton's prison tenure within a minute of her entrance. ("See, this is where you and I are different because this is all I want to talk about," he quipped.)
"At the time, the jail story was the number-one topic associated with Paris Hilton," Foley said. "How could anybody think she was going to sit there and not have it come up? And he was a big enough star at the time to do whatever the heck he wanted. I remember at the time thinking, 'Eh, that's a little uncomfortable.' But that didn't stop him. He genuinely wanted to know, which is another interesting aspect of how he performs. It's the original reality show."
Letterman berates John McCain over canceled appearance (2009)
Foley has seen multiple sitting presidents waltz across the "Late Show" stage, each one bringing an intense security detail that is both "fascinating and kind of invasive." But the most memorable White House affiliate to cause a scene came less than two months before the 2008 presidential election, when Republican nominee John McCain withdrew his appearance at the last minute, claiming he needed to return to Washington, D.C., because the economy was "cratering." In the control room, Foley and his cohorts have feeds displaying various networks' content. While the "Late Show" episode was taping, Foley spotted McCain sitting across from Katie Couric, waiting to go live on "CBS Evening News" in New York while he was supposed to be rescuing the economy in D.C. Naturally, the crew presented the footage to Letterman as the episode unfolded in real time, sitting back to see how the already agitated host would proceed.
"It's one of these moments you could not have scripted, but you put it in the hands of Dave, and he just really had a lot to say about the hypocrisy of John McCain saying he was going to Washington and stopping by Katie Couric for a news interview," Foley recalled. "And then when we put the image up of the full live feed from the studio of him getting made up, Dave was, at the time, if you go back and look at it, a little angry. Not a little angry -- he was angry. He just felt that the information that came from the McCain camp was not honorable, and now look at this: We caught this guy red-handed. It made for very good television, but it was also a personal affront at the time. Now, the good news is, McCain came back. He sat in that chair and he admitted that that was a screw-up."
Paul McCartney performs on the Ed Sullivan Theater marquee (2009)
Foley recalls that "Late Show" music producer Sheila Rogers spent "years" courting Paul McCartney to return to the Ed Sullivan Theater, where The Beatles made their famous American television debut in 1964. Having already hosted Dave Matthews Band and Phish for performances on top of the theater's marquee, the staff knew to expect a hefty logistical feat, including extensive coordination with the city. This was Sir Paul McCartney, and it was more important than ever to ensure there wouldn't be a hitch. The challenge? McCartney couldn't do a full rehearsal because the crowd surrounding the building, located in a bustling section of Manhattan near Times Square, would swell beyond manageability. Performing a half-hour set that included "Band on the Run" and "Back in the U.S.S.R.," McCartney proved that no rehearsal was needed. "It was something all the members of the police department and the mayor's office wanted to see," Foley said of the performance. "Paul could not have been more collaborative, or fun, or low-key, or low-pressure or low-stress."
"Joaquin, I'm sorry you couldn't be here tonight" (2009)
Sporting a burly beard and dark sunglasses, Joaquin Phoenix stunned everyone -- Letterman included -- with an unresponsive interview in which he claimed he was quitting acting in favor of a hip-hop career. We later learned it was all a ruse for his and Casey Affleck's mockumentary, "I'm Still Here," but Letterman knew only that Phoenix would be up to something ambiguously unusual that day. None of his responses were premeditated, which is aligned with Letterman's overall philosophy about the show.
"If you're an established actor and you're going to come out there and be peculiar, well, you do so at your own risk," Foley said of Letterman's willingness to riff with guests in unpredictable ways. "Dave was able to manufacture something that was probably better than what Joaquin even anticipated. Dave had more of a sixth sense of what to do in that situation than if he'd had the pre-produced information. I think it shows in how spontaneous that moment is. You can't write it on a cue card."
Chilean miner opens up (2010)
Foley praised Letterman's ability to draw out candidness in people who don't want to discuss sensitive subjects, like the host did with once-stranded Chilean miner Edison Peña. Warned that Peña was struggling with post-traumatic stress disorder, Letterman eased into the conversation, securing Peña's trust before probing for specifics about his time underground -- all while conducting the interview via an interpreter.
"If you go back and look at the show, you see Dave very, very skillfully, very gently, open up some questions in the interview," Foley said. "He won a little more confidence from the guy going into the first commercial break, and then he was actually able to steer the questioning toward the topic that people waned to know, which is, 'What are your thoughts being stuck underground like that?' By the end of the segment, the guy got up and hugged Dave, and then he did his Elvis impersonation. So when I think, yes, we shot people out of cannons and we had Paul McCartney on the marquee and that beautiful tribute to Warren Zevon and all the Top 10 lists and the heart surgery and all that stuff -- that Chilean miner interview really sticks out for me. In lesser hands, it would have been nothing or a disaster."
Darlene Love's final Christmas performance (2014)
While hosting "Late Night" in 1986, Letterman mentioned to Paul Shaffer how much he adored "Christmas (Baby Please Come Home)." Shaffer recruited Darlene Love, who originated the song in 1963, to perform it on the show, and a holiday tradition was born. With the exception of the 2007 Writers' Strike, Love performed it every Christmas.
"The song just got better every year," Foley said. "Paul Shaffer is a superior producer. I think everybody knows how funny he is and what a good musician he is; I don't think people fully appreciate what a tremendous producer he is. He sunk his teeth into that Christmas number with Darlene Love, and every year it got a little more interesting: add a strings section, add some more horns, add a timpani, add new chart arrangements. He would add background singers, and we would try to catch up with him by enhancing the production value of it. It got bigger and bigger, but it always got better and better. There's plenty of times in television when people double down and try to make something greater than it was the first time, and it doesn't always measure up. In this case, it just got better every year. This year we threw everything we had at it. We put it at the center of the stage and we interjected a band, and Darlene always delivered. If you go back and look at the clip form this past year, I think that's as good as it's going to get. It was a very emotional time because even though it was almost six months ago, we all knew it was the last time we were going to get to do it, and that was a tough day."
REAL LIFE. REAL NEWS. REAL VOICES.
Help us tell more of the stories that matter from voices that too often remain unheard.
BEFORE YOU GO
PHOTO GALLERY
David Letterman's 'Late Show'