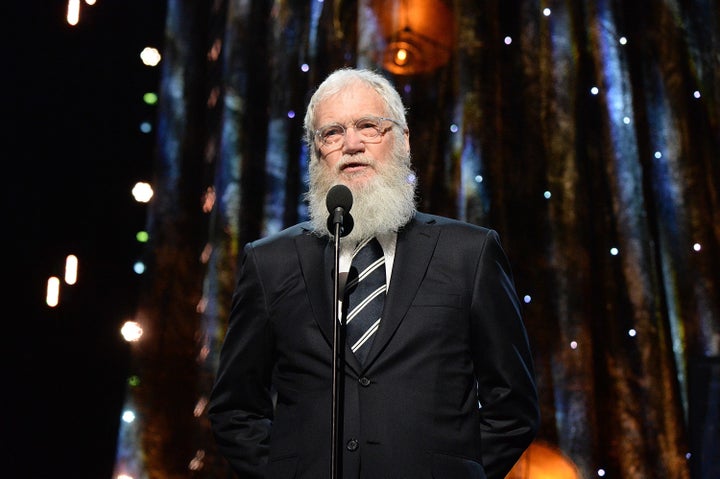 In the mid-'90s, Pearl Jam was one of the most successful music acts in the world and Ticketmaster had a solid stranglehold on the concert ticket industry. The band famously decided to go to battle against the company, advocating that Ticketmaster's steep service fees atop ticket prices was unfair for fans. In 1995, Pearl Jam sold tickets for their summer tour without the use of Ticketmaster, a novel idea for such a popular act at the time.
Now, Pearl Jam just earned induction into the Rock and Roll Hall of Fame. But unfortunately, Ticketmaster and their service fees are just as dominant as ever. 
David Letterman made reference to the past dispute during his induction speech for the band Friday night at the Barclays Center in New York City. In a great line, Letterman called Ticketmaster "beady-eyed, bloodthirsty weasels."
In 1994, these young men risked their careers by going after those beady-eyed, blood-thirsty weasels. I'm just enjoying saying that. And because they did, because they stood up to the corporations I'm happy to say, ladies and gentleman, today every concert ticket in the United States of America is free.
The former late night comedian filled in for Neil Young, who was originally going to introduce the band but came down with an illness this week. Letterman said during his speech that he first met most of the members in 1988, before the official start of the band. Pearl Jam went on to perform on the "Late Show" many times over the course of Letterman's tenure.
USA Today editor Maeve McDermott captured a bit of Letterman's speech on video:
Friday night, the Rock and Roll Hall of Fame also inducted ELO, Joan Baez, Journey, Tupac Shakur and Yes.
Calling all HuffPost superfans!
Sign up for membership to become a founding member and help shape HuffPost's next chapter
BEFORE YOU GO