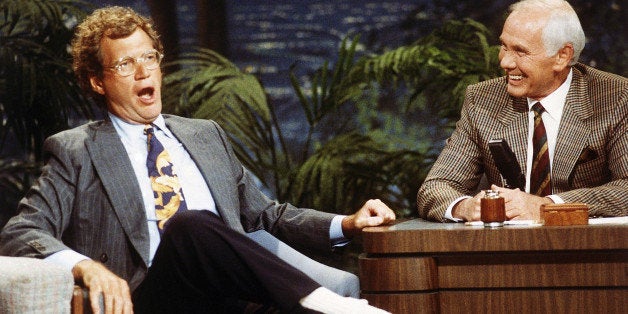 As a kid growing up in the 60's and 70's, I stayed up late and watched a lot of the Tonight Show with Johnny Carson. During the day, there was Mike Douglas and Merv Griffin. There was Dinah Shore and Della Reese. Joey Bishop had his show and Dick Cavett was great to watch if you wanted something more highbrow. But if you wanted to laugh and enjoy yourself, you watched Carson, a show that made you feel you were at a party thrown by some funny, hip people.
After Carson left, it was difficult to imagine that someone fresh would appear on late night TV until David Letterman came along. Other shows and hosts had their moments. But Letterman seemed indefatigable and slightly nuts. Some of it didn't work. But most of it did. Maybe you have a favorite Letterman bit. Mine was when I showed up to do the show, and they had me do a bumper where I rode around on the roof of the Ed Sullivan Theatre on a snowmobile. What did it mean? I didn't think about it, really. When you did Dave's show, it just seemed to make sense.
As a performer of any type, whether it be actor or musician or sports figure, etcetera, you have an obligation to promote your latest project. Sometimes that obligation is a pain in the ass. Few of these venues, like morning shows and talk shows, are fun or interesting. You also develop the creeping suspicion that none of it seems to have much impact on your work's actual success. None of that applied to the Letterman show. Where other hosts weren't all that interested in what you had to say, Letterman's segment producers drove home the point that Dave wanted you to not only participate, but to be entertaining -- if not genuinely funny. Doing the show was never a chore. It was fun.
Letterman himself, of course, can be intimidating. Going on his show and matching wits with him is something few can pull off. But over the past several years, audiences have had an experience with Letterman that they've had with very few entertainers. We've watched him grow and change. Earlier in his career, he was more aggressive, even predatory. Making his point and/or getting the laugh, regardless of the fallout, seemed to be the goal. It could be very funny at times, but something was missing. Whether you credit it to maturity or marriage and fatherhood or brushes with mortality due to health issues, Letterman changed. I don't think mellowed is the word, because the aggression and bite were still there. The difference was it wasn't aimed at his guests, but at some hapless yet ultimately deserving target at large in the world. Dick Cheney, Anthony Weiner, Donald Trump. In applying his skills this way, he became the Letterman I've enjoyed knowing, and that is the Gracious Host. That's a difficult skill to develop, let me tell you. Letterman has mastered it beyond any. Even Carson.
That's what I will miss about Dave. That's what TV will be missing now: the cynical, bold, silly, unselfconscious, totally self-conscious nut from Indiana who became TV's greatest host.
I've got very young children now, so maybe it works out perfectly. Now that Dave is gone and everything is on the internet anyway, maybe it's time to go to bed early.
Support HuffPost
The Stakes Have Never Been Higher
Popular in the Community