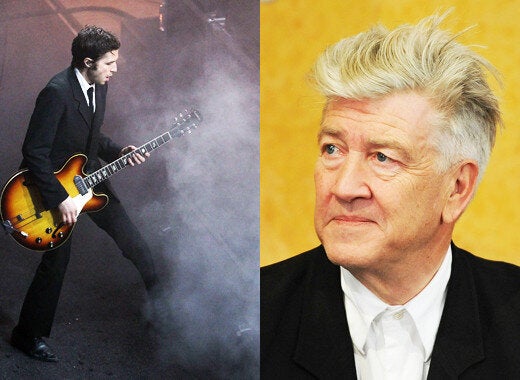 This is the first in an occasional series, Strange Bedfellows, in which we highlight unexpected collaborations between artists.
From their first foray into the music scene 10 years ago, the Interpol outfit has framed their identity with a simple, bold color scheme -- red, black and white. It was the heart of their band logo, front-and-center on the cover of their debut album, Turn on the Bright Lights, and even followed them on stage.
So it was fitting, or as Interpol guitarist Daniel Kessler put it, a "happy accident," when David Lynch made use of this same scheme in his short animated film, "I Touch a Red Button Man," to accompany the song "Lights" off the group's latest, self-titled album. The short film collaboration first played at the band's live show at Coachella this year, and is making its web premiere on The Huffington Post.
But first, let's backtrack. How did Lynch's and Interpol's worlds -- and colors -- even collide? The seeds of this collaboration were first planted back in 2008: Interpol had been mulling over collaborating with someone in the realm of cinema for a while, and Lynch was at the top of all of their lists.
"We're all big fans of David -- it's a common point, one of those things that's unanimous," Kessler said over the phone from Italy.
They had a casual meeting with the filmmaker, which Interpol describes (in their own words here) as more of an "icebreaker," with "no real agenda."
Fast-forward to 2010, and the band was thinking ahead to how they could incorporate visual elements into their live Coachella performance in April 2011. A typical Interpol live experience involves a light show, but this time they were looking for something a little different. Naturally, Lynch came to mind.
"We'd never done anything like that before, and he'd never done anything like that before, either," Kessler said. "The question was finding the right timing to have the opportunity to work on something together, and I think it felt right to him."
Trusting in his vision, Interpol was happy to hand over all creative license for the song's visuals to Lynch, which at this point consisted of no more than a sketch of a curious-looking "red button man."
"We wanted to do our half and provide the music and the second half would be...you know, visual autonomy by David Lynch," Kessler explained.
Lynch illustrated the film almost entirely in black and white, with flashes of color appearing when the red button man mechanically presses -- you guessed it -- a red button. The color red grows more present as the video progresses and eventually overwhelms the screen.
Intentionally or not, the colors in "I Touch a Red Button Man" match Interpol's signature color scheme and the lighting treatment Interpol typically uses to perform the song "Lights" during live shows -- a flashing red sequence that grows progressively more intense, as seen here:
"It's a slow-building red light scheme that builds and builds as the song builds and builds and becomes more dynamic," Kessler explained. "The song, and the possibility of fitting that animated figure, kind of worked, and I think he was enthused by that prospect, and he went away at it."
The final version of the film moves like clockwork with "Lights" from beginning to end, as the red button man moves in sync with the beat, and occasionally goes berserk when the song does. At times, even the images and lyrics seem to match up -- for example, the film jerks away from the red button man's eyes as Interpol's lead singer Paul Banks sings, "peaceful eyes drawn away from me." (Though the red button man's eyes, it should be noted, are anything but peaceful.)
"I was kind of blown away by just seeing it," Kessler said. "I think originally it was going to be something a bit more succinct -- I don't think it was going to go for the duration of the song, but I think he kind of found a way to make it work."
But who is this red button man anyway, and how did he enter Lynch's psyche?
"I think it's supposed to be left a mystery," Kessler said. "Just like we took it as such when he described the idea to us."
So does Lynch. The filmmaker chose not to answer questions, opting to have the animation stand on its own. He didn't let the band in on much, either, but Interpol wasn't fazed by this crypticness -- perhaps because the band isn't any more revelatory about their half of the work than their collaborator is.
"People listen to songs, you know, and try to piece things together," Kessler explained. "We'd rather not spell it out for them, so people don't listen to the song and try to figure out where it matches what we were saying."
With both sides composed of such like minds, what we can surmise here is that this collaboration was likely a smooth one -- each side does their own thing, no questions asked.
So here you have the web premiere of the Lynch/Interpol collaboration, "I Touch a Red Button Man." Decide for yourself what's going on:
Related
Popular in the Community