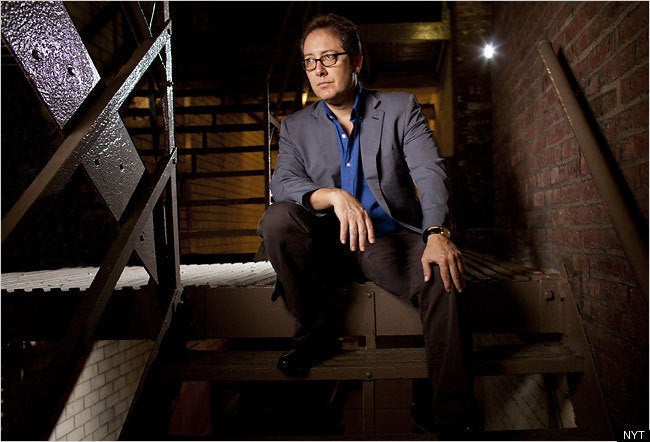 For a playwright very much identified with urban life, David Mamet never hesitates in sending sacred cows out to pasture. His hustlers and con men, ruthless salesmen and sleazy filmmakers -- and all those for whom sexual perversity and a potty mouth are signs of true cultural refinement -- have little patience for the taboos of the moment, whether it comes in the form of sexual harassment or political correctness.
Race, his latest play, which he also directed, opened this past weekend at the Ethel Barrymore Theatre and presents a two-act tutorial on the relationship between racial tension and racial privilege, the utter unreliability of the legal system to find the truth, and the media's irresistible impulse to spin a story -- especially a salacious one -- in the most dizzying of ways. (Think Tiger Woods.)
And Mamet lavishes his four fine actors (James Spader, David Alan Grier, Kerry Washington and Richard Thomas) with a lot of open field running of the Mamet mouth -- long speeches that are equally long on ideas and laughs, repeated phrases, syncopated rhythms and enough salty language to make the audience wonder whether Broadway has suddenly gone bawdy burlesque.
But, of course, Mamet is, as always, most serious when it comes to a seal of approval that was prematurely granted. While most conversations about race inspire deep ambivalence if not outright silence, Mamet converts the stage into a raucous racial seminar jacked up on truth serum. When it comes to white America's complicated history with the black man, Mamet shies away from nothing, especially the conflicting sensitivities of the white man's guilt and the black man's shame -- all in less than two hours of dramatic theater.
Here's the set-up: A rich white businessman (Richard Thomas) is accused of raping his much younger African-American mistress in a hotel room. After falling out with his Jewish attorney he seeks out a law firm headed by the always brilliant James Spader, who, after years of portraying Alan Shore on TV's The Practice and Boston Legal is now Exhibit A when it comes to the cynically manipulative yet emotionally honest attorney-for-hire, and his African-American associates, David Alan Grier and Kerry Washington.
The client wishes to confess, but it is not clear exactly to what. Is he an old-school racist or merely a man who simply can't defend himself in the court of public opinion where guilt will be determined not by the burden of proof but by all the new social presumptions regarding race and gender. Besides, even his lawyers don't seem to care whether he is actually guilty.
The law firm literally implodes on stage with the red-hot fireworks of racial honesty and confusion, along with disturbingly frank, off-the-record conversations about how race and gender can be both exploitable assets and immutable liabilities in the modern workplace.
In Mamet's legal universe, a rape case where the victim is black and the accused is a rich white man will require a mock trial about the moral legitimacy of affirmative action itself -- not in front of an actual jury, of course, but rather undertaken by the lawyers who have been challenged to face their own prejudices and stereotypes as partners and colleagues. The legal system is depicted as a clash of fictions, with damage control outsourced to newspapers and the search for truth merely a spectacle that has no meaning other than to either confuse the jury or enchant the general public.
With a newly-elected African-American president and a transcendent period in American history that dares to call itself post-racial, David Mamet's Race slams on the brakes just in time before America gets too carried away and self-congratulatory, racing ahead as if its racial past isn't still very much a part of its imperfect future.
Support HuffPost
The Stakes Have Never Been Higher
Related
Popular in the Community