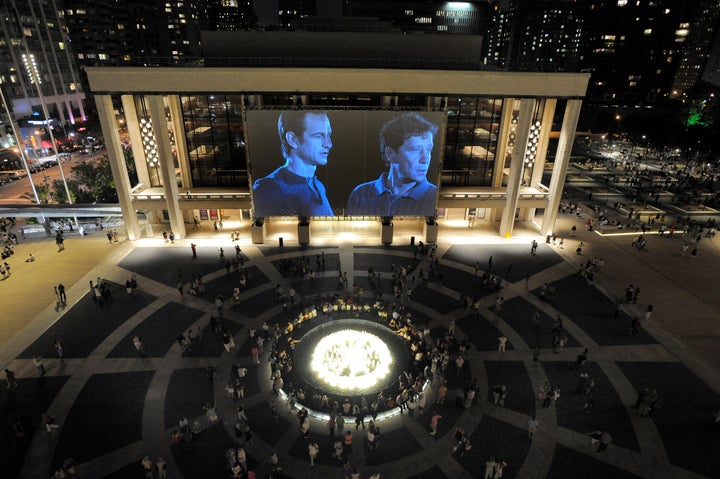 NEW YORK -- On most nights this month, the artist David Michalek has wandered over to Lincoln Center here on Manhattan's Upper West Side and watched.
He has been watching the crowds, as they filter out of the ballet and the opera or just sit around the fountain, and he has found them transfixed. They, after all, are watching some of the 43 short art films Michalek calls "Portraits in Dramatic Time" and produced for this year's Lincoln Center Festival.
The films, projected on an 85-foot-wide screen in front of the David H. Koch Theater, each begin as scenes that are just eight to 12 seconds long. But those seconds of action are stretched out to nearly 10 minutes because Michalek filmed them using ultra-high definition technology that records some 3,000 frames per second.
The effect is almost unsettling. In one of the films, the British actress Marianne Jean-Baptiste is shown flipping through photographs as slowly as one might walk to an electric chair. The viewer notices her expression change as she begins to seem horrified -- though you wonder what's on the photograph, your attention quickly shifts to the emotion taking over her face.
"The face is a major landscape, a major canvas, in all the films," Michalek told The Huffington Post. "And that's what ties all of them, and all the actors, together. It's the artificial use of human emotion; we've created simple contexts within which we can watch actors actually creating emotion."
"Portraits in Dramatic Time" is quite a different undertaking from Michalek's last installation at Lincoln Center, "Slow Dancing." Shown in the summer of 2007, "Slow Dancing" featured three major screens that each showed a short dance movement in ultra-slow motion.
Michalek, who is married to Wendy Whelan, a principal dancer with the New York City Ballet, said "Slow Dancing" was in some ways both easier to produce and to observe.
"This year's films are different in that they're really small narratives, and they don't have the extreme accessibility of kineticism and beautiful physical bodies," he said. "These are stories that are sometimes dark and sad, and you really need to pay attention to them. It requires a little more from the audience."
The work, which also features the actors William H. Macy and Alan Rickman, among others, has certainly captured the attention of crowds since the Lincoln Center Festival began on July 5. Some people have stopped by on their way home, grocery bags in hand, while others have walked out of Lincoln Center's various theaters and taken a seat to watch. Still others have headed over specifically to see the films -- Matthew Hurd, who brought by his son, John, in a stroller on a recent night, said "it even trumps the fountain for him."
Alan Rickman throws tea in slow-motion.
Lincoln Center is happy, too. The festival's director, Nigel Redden, said at the opening of "Portraits in Dramatic Time" that Michalek's work had soared to a new level after "Slow Dancing." He noted that Michalek will join the psychologist Paul Ekman and others in a symposium to discuss the study of emotions and facial expressions.
Michalek himself is off to London once the installation ends July 31. He's being courted by several institutions interested in commissioning his art for display during the 2012 Olympics. And that makes his claim that Redden and Lincoln Center have "changed the course of my life" sound pretty true.
Watch an interview with David Michalek below:
Related
Popular in the Community