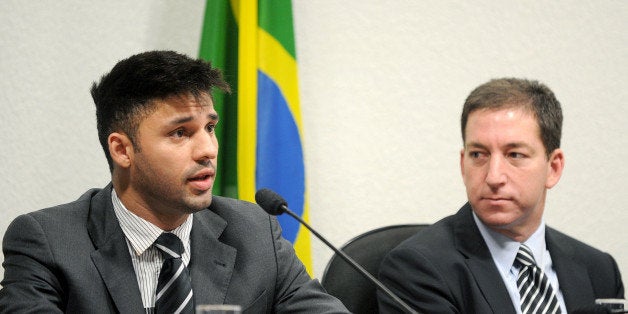 Three judges at the High Court of Justice sided with the British government's assertion that it was justified in holding Miranda for nine hours on national security grounds. Miranda was carrying documents leaked by Edward Snowden that he had obtained from Greenwald's reporting partner Laura Poitras in Berlin.
One of the judges, Lord Justice Law, acknowledged that the decision to hold Miranda amounted to an "indirect interference" with press freedom, but said national security concerns trumped all others. "In my judgment the Schedule 7 stop was a proportionate measure in the circumstances," he wrote. "Its objective was not only legitimate, but very pressing."
Miranda told Greenwald's new website, the Intercept, that his legal fight was not over.
"I will appeal this ruling, and keep appealing until the end, not because I care about what the British government calls me, but because the values of press freedom that are at stake are too important to do anything but fight until the end," he said.
In a blog post of his own, Greenwald said that the British government had explicitly equated journalism with terrorism because it was seeking to quash further reporting on its intelligence apparatus:
In sum, the U.K. Government wants to stop disclosure of its mass surveillance activities not because it fears terrorism or harm to national security but because it fears public debate, legal challenges and accountability. That is why the U.K. government considers this journalism to be "terrorism": because it undermines the interests and power of British political officials, not the safety of the citizenry.
Greenwald vowed that such reporting would continue. He also compared the British justification for Miranda's detention with Egypt's continued detention of Al Jazeera journalists on terrorism grounds.
"Congratulations to the UK government on the illustrious company it is once again keeping," he wrote.
In a statement of its own, the Guardian, which paid for Miranda's travel and which has published many stories based on Snowden's scoops, said it was "disappointed" with the ruling:
We're disappointed by today's judgment, which means that an Act designed to defeat terrorism can now be used to catch journalists who are reporting on issues of fundamental importance. The judgment takes a narrow view of what "journalism" is in the 21st century and a very wide view of the definition of "terrorism". We find that disturbing.
For its part, the British government hailed the decision. Home Secretary Theresa May—who was briefed on the Heathrow police's decision to detain Miranda before it happened—said she was happy with the court's ruling. She added that Miranda had been carrying material that would "aid terrorism":
This judgment overwhelmingly supports the wholly proportionate action taken by the police in this case to protect national security.

If the police believe any individual is in possession of highly-sensitive stolen information that would aid terrorism, then they should act. We are pleased that the court agrees.
Calling all HuffPost superfans!
Sign up for membership to become a founding member and help shape HuffPost's next chapter