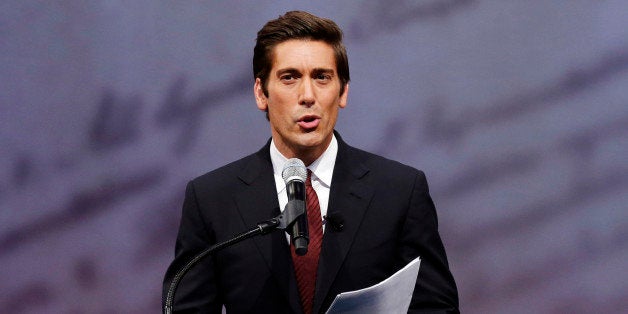 ABC's "World News Tonight" anchor David Muir was named to The Hollywood Reporter's list of 35 Most Powerful People in New York Media 2015 on Wednesday. But according to Muir, the media as a whole is a little less powerful following the controversy involving his "NBC Nightly News" competitor Brian Williams.
"I wouldn't wish it on anyone or any organization, and I probably would say it wasn't great for the industry as a whole," Muir said in an interview with The Hollywood Reporter, marking the anchor's first public comments on the scandal. "But we try to earn that viewer's trust every single night."
Williams is currently serving out a six-month suspension for fabricating elements of his reporting experience from the Iraq War, claiming erroneously that a helicopter he was aboard had come under RPG fire in 2003. Earlier this month, Muir and "World News Tonight" were able to break NBC News' 288-week run atop the ratings in Williams' absence, averaging 8 million viewers.
"Not a day goes by when we're not grateful to see that viewers seem to be responding," Muir said.
Lester Holt, who has been occupying the "Nightly News" anchor chair as NBC mulls Williams' fate, was also included on The Hollywood Reporter's Most Powerful People in New York Media list.