Last May, Chef David Myers (Hinoki & The Bird and Comme Ça) and I were invited by the Hong Kong Tourism Board to visit Hong Kong during the inaugural Art Basel. I had visited the city once, many years ago, and was excited to see how it had changed.
David and I didn't want the trip to just focus on the food, but rather take in all this incredible city had to offer, the fashion, the art and, of course, the mind-blowing food scene that is the hallmark of this east-meets-west metropolis. I brought my cameras (and a small crew) and documented our amazing journey.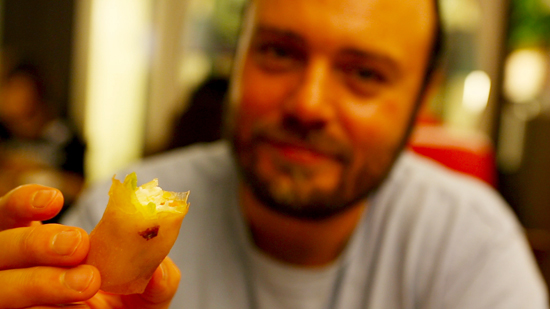 In this first episode, David jumps right into the culinary landscape of Hong Kong with trips to Kau Kee for their famous Beef Brisket Noodles, Tai Cheong Bakery where he dives into a silky smooth custard tart and Mak's Noodles, who are famous for their Won Ton Noodles. David ends the episode at the Two Michelin Star, Bo Innovation, where he interviews Chef Alvin Leung, the Maverick Chef, about his love of updating classic Chinese cuisine. At each of the spots we visited, you'll see David enjoy an array of flavors and know that behind the camera I was enjoying some of the best meals of my life.
In the coming weeks, you'll get to go behind the scenes at some of Hong Kong's finest men's boutiques, see what Art Basel brought to Hong Kong's vibrant art scene and drool over more of this city's delicious food. I'll be posting another new episode next week. Hope you tune in!