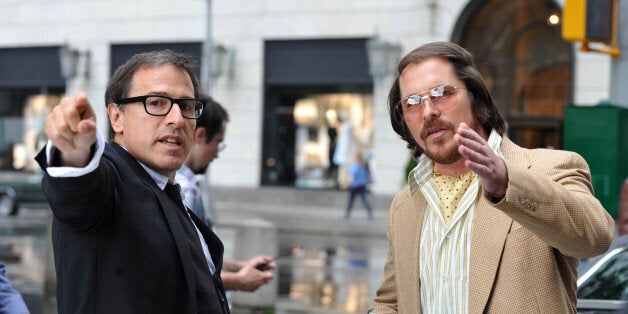 David O. Russell had a pretty great week. On Wednesday, his newest film, "American Hustle," scored two Screen Actors Guild Awards nominations, including a nod for Outstanding Performance By A Cast in a Motion Picture (the SAG equivalent of Best Picture). On Thursday, "American Hustle" performed even better, grabbing seven Golden Globe nominations, including two for Russell himself: Best Director and Best Screenplay (a nomination he shared with "Hustle" co-writer Eric Warren Singer).
The awards love has become par for Russell's course: 2010's "The Fighter" and 2012's "Silver Linings Playbook" received Best Picture Oscar nominations, and "American Hustle," a new comedy-drama about a con man (Christian Bale), his mistress (Amy Adams), his wife (Jennifer Lawrence) and an FBI agent (Bradley Cooper), is expected to follow suit.
Russell spoke to HuffPost Entertainment about the process of making "American Hustle" and why the last four years have been the best of his professional life. Amy Adams, Bradley Cooper, Jeremy Renner, Christian Bale and Jennifer Lawrence
You shot this film in 42 days in the spring and its out in theaters now. Does that kind of pace help keep the energy up? I think it serves the process, but we make it part of the process of aliveness and immediacy. It started on "The Fighter." This is three films of a kind of filmmaking about a kind of person. I keep it lean and mean. I stay hungry like it's my first film or my last film. We mean everything in these films from the heart as much as we can. We make the tightness of the schedule work for us. We don't complain about it. I don't think anybody cares how long it takes to make a movie, they just care if the movie is good. You care because you're interested in filmmaking, or we care because of how it affects our process. It means two or three takes and keep moving. There's an intensity.
What was the moment where you decided, to use the parlance of "American Hustle," to rebuild from the feet up and start making films in this way? I had a struggle. I think it took me my whole life and career to grow up and make these films. To know that these are the films that I can make and that I am meant to make. I will happily keep making movies in this world of people and emotion: ordinary people living operatic emotions. Lives, predicaments and survival. I finished "Three Kings" and I was not coming from instinct. These people that I write about, they come from instinct. That keeps it raw and emotional. I was overthinking things. I wrote four versions of "I Heart Huckabees." I took too much time to rewrite it. My head was up my ass. I had other filmmakers talk to me about experiencing this themselves. Some really terrific filmmakers. It's easy to see how it could happen. It's hard to find a consistent inspiration. I tip my hat to certain filmmakers who are able to keep it, but even they sometimes go off course.
Then what happened? I had this long period of struggle and helped my son, who suffers from bipolar, grow up and get into the Glenholme School, which I have been very involved with in Connecticut. It's a school for kids with these issues. That took over a whole part of my life, and it's why I made "Silver Linings Playbook." I got divorced, and combined with sort of losing my way creatively, that made for that period [of my life]. Coming out of that period, I was a new person. I had new eyes and new emotions. I was very humble and grateful when Mark Wahlberg offered me "The Fighter," a film I might not have looked at five years earlier. There, I began doing it with these people, from the feet up, and identified my own family, who I know are scattered over this whole area. That's what started it.
These films have such an East Coast sensibility. Could you see this style working if you set the characters in another part of the country? I put a lot of love into these characters. It's very local. It's very specific. It is true, you can write what you know. I have relatives from New Jersey to Long Island to Westchester to all five boroughs. This is the rhythm in my blood that I know. I like locating it. Bradley was specific to Philly for "Silver Linings Playbook." He knew that neighborhood -- that was practically where he was from. That movie was very personal to Robert De Niro and myself, because we each struggled with family members who had faced those challenges. Yes, I like being local. I think it's going to have to stay that way. I'd be interested to see what happens, but it's dialing into that world for me.
You've worked with so many of these actors before, but what was it about Jeremy Renner that made you think he would fit in with Amy, Bradley, Christian, Jennifer and Robert De Niro? He reminded me, kind of, of Amy Adams at the time I met Amy to do "The Fighter." I had known Amy a little bit before then, and she seemed like a terrifically gifted actor who wanted to stretch new muscles. She wanted to do things that she hadn't done before. Jeremy had been twice nominated for Oscars: He was great in "The Hurt Locker," he was great in "The Town." He's always very good in everything he does, but I like to cast people against type and give them a challenge that will surprise them and the audience. It makes it very exciting to me, and I hope for audiences.
Do you find out beforehand if their acting style works with how you make these movies? I tell them the fine print. You never know what's going to happen, but I say, "We're one for all and all for one. This is how we go. If this is not how you think you may want to work at all, I understand, let's not do it. But it is going to be like jumping into a river. Everyone is going to be moving." You see actors show up on "Silver Linings" or on this movie and they go, "Holy shit." There's an energy on the set. If I'm on the set and I have a conversation with you about the New York Mets, and then another conversation about your dog, I immediately go, "What's happening? Why are we not shooting?" That means I had two conversations with you. That's not good. The energy must always be moving. You have these great people, these great locations, let's use them! Let's shoot! Everyone is there on set. No one goes back to their trailer. I don't have a trailer; I don't take a trailer. I have a van. We huddle up in the van in the morning, because that is the movie. It's not out there on the set. I say, "This is the movie in the van. Us, together. Right now, we're telling a story to each other. I want them to feel that intimacy. When you get out there, there is a lot of distractions, anxiety, energy, producers, lights, cars. No, this is about people being vulnerable and intimate and real. Let's hear it in the van. OK, let's go." It starts there. So that energy when you show up at first, some people are like, "Wow." But De Niro never went back to his trailer on "Silver Linings," nor on his day in this film. People show up and they play all day.
There's so much jazz in this film, and "American Hustle" feels like that genre of music: it's bursting with an aliveness that threatens to jump off the screen. When you say jazz, though, be careful with the word jazz. That's easily confused for people. You're talking about the energy being contained and threatening to burst sideways. That, to me, is good drama and storytelling. You can't have chaos on the set, because you can't make movies like we do. You have to be extremely focused. You have to be extremely organized. I have shot lists, I know what the scenes are. I would say two-thirds of the time they don't change; sometimes they do change.
Are you also finding things in the editing room? You have to get it on the set. You have to know that you have it. You have to know that you did something special. Everybody wants to leave every scene saying that we did something special out there. We do a couple of versions of it because we're not sure which one is going to be right. With a story as complicated as this -- and it is complicated, because you're juggling multiple relationships, multiple plot issues, con issues and legal issues -- we would have different plot points that I might shoot at different scenes. Because I don't know if that plot point is best in one scene or another. The actors would be flexible with that. It doesn't stop in the editing room. Bradley Cooper is in there, Christian Bale is there, by remote, from wherever he is. They're sending in voice over from their iPhones. We keep chasing and making what we think is the most alive and enchanting movie. That doesn't stop until they pull it out of our hands. We don't stop. It's not like you just find it. You have to be very precise.
"American Hustle" is out now in limited release and in theaters nationwide on Dec. 20.
This interview has been edited and condensed.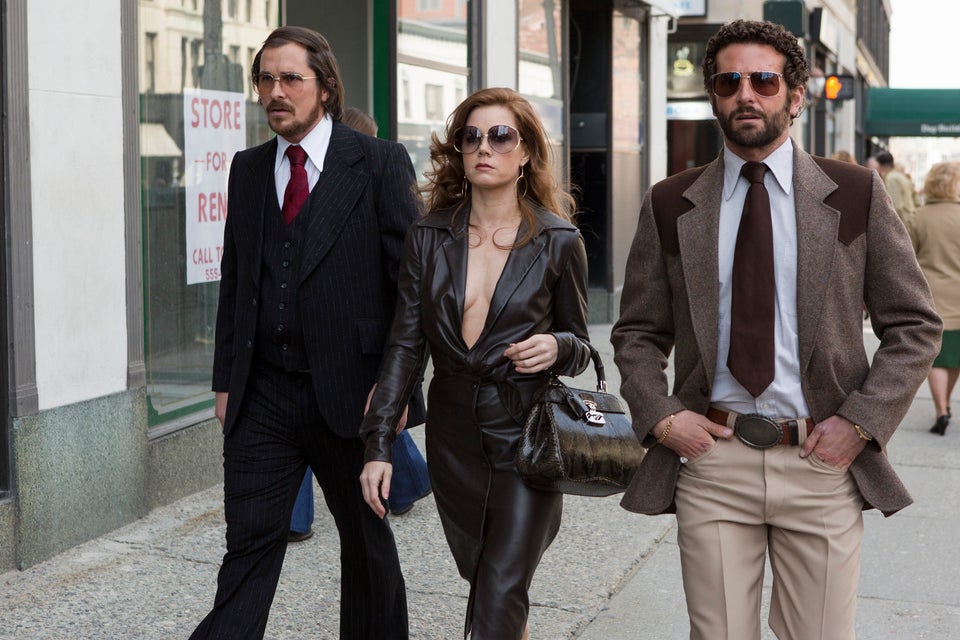 "American Hustle" Photos
Popular in the Community