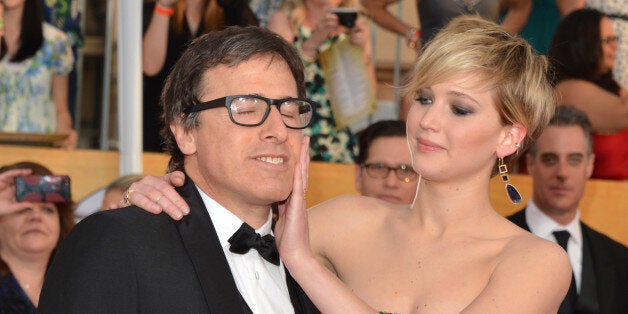 At least one person is happy that awards season still has another 11 days to go: "American Hustle" director David O. Russell.
"You shouldn't be in this business if you're not going to appreciate every second of this. It's intense, but so is making a movie," Russell, who scored two Oscar nominations this year, for Best Director and Best Original Screenplay (with Eric Warren Singer), told HuffPost Entertainment. "Some producers that I have worked with are like, 'My God. You want to do that again? I could never go through that.' I find it personally fascinating. Like the World Series. Every single play, every single thing that happens to me. It's just full of surprises. That's what I really love."
It's a good thing that Russell enjoys this process: His last three films -- "The Fighter," "Silver Linings Playbook" and "American Hustle" -- have earned 25 total Oscar nominations, including three nods each for Best Picture and Best Director. In the last two years, Russell's films scored nominations in all four acting categories -- the first films from the same director to turn that trick in consecutive years. For "American Hustle," that meant stars Christian Bale (Best Actor), Amy Adams (Best Actress), Bradley Cooper (Best Supporting Actor) and Jennifer Lawrence (Best Supporting Actress) all received citations from Academy of Motion Picture Arts & Sciences members.
"I'm extremely proud of all the actors. It's very, very meaningful to me," Russell said. "It's not any one area of work that allows it to happen. You have to write the roles for them and you have to create a tapestry of cinema that supports the roles so they each shine. That's a challenge that I welcome. It's not an easy challenge, but that's a place that I work in and labor in everyday. I asked them to take risks they never took before. To give me their heart. When they do it, I love if they can feel acknowledged. It's a big deal."
With the Oscars looming on March 2, HuffPost Entertainment spoke to Russell about awards season, the recent trophies both he and Lawrence received from the British Academy of Film and Television Arts (BAFTA) and his favorite "American Hustle" moments.
"American Hustle" has made more money at the box office than any of your previous films and it earned 10 Oscar nominations, tied with "Gravity" for the most this year. Yet when you win awards -- like at BAFTA, for instance -- it's still presented by many as a surprise outcome. Do you feel like an underdog? I never mind being an underdog. I'm comfortable as an underdog. I just think the work has to speak for itself. I'm grateful that all this attention has gotten people to see the movie. These are three movies now, with "The Fighter," "Silver Linings Playbook" and this, where we've created a world of characters about rebirth, emotion, enchantment and romance. There are all different kinds of movies this year, but that's where our movie is, and these are the kinds of movies I'm going to keep making.
Why are you comfortable as an underdog? I came back for this phase of my career, which -- knock wood -- I think is the work I was meant to do. I just think you don't pay attention to the results, you keep your head down and keep doing the work. You don't take anything for granted. Any time that has happened to me in my life, not good things have happened. Any time I think I'm important or anything -- or that I know too much -- it's no good. I'd rather stay hungry and do it from the heart. So many of my heroes were nominated many times before they ever won, if they even won. So if they can do it, I can do it.
I know there was a lot of collaboration during the production on this film between you and the cast, but is there one part of the script that really stands out to you as being the key scene or moment? To me, every scene has to be fantastic. Every scene has to be surprising and intense and earn its place in the movie. Every single scene. There are many scenes I'm proud of: The Duke Ellington scene when Christian and Amy first meet. I'm proud of the opening voice over that launches you through their romance. It tells you what they think about life. That's a tapestry that you weave very carefully and you shoot and craft.
Another scene I love: the microwave scene. That was a written scene. It didn't change very much. That's a metaphor -- a fantastic metaphor. They gave [Bale's character, Irving Rosenfeld] a gift of friendship that was a microwave. If you keep it going for Jennifer and Christian, look what this scene is about: the volatility of her, her rebelliousness to him, the fact she's smarter than he thinks she is, and she read about the microwave. All that stuff.
I also love the scene where Bradley comes into the interrogation room and sees Amy and says, "Who you are is between you and God. That's what matters, that's what I'm about." I love when he first walks in, he's like, "Look at this. There's no bed in here. What's the matter? Joe? Is everybody off? Well, maybe I did it." That's like a classic thing that I write for Bradley, where he changes field direction like that, without even blinking an eye. You're like, "Oh my God, who is this person?" It's a character you feel like you've never seen before.
The reviews for "American Hustle" were really great -- full disclosure: we even placed it No. 1 on our HuffPost Entertainment year-end list -- yet one critique I have read about the film as an Oscar nominee is that it's too "fun." What would you say to that kind of criticism? I think a nice thing happened. You guys put us at number one, which was very meaningful, and it meant everything to me that the New York Film Critics -- who never gave me anything, and I never expected anything from them -- named us Best Picture. David Denby [from The New Yorker], I even stopped reading. I would get kicked in the nuts every time [laughs]. For the places that you least expect to give you respect, when they come out so strong, it's very moving. It makes me emotional. David Denby came out and wrote to the snobbiest people, those who read the smart people and think serious cinema has to be, pretty much, just suspense or just suffering. To me, that's a cliche. What I aspire to is what many of heroes did, such as Billy Wilder or Frank Capra or George Cukor. It's hard to create suffering that's real and emotional but also enchanting and propulsive. That's what exhilarates me. Denby wrote that this was not just an amazing ride, but cinema, and this is the art of cinema. He wrote very nice things. They were respectful. It meant a lot to me.
You make a picture and you can't expect anything. You don't expect respect. I want to take the film to the audiences anyway. The construction workers in my family are who I really listen to. They'll come out and tell me what they really think. They do not suffer fools lightly at all. They'll tell me if something is lights out to them. If they said to me that this film went by fast and knocked them out and the characters were amazing, that is my best review to me.
This is your third trek through awards season in four years: Have you learned anything new? You do learn a lot. Your actors change every year. It's different every time. Christian was not around really when we did "The Fighter," but he won anyway. Jennifer, last year, I was sitting next to her at BAFTA and I thought, "Wow, she really should win." And she didn't win! This year, she couldn't come and she won! I got to go up and thank them on Jennifer's behalf. She's so busy this year, and it's been hard for her to be around, but I think the work speaks for itself.
[Awards season] always inspires me to want to do better work. That's a great collateral impact that I don't think people talk about. I feel like people are really giving me their hope or their blessing. That's a responsibility. That makes me really want to try and do something else that is really good. To me that's a nice dialogue that I find intense and inspiring.
Watch an extended feature on "American Hustle" below
This interview has been edited and condensed.
Calling all HuffPost superfans!
Sign up for membership to become a founding member and help shape HuffPost's next chapter
BEFORE YOU GO
PHOTO GALLERY
"American Hustle" Awards Billboards