The best inventions are things we never knew we needed ― like a drone designed specifically to deliver beef jerky to its user.
Amazingly, a prototype of that dream product exists.
It's called the Jerkybot, and it combines a wooden butcher block with drone technology to create a snack tray that follows you wherever you go.
The Jerkybot is the brainchild of Thinkmodo, a New York-based marketing firm.
The company was asked to come up with a gadget idea to promote Chef's Cut Beef Jerky, a dried meat snack endorsed by Boston Red Sox star David Ortiz.
Thinkmodo co-founder Michael Krivicka said the inspiration occurred, like many things, under the influence of alcohol.
"After a few beers, we came up with the 'flying snack drone,' that would look like a butcher block," he told The Huffington Post in an email.
The company hired outside help for the design and mechanics, and putting the whole thing together took months.
"Finally, we got this to a point where it could almost work," Krivicka said. "We then teamed up with David Ortiz, who has a piece of [Chef's Cut], and he was pumped to be the first one to demo it.
"Some of the shots took a few takes but we got it done."
Take a look at how it works (and try to control your envy).
You can keep your hands free while vacuuming:
It follows you while you're mowing the lawn:
It even works when it's your turn at bat.
Although a beef jerky drone seems like a better use of technology than, say, a jet pack, some people had a beef with the video.
A HuffPost photo editor suspected CGI was used, saying the lighting "looked off" in some of the outdoor scenes.
Krivicka emphatically denied any CGI was used. To prove the drone was real, he sent a video of the drone flying toward a camera with a note that said, "Hey HuffPo, I'm Real!!!"
Sadly, the Jerkybot is only in the prototype stage right now, so any dreams you have of having beef jerky hovering near you as you read this is a long way off.
In fact, the visionary behind this is having a hard time envisioning when it might become available.
"What needs to happen next is to work out the autonomous part so it perfectly follows the user in a set distance and height," Krivika said. "The other challenge is the battery life. Most drones fly six to nine minutes. There are some that fly for 30 minutes.
"But all of this tech exists, it's just a matter of time till we get it to the consumer version that is safe."
Before You Go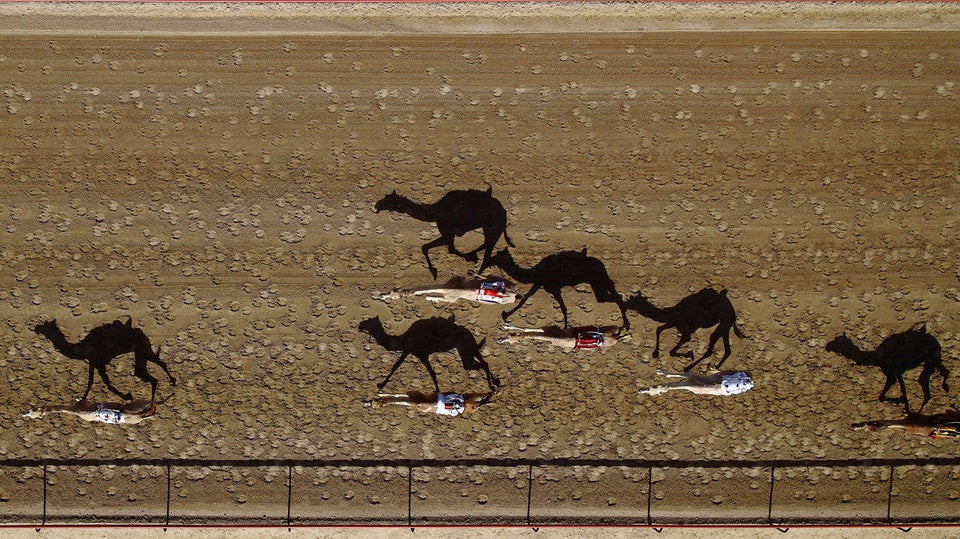 Best Drone Photos 2015
Popular in the Community