 Former Gov. David Paterson refused to criticize his old boss Eliot Spitzer while campaigning Monday morning for Spitzer's rival -- and his endorsement -- for comptroller, Scott Stringer.
Paterson, who greeted voters with Stringer outside a Harlem subway stop as citywide polls show black voters supporting Spitzer more than 3 to 1, parried question after question about Spitzer.
Paterson encountered a receptive crowd at the 135th Street-Lenox Avenue subway station during the morning rush hour to publicize his endorsement of Stringer as a longtime friend, accomplished assemblyman and Manhattan borough president who's done "a great job." Paterson also recorded a robocall on Stringer's behalf, according to the campaign, which sent out a recording of the call Sunday night.
But he wouldn't say why Stringer is a better candidate than Spitzer. He wouldn't say whether he agreed with Stringer's description of Spitzer's governorship as a "colossal failure." And he affirmed his assertion last month that "Eliot Spitzer could step into that job tomorrow and do a fantastic job."
"Yeah, he could," Paterson said Monday.
So why the Stringer choice over Spitzer?
"Scott Stringer is a good choice on his own. There doesn't have to be a comparison," Paterson said. Pressed about why Stringer over Spitzer, Paterson said, "Because I endorsed him." Asked again, Paterson said, "I'm not going to answer the question why they should choose Scott over Eliot."
In debates and public appearances, Stringer has slammed Spitzer hard over his resignation in 2008 after getting caught patronizing prostitutes. Paterson, then Spitzer's lieutenant governor, took over and served out Spitzer's term. Paterson endorsed Stringer months before Spitzer entered the comptroller race.
Stringer says Spitzer breached the public trust, committed crimes and is unworthy of being comptroller.
A poll released Wednesday found that Spitzer has a 19-point lead over Stringer -- an advantage propelled by better than 3-to-1 among black voters.
Overall, Spitzer is supported by 56 percent of Democrats likely to vote, to Stringer's 37 percent, according to the Quinnipiac University poll. Blacks support Spitzer 68 percent to 21 percent.
In a statement Monday, Spitzer spokesman Hari Sevugan said: "Eliot considers David a good friend, but from the beginning we've made it clear that the only endorsement Eliot is seeking is that of New Yorkers on Sept. 10."
On Monday, in historically black Harlem, Paterson and Stringer held court at the hourlong meet-and-greet of commuters. Those commuters said they favored Stringer and didn't have kind words for Spitzer.
"I'm Paterson approved!" a beaming Stringer said, a line he used more than once.
At least two of those who shook Paterson's and Stringer's hands confused Stringer's rival with Anthony Weiner, another sex-scandal-scarred politician seeking a comeback to public life in the Sept. 10 primary election, as mayor.
"That's the problem in this two-ring circus. I'm not running against Weiner. I'm running against the other one," Stringer told actor-model Deric Mickens, 28, an Iowa native who just moved to the city and confused Spitzer with Weiner.
Anarosa Peguero-Miles, 33, a student who lives nearby, said she's voting for Stringer. Asked about Spitzer, she too confused Spitzer for Weiner, invoking the name of Weiner's wife, Huma Abedin, who stood at her husband's side last month and publicly forgave him for the sexting scandal.
"I feel bad for Huma," said Peguero-Miles of Washington Heights.
Commuters encountering the Stringer-Paterson duo seemed to overwhelmingly favor Stringer.
"You got my vote! That's for sure!" one woman told Stringer.
"Win this race like you're supposed to!" another said.
"I'm on it! I'm on it," Stringer said.
When one man said to Paterson, "I wish you luck," Paterson, known for his quick wit and dry sense of humor, gestured at Stringer: "I don't need luck. He does." ___
Distributed by MCT Information Services
Before You Go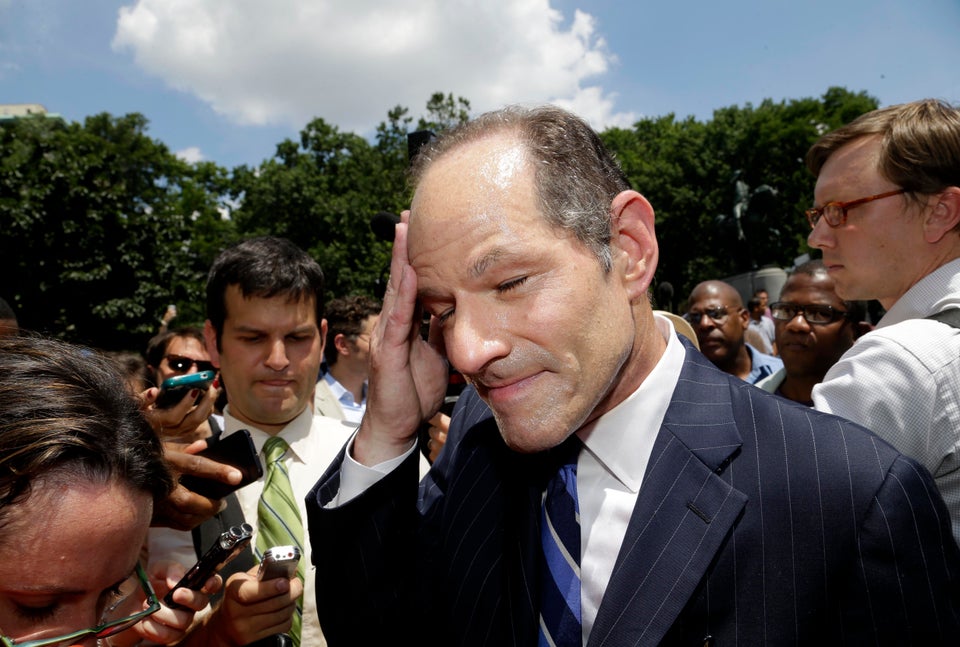 Eliot Spitzer Announces Run For NYC Comptroller
Popular in the Community