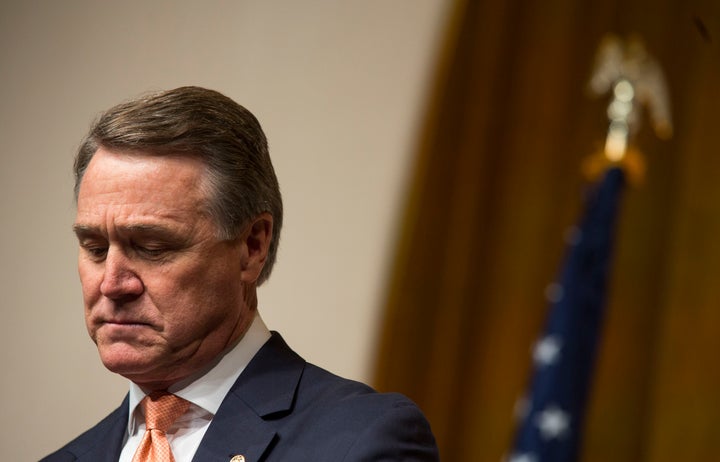 WASHINGTON -- Sen. David Perdue (R-Ga.) just torpedoed his own judicial nominee, Dax Lopez, a conservative Republican who was on track to become Georgia's first-ever Latino federal judge. His reason? Lopez used to be a member of an organization of Latino elected officials that opposed the state's controversial immigration law.
Perdue originally recommended Lopez to President Barack Obama for a seat on the U.S. District Court for the Northern District of Georgia. Obama nominated him in July 2015, with Perdue's blessing and the support of Georgia's other Republican senator, Johnny Isakson. Lopez was reviewed extensively and has since been waiting for his hearing before the Judiciary Committee.
But Perdue now says he won't be turning in his so-called blue slip to the committee, which means Lopez's nomination is dead. It's an unofficial rule that the committee chairman won't give a nominee a hearing until both of his or her home-state senators submit their blue slips -- literally, they are blue pieces of paper -- to signal that they're ready to move forward. 
In a statement last week, Perdue said he is "uncomfortable" with the fact that Lopez was a member of the Georgia Association of Latino Elected Officials, which in 2011 strongly opposed a bill, and now law, that empowers state police to question anyone about their immigration status. Lopez, who has been a DeKalb County state judge since 2010, left the group in September.
"I am particularly concerned with his continued participation with this organization and his public comments after he became a state judge," Perdue said. "I thank Judge Lopez for his service to the people of DeKalb County, but I am unable to support his nomination to the U.S. District Court for the Northern District of Georgia moving forward."
His change of heart on Lopez caught some people off guard, including Isakson, who said it was the wrong move.
"I respect his decision, but I think he should have had a hearing," Isakson told The Huffington Post on Thursday. "He was vetted thoroughly before he was nominated, so he's a good man."
HuffPost caught up with Perdue and asked why he wouldn't give Lopez a hearing so he could at least answer questions about his role at GALEO. That's what Lopez himself has said is the most frustrating aspect of it all.
"Part of my responsibility as a member of the committee is that, if I blue slip a person, I feel like I have to support that person," Perdue said.
That's not true, though. Agreeing to give someone a hearing doesn't mean you have to vote for them. It just means they get a hearing. Perdue disagreed.
"No, I felt like I have that responsibility to the committee," he said. "If I'm not going to support the nominee, why would I recommend him for a hearing?"
When HuffPost said doing so would let the full committee decide if Lopez should move forward, Perdue was done with the conversation.
"Well, that was my decision. Thank you," he said, walking away.
Perdue's move has infuriated civil rights and Latino groups such as the Hispanic National Bar Association. "We find it difficult to see how his association with GALEO can be somehow disqualifying. Our only inference is that he's unacceptable to Senator Perdue because he is a Latino who believes in Latino participatory democracy," said its president, Robert Maldonado.
Some Republican state officials, though, are with Perdue.
"This organization has strongly supported amnesty for illegal aliens and seeks to end the enforcement of America's immigration laws," Georgia state Sen. John Albers said in a statement. "Both by word and action, Judge Lopez has routinely demonstrated that he identifies with the philosophical position of this group."
With Lopez sidelined, that leaves an uncertain fate for a court seat that's already been vacant for more than 550 days. It's also on a court so overwhelmed with work it's been deemed a judicial emergency, meaning each judge is juggling more than 600 cases or 430 to 600 cases for more than 18 months.
The drama over Lopez comes as Senate Republicans have drastically slowed down the pace of confirming federal judges at all -- an effort to prevent Obama from putting his nominees on courts. They let only 11 judges get confirmed last year, which is the fewest in more than half a century. Senate Majority Leader Mitch McConnell (R-Ky.) agreed to let five judicial nominees get votes in the early part of 2016, but it's unclear what will happen after that. Some conservative groups are pressuring Republicans to halt confirmations entirely.
PHOTO GALLERY
Supreme Court Justices Get Out Of The Office
Calling all HuffPost superfans!
Sign up for membership to become a founding member and help shape HuffPost's next chapter