David Pershall made his San Francisco Opera debut in 2016 as "Roucher" in the season opener, Andrea Chénier. Umberto Giordano's compelling tale of the French Revolution had not been on the boards at the War Memorial since 1992. The new production from the Royal Opera House and directed by Sir David McVicar featured the Company debuts of Yonghoon Lee in the title role and Georgian baritone George Gagnidze as Carlo Gérard. Likewise in the dark shadows, Jules Massenet's exquisite Manon (1884) has not been presented here since 1998. For me, Beverly Sills' performance in the 1971 production by Tito Capobianco continues to reverberate through the house. Her co-stars included Nicolai Gedda as des Grieux and Alan Monk as Lescaut. Lotfi Mansouri directed the 1986 performances of soprano Sheri Greenawald (now director of San Francisco Opera Center), with Francisco Araiza as des Grieux and the ever-active Grammy Award winner Gino Quilico as Lescaut. For both operas – now tagged as unpopular – resuscitation requires a trio of varied constituents: a limber ensemble loaded with Classical apps and linked-in with iconoclastic directors and fearless designers. San Francisco Opera has all that contact info. I asked David Pershall about the call to flesh-out Roucher and Lescaut.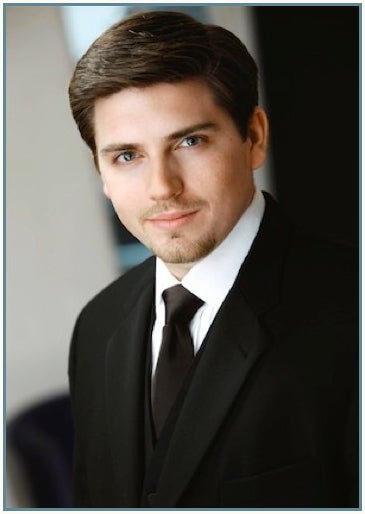 "At the time, I was engaged at Vienna State Opera as House Baritone. I could never find the time when I was allowed to be released from my responsibilities there to then come here. I had been a member of the Merola Opera Program in 2008. So, I was familiar with some of the artistic staff, but it had been awhile since I'd auditioned for them. About three years later we finally found the time when I was allowed to be released. It was for Roucher. 'I'll take it!' I wanted to be back in The City. It is so beautiful here.
"Then came Lescaut. Manon is a great opera and a rarity these days. It's fun from an artistic point of view. This is my role debut as Lescaut. I may not get the opportunity to sing it again. I really hope that's not the case, because it is a ton of fun. But that's the reality of what programming has been about for the past ten years."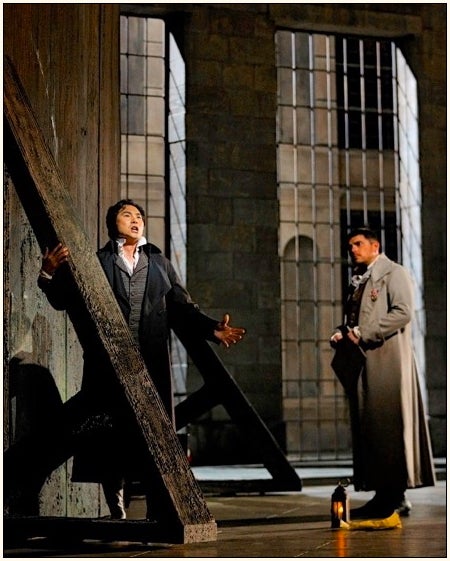 "Lescaut is in love with everything about life. He loves to gamble, he loves women and drinking. When we meet him, a bunch of soldiers are chasing him down. He tells them to relax, that he has to wait for his cousin. They're after him to play cards. You get the sense that he has lost money to them or he's won money that they want to win back. They're very insistent on him coming. 'There's a bar next door, let's drink our sorrows away!' I would hesitate to call Lescaut a degenerate. There are moments when you see him as a very feeling person. But he loves the bombastic nature of the gambling scene. His cousin Manon says she loves pleasure. It seems to be a familial problem, something in the blood that lusts after the party life."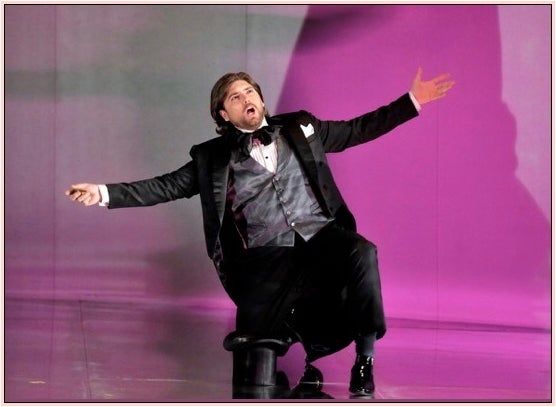 "How the role suits me? As an actor, Lescaut is an interesting challenge. There are moments when he cares about Manon, but there is always another side to it. In Act two, he and de Brétigny have made an arrangement for her to leave des Grieux. It's a money arrangement. We don't know if Lescaut is really caring or if he's just padding his pocket before going to the Hôtel de Transylvanie to gamble it away. Is he like me? No. I'm a family guy. I love being at home with the kids. But – the thing about the role is that it has a joyous and wonderful power. Lescaut's aria, 'Ne bronchez pas' ['Don't budge, be nice'] can steal the show. And I plan to!"
Going through your YouTubes – the qualities in your voice seem to have developed overnight. What is your vocal fach? How do you describe yourself?
"Bottom line – I feel like I'm a lyric baritone. These days, they kind-of get a bad rap. Everybody says, 'That's the lighter voice.' No. You can sing some serious parts with a lyric voice, some Verdi with a lyric voice. For now, I am quite comfortable with that. As you've seen, my progress has been made with color and intention. You can only make that progress when you take away the goal of pushing your voice bigger and start focusing internally on artistic flavors, colors and words, light and dark – the Art of singing."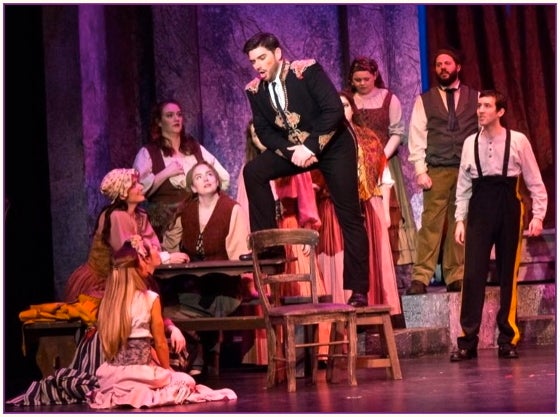 "I believe I have finally found success in how to grow by changing my approach from 'I will be the loudest person here' to 'I will sing with my voice and present the best vocality for every role.' That has been the light switch. I study technically all the time. It gives me a sense of calm when developing new repertoire. Sometimes you don't get long rehearsal periods such as we have here. Sometimes you're pushed out on two days. You need that calm of knowing yourself and your voice and the placement of each note. Till then, you are not ready."
How do you work on technique?
"Breathing! Singing is the art of breathing. I also work on vowel shading. Since I haven't done a lot of French, it's been about a whole new vowel structure. I do a lot of French literature, but the frequency of it is much less. So, I work a lot with the French coaches to find just right the shades. And for this production we have three French coaches in the room – Patricia Kristof Moy, maestro Patrick Fournillier, and our director, Vincent Boussard.
"For the singer, sometimes what we hear and how we play with the color of the vowel does not translate out into the theater. It's so important to have their feedback. Like, when to open up on a closed vowel. Also placement – to use the resonators the best way we can. Pavarotti said that when you really sing well you can almost hear the sound before it starts. Your whole faculty is working your entire body. And if you really can hear it before you start – the clear phonation that is not scratchy or garbled or too far back or too far forward – then all of a sudden, it's working well.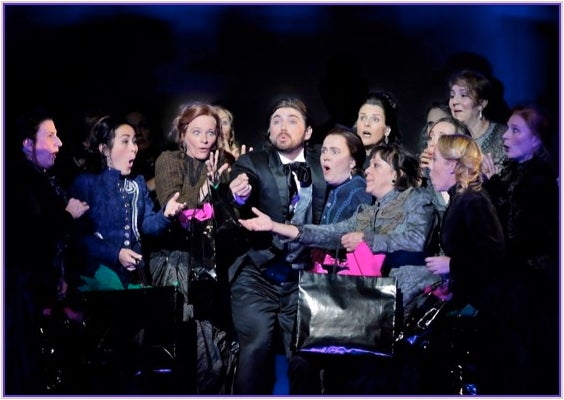 "I see several teachers. I will see Mark Oswald when I'm at the Met in March. Also, Dr. John Van Cura, my original teacher at Baylor University. He was going to retire before I was accepted into the program. He decided to stay on to help finish my degree. I also see Richard Cross in Connecticut."
When did the opera bug bite you?
"Too early. At fifteen. Too early to do anything about. I really wasn't exposed to opera until then. My mother is a piano instructor. I went to a conservatory for piano lessons. I could hear a guy singing down the hall. It was George Hogan. I'm hearing opera for the first time – through a door! What is that about? He introduced me to the recordings of Robert Merrill. You'd be hard-pressed to find a better introduction to opera than Robert Merrill. And I'm thinking, 'I'm done!' Nothing else would do. I took piano through my undergraduate degree, but not as my major. I was there for opera. And because of Robert Merrill – Verdi becomes my favorite composer. I will always have a special spot for Verdi. I made my debut as Rodrigo two years ago at Opera Burg Gars and covered it at the Vienna State Opera."
How did you wind up at Yale?
"I did my first 'Enrico' in Lucia di Lammermoor, stepping in for a baritone at Virginia Opera. I was twenty at the time. Christian Van Horn sang 'Raimondo'. He said, 'You're great, but way-too-young. You need to go to school.' And where should I go? Yale! I should have known more than I did at the time about schools and programs. But I was very committed to the career and just went straight into performing as best I could. So, Christian called and I did an audition. I did the Metropolitan Opera National Council Auditions and made the national semi-finals. I did not win. The guy that beat me went to Yale. They suggested strongly that I go back to school. It was a good suggestion. I should not have been so hard-headed about it. I sang the arias from Lucia and Faust. Then they had me sing two more pieces. Richard Cross was laughing. I thought it was a joke, but then he says, 'Sing the rest on your list.'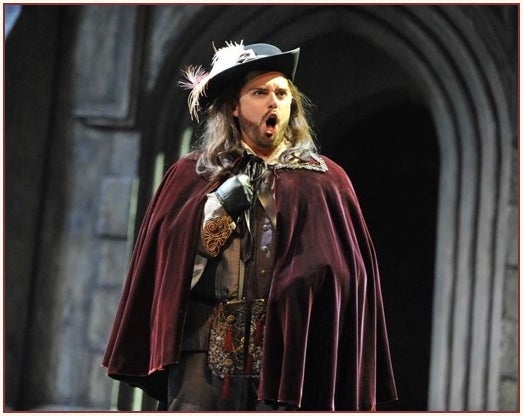 "My degree from Yale is a Master of Music in voice and opera. I got an Artist Diploma and stayed for another year. It was a great experience for me. I was able to take free language courses. If you get into Yale as a master student in their opera program – everything is paid for. You can take any undergraduate course you want so long as you can fit it into the schedule. All your voice lessons are underwritten, all your coaching is underwritten. There are only sixteen people in the program at all times. You may not want to sing the parts you get – but you are guaranteed stage time. You are constantly in coachings, at lessons, stagings, scenes in opera or one acts, and recitals. Every program is what you make it. I learned German at Yale. I polished up my Italian at Yale. It's astounding that someone had donated so much money to make that happen. What a gift to the arts!"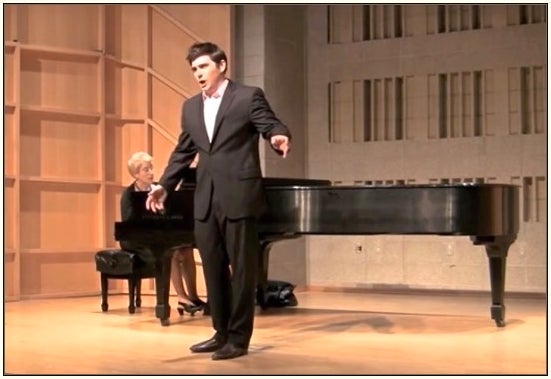 The opera business being very different than it was twenty or thirty years ago, how would you advise a young idealistic baritone who sees you in performance and asks, 'What should I do?'
"If you can do anything else – do that. If you can't? Okay. Then I would say to treat singing as though you are learning about yourself, studying yourself. And treat it like it's a full-time job – whether or not you are employed. A lot of singers I went to school with were very talented and, by any means, could have made a career in music – but didn't. Maybe it was because the work didn't come right away or came sporadically at first. Especially for dramatic voices – this is a problem. There is only so much a theatre can offer you when you are very young. Otherwise, you are putting your future at risk. The best advice those singers can hear is that they have the goods and must continue to work. Yes, it is costly. And you may not always be earning money year-round during your first or second year. But if you can go from one good job to two good jobs a season – then three and four good jobs a season – and spend all your time studying singing, stage arts, and languages – then you'll know you are on the right track."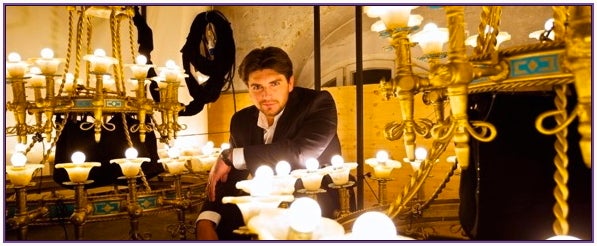 Calling all HuffPost superfans!
Sign up for membership to become a founding member and help shape HuffPost's next chapter
This post was published on the now-closed HuffPost Contributor platform. Contributors control their own work and posted freely to our site. If you need to flag this entry as abusive,
send us an email
.