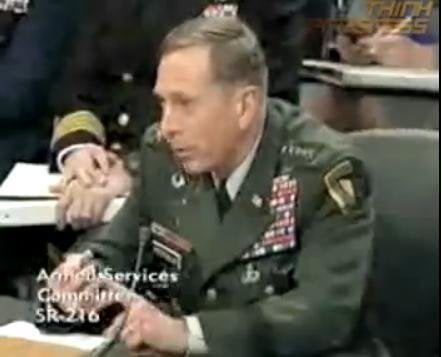 CENTCOM Commander General David Petraeus came to the meeting of the Senate Armed Services Committee preparing to deliver an "eight-minute statement" expressing his personal feelings about the repeal of the military's "Don't Ask Don't Tell" policy. Unfortunately, Senator Carl Levin, who chaired the committee, put the kibosh on those plans, citing time constraints. Instead Petraeus simply told the committee that "the time has come" to give a repeal some due consideration. Petraeus endorsed the ongoing review of the matter that commenced at the direction of Secretary of Defense Robert Gates.
PETRAEUS: I believe the time has come to consider a change to Don't Ask, Don't Tell. But I think it should be done in a thoughtful and deliberative matter that should include the conduct of the review that Secretary Gates has directed that would consider the views in the force on the change of policy. It would include an assessment of the likely effects on recruiting, retention, morale and cohesion and would include an identification of what policies might be needed in the event of a change and recommend those polices as well.
Chairman Carl Levin (D-Mich.) did not allow Petraeus to deliver his statement after ranking member Sen. John McCain (R-Ariz.) asked the general whether he believed thorough review was necessary before "Don't ask, don't tell" was repealed. Levin's reason: the committee rule on Tuesday was only a six-minute round of questions and answers for each senator.
Petraeus averred that repealing "Don't Ask Don't Tell" is "not a sound-bite issue," so it's unfortunate that this is where we're left today.
GREGORY: Do you think soldiers on the ground in the field care one way or the other if their comrade in arms are gay or lesbian?

PETRAEUS: I'm not sure that they do. ... You heard Gen. Powell who was the chairman when the policy was implemented, had a big hand in that, who said that yes, indeed, the earth has revolved around the sun a number of times since that period 15 months ago. You have heard a variety of anecdotal input. We have experienced certainly in the CIA and the FBI -- I know, I served, in fact, in combat with individuals who were gay and who were lesbian in combat situations. Frankly, you know, over time you said, hey, how's this guy shooting or how is her analysis or what have you?
[Would you like to follow me on Twitter? Because why not? Also, please send tips to tv@huffingtonpost.com -- learn more about our media monitoring project here.]
Popular in the Community