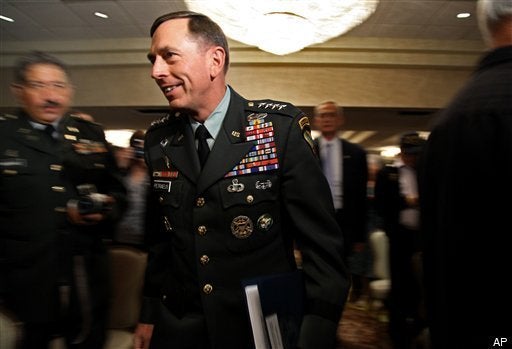 General David Petraeus is about to meet the press.
The general leading America's forces in Afghanistan will speak to NBC's David Gregory on "Meet the Press" next Sunday. Gregory will travel to Afghanistan for Petraeus' first interview since taking over from Gen. Stanley McChrystal, the network announced Sunday.
"Next Sunday, we'll have a special edition of 'Meet the Press' from Afghanistan, with our exclusive guest Gen. David Petraeus, in his first interview since taking over as Commander of U.S. and NATO forces in Afghanistan," the "Meet the Press" website says. "With less than a year before the scheduled drawdown of troops, David Gregory goes one-on-one with the General to discuss the tough mission ahead and the U.S. strategy for winning this almost 9 year war."
But that's just step one of Petraeus' media blitz. Politico's Mike Allen reports that over the next three weeks, the General will speak with the BBC, CBS, Fox News, and ABC:
That will launch a spate of appearances that are being spread out over three weeks so Americans will be more likely to hear his message, even during the August doldrums. This week, Petraeus will begin communicating with the Afghan people. Then after "Meet," the general will do the BBC later that week. The following week, Petraeus has sit-downs with "CBS Evening News" anchor Katie Couric, then Fox News' Jennifer Griffin, who's returning from breast-cancer treatment. At month's end, George Stephanopoulos will take "Good Morning America" on the road to see the general.
Related
Popular in the Community